3 mayo 2022
Revisn and Mews work together to bring tech-driven hospitality to US guests
The blended hospitality apartment rental brand chose Mews to fuel their ambitious vision.
[PRAGUE / NEW YORK] – Mews, the industry's most innovative hospitality cloud, is delighted to announce its continued partnership with Revisn, a technology-driven apartment rental provider who specialize in full service long-stay accommodation.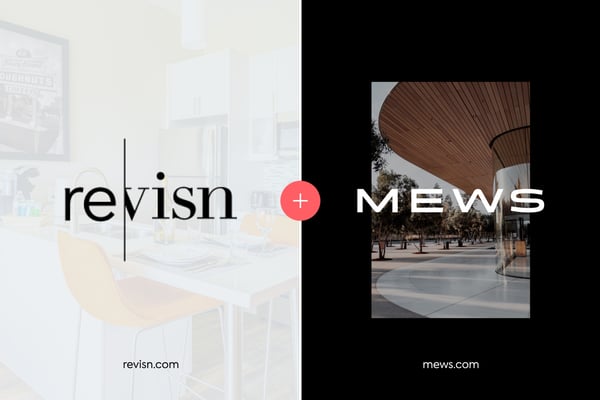 In 2019, Revisn became the first US hospitality brand to join Mews, recognizing the vast ambition and potential of Mews Hospitality Cloud, a leading property management system (PMS). Although Revisn is no longer alone on the American roster, they remain one of the leading brands when it comes to innovation and big growth projections in the US.
"We've always considered Revisn to be both a hospitality brand and a technology company," said Dicky Walia, CEO and Managing Director of Welcome Holdings, the parent company of Revisn. "That's why it was so important to choose a hospitality cloud that shared our vision of a tech-enabled guest journey, and Mews were the stand-out solution."
Revisn has 48 total units in its Raleigh location, each with a fully functional apartment space designed for stays of 30 days or more. Through Mews Marketplace, Revisn can connect to hundreds of industry-leading technologies like keyless entry with TESA ASSA ABLOY, while Mews' Open API allows the brand to seamlessly integrate its proprietary mobile app into the guest journey.
"I love working with hoteliers who are genuinely interested in moving our industry forward, and the team at Revisn want to do exactly that," said Matt Welle, Mews CEO. "They're a great example of how open connectivity ultimately benefits both the hotelier and the guest, and we're really happy to enable their commitment to a more modern guest experience."
The future is set to be incredibly exciting for both companies, with plans for Revisn to open three new properties and run operations using the Mews platform, further helping Mews with bold expansion plans across the US.
About Mews
Founded by ex-hoteliers, Mews is a next-generation hospitality cloud for hotels, hostels, apartments and more. Mews gives hoteliers the power to provide a remarkable guest experience while improving the operations and performance of their property, thanks to smart automation and an innovative, user-friendly set of products and features.
Mews serves over 2,500 properties across more than 70 countries in all five continents and works with a huge number of hospitality tech companies to provide hoteliers with an unbeatable platform – no other PMS offers as many integrations. At the 2020 HotelTechAwards, Mews was voted Best PMS by industry peers, was a Finalist in 2021 and 2022, and won Best Place to Work in Hotel Tech in 2021 and 2022.
Customers include Accor Group, The Student Hotel, Tsogo Sun Hotels and Generator-Freehand.
For more information, please visit mews.com
About Revisn
The Revisn short-term apartment concept is a wholly owned subsidiary of Welcome Holdings Group, developed by experienced hotel owner and operator, Dicky S. Walia, CEO and Chairman of the Board of Welcome Holdings.
Revisn by Welcome redefines the fully furnished, corporate apartment experience through edge-to-edge technology, a robust security package, and high-quality furnishings. Revisn's lifestyle residences combine the comfort, amenities, and design of a luxury apartment with the cutting-edge technology that allows guests to easily personalize their stay. Ask the Amazon Alexa in-room assistant for local dinner recommendations as you surf the web on ultra-secure and fast Wi-Fi. Each corporate apartment includes a fully equipped kitchen, relaxing and entertaining living space, one or more bedrooms with premium bed and linens, and generous bathrooms including luxury appointments and a walk-in rainfall shower.
Revisn properties combines active community spaces, such as lobbies and roof-top terraces, with a strong connection to surrounding business and lifestyle amenities. Revisn buildings feature the most advanced and environmentally responsible systems, including smartphone-controlled ASSA ABLOY door locks, two-way Butterfly MX front door video intercoms, intelligent heating and cooling systems, and on-site solar electricity generation.
For more information, or to book your stay, visit www.revisn.com.