7 October 2021
Partnership Mews en Hotels for Trees helpt hotellerie verder verduurzamen
Mews gaat de Hotels for Trees propositie in hun product integreren
[PRAAG 7 OKTOBER 2021] – Mews, het marktleidende cloud-based property management system (PMS), heeft een partnership gesloten met Hotels for Trees, een nieuwe non-profit stichting die als doel heeft hotelverblijven om te zetten in nieuw te planten bomen.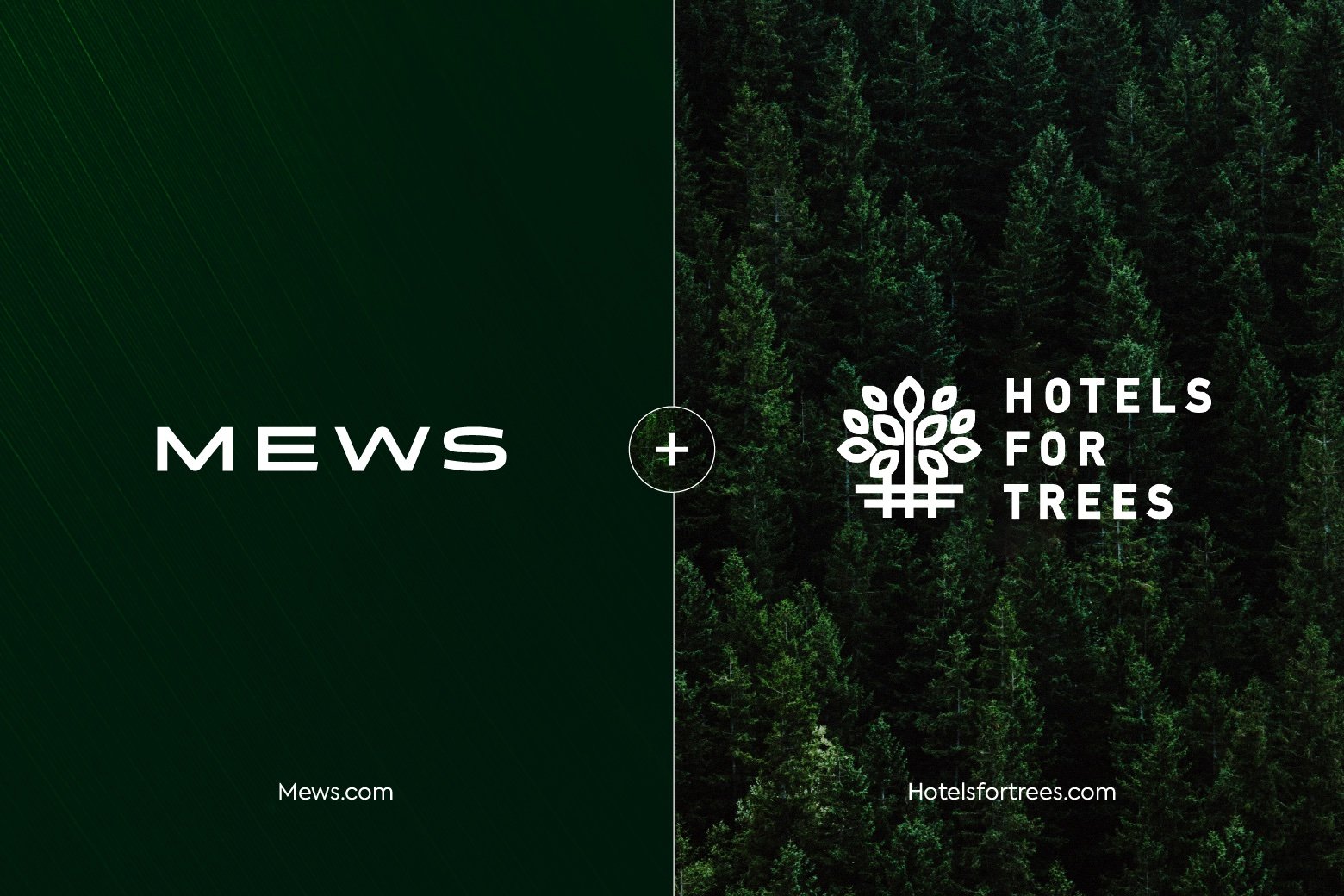 De hotels die bij Hotels for Trees aangesloten zijn, moedigen hun gasten aan de tussentijdse schoonmaak van de kamer over te slaan. Iedere keer dat een gast hiervoor kiest, wordt er een boom geplant. Hierdoor compenseert een gast op een indirecte manier een deel van de CO2-impact van het verblijf en worden er extra besparingen gerealiseerd op het gebied van o.a. de schoonmaakkosten, waterverbruik en reinigsmiddelen. Verder wordt hierdoor het belang van duurzaamheid extra onder de aandacht gebracht.
"Duurzaamheid is een belangrijk onderdeel van ons MVO-programma, en we zijn ontzettend enthousiast over onze partnership met Hotels for Trees op dit vlak", zegt Matthijs Welle, CEO van Mews. "We waren al een tijdje op zoek naar programma's die een tastbare impact hebben en de simpliciteit en transparantie van dit concept vielen ons echt op. We kijken er dan ook naar uit de komende jaren samen veel bomen te gaan planten."
Om de start van deze partnership te vieren heeft Mews direct 500 nieuw te planten bomen gedoneerd. Hiernaast werkt het product team van Mews aan een integratie van de Hotels for Trees propositie in de verschillende modules van het Mews hospitality platform. Het huidige "offline" systeem met deurhangers werkt al goed, maar deze integratie zal er voor zorgen dat gasten nog makkelijker mee kunnen doen, waarbij de hotels zelf de boel nog eenvoudiger kunnen administreren. Totdat de intregratie af is, doneert Mews nogmaals 100 bomen per maand.
"Het is een win-win-win voor gasten, hoteliers en de planeet," zegt Floris Licht, Chief Tree Planting Officer bij Hotels for Trees. "Hotels besparen gemiddeld tussen de Euro 3 – 5 als een gast er voor kiest de tussentijdse schoonmaak over te slaan in ruil voor het planten van een boom. Een hotel met 100 kamers en 60% bezetting waarbij 25% van de stayovers hiervoor kiest, draagt op jaarbasis meer dan 2.500 bomen bij aan dit concept, waarbij er ook nog eens rond de Euro 10.000 aan kosten wordt bespaard. Ons doel is vanaf 2025 meer dan 1 miljoen bomen per jaar te planten."
Ondanks dat Hotels for Trees pas in juli dit jaar is gestart, zijn er al meer dan 2.500 bomen geplant, waarbij de adaptatie in sommige hotels oploopt tot wel 30% van alle stayover gasten, hetgeen duidelijk aangeeft dat ook gasten op zoek zijn naar manieren om hun verblijf verder te verduurzamen. Hotels for Trees is een in Nederland opgerichtte stichting, maar werkt momenteel al een uitbreiding binnen Europa waarbij er voordurend lokale en internationale bebossingsprojecten van partner Trees for All worden toegevoegd.
Op de huidige lijst van deelnemers aan Hotels for Trees staan Mews partners zoals FINCH — boutique hotel, The Florian, The James, Le Marin Hotels Rotterdam en beide locaties van Skotel welke onderdeel zijn van Hotelschool The Hague. Hiernaast heeft WestCord Hotels, een bekende nederlandse keten met 15 hotels en Mews partner, haar meest duurzame Hotel Jakarta Amsterdam bij dit initiatief aangesloten, waarbij WestCord Hotels ook mee zal werken aan de verdere Mews integratie.
"We zijn erg enthousiast over onze deelname aan dit zeer laagdrempelige, concrete en transparante initiatief dat volledig aansluit bij de manier waarop wij ons hotel runnen", zegt Nico Evers, General Manager van Hotel Jakarta Amsterdam by Westcord. "Het geeft gasten een goed gevoel als ze weten dat ze een positieve bijdrage leveren, hoe klein deze bijdrage ook mag zijn. Het betekent ook dat wij de resterende kamers sneller klaar zullen hebben voor onze nieuwe gasten en kunnen besparen op energiekosten, linnen, water en schoonmaakmiddelen."