7 October 2021
Mews Partners with Hotels for Trees to Help Hospitality Go Green
Mews plans to build Hotels for Trees functionality into core product
PRAGUE - Mews, the leading cloud-based property management system (PMS), has partnered with Hotels for Trees, a new non-profit foundation dedicated to converting hotel stays into newly planted trees.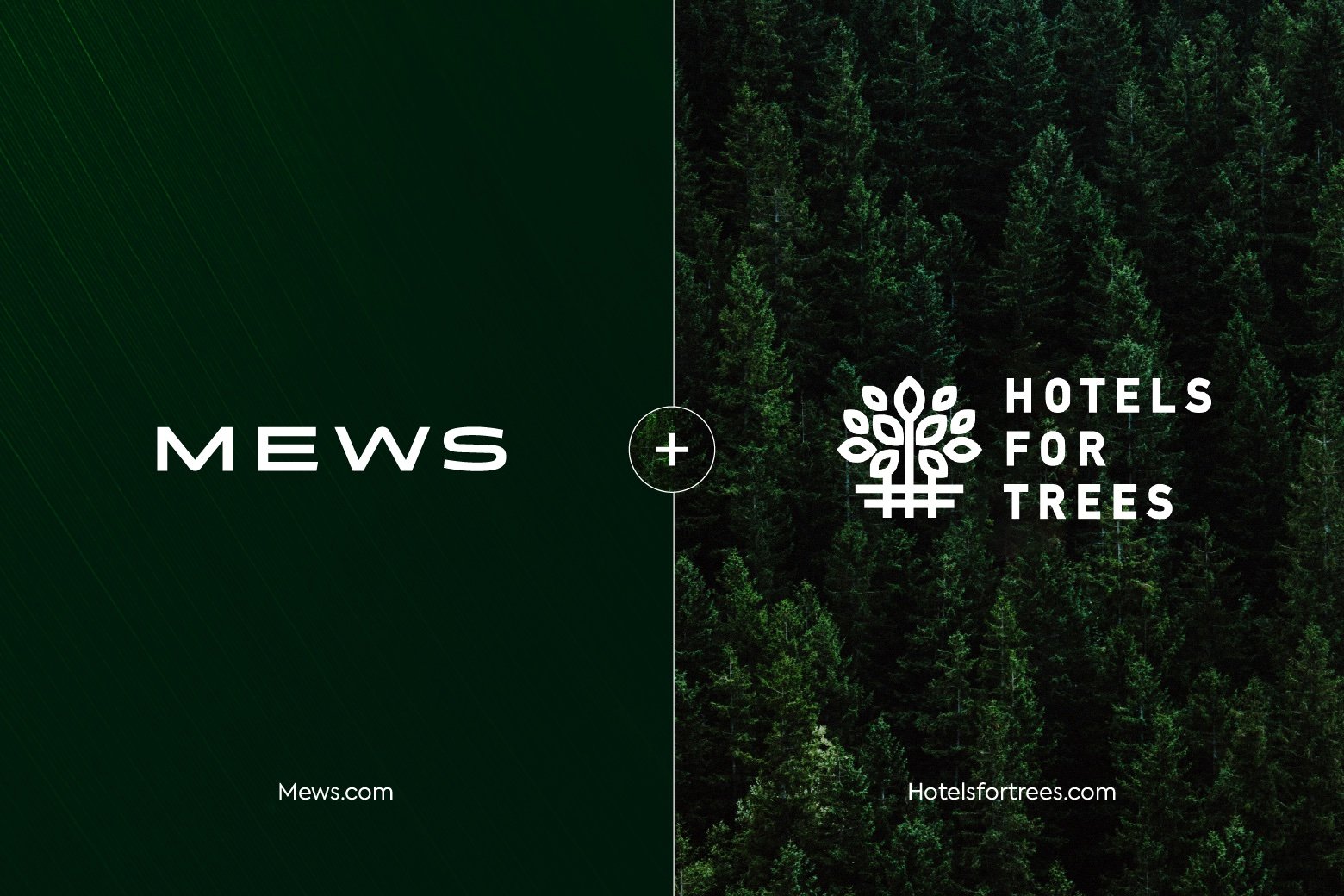 Hotels for Trees partners with hotels to encourage guests to forgo housekeeping. For every night that a guest skips the stayover cleaning, a tree will be planted. Not only does this indirectly offset some of the guest's carbon footprint for their stay, but it also saves on cleaning costs, water and chemicals for the property and enforces the importance of sustainability.
"Sustainability is a key focus of our CSR program, and we're thrilled to team up with Hotels for Trees," said Matt Welle, Mews CEO. "We were looking for schemes that would make a tangible impact, and the clarity and simplicity of their concept really stood out. We look forward to planting many trees in the coming years."
To celebrate the start of the partnership, Mews is funding the planting of 500 trees. The Mews product team is also working on integrating Hotel for Trees into the various modules of its own hospitality platform. The current "offline" setup using door hangers already works very well in all hotels but this integration will make it even easier for guests to take part and for properties to administer the internal processes. Until this is completed, Mews will donate a further 100 trees every month.
"It's a win-win-win for guests, hoteliers, and the environment," said Floris Licht, Chief Tree Planting Officer for Hotels for Trees. "Hotels will save an average of €3-5 every time a guest chooses to skip the stayover cleaning. A 100-bedroom hotel with 25% adaptation and 60% occupancy would help plant more than 2,500 trees per year, while also saving something in the region of €10,000. By 2025, we aim to be planting one million trees per year."
Although Hotels for Trees only started in July this year, they have already planted over 2,500 trees with an adoption level as high as 30% of all stayovers, demonstrating the appetite for more sustainable travel among guests. Hotels for Trees was founded in The Netherlands but is currently expanding across Europe whereby local as well as domestic (re)forestation projects of partner Trees for All are added on a regular basis.
Hotels for Trees' current list of hotel partners include Mews customers such as FINCH — boutique hotel, The Florian, The James, Le Marin Hotels Rotterdam and both locations of Skotel ran by Hotelschool The Hague. Next to this, WestCord Hotels, a Mews partner and renowned Dutch hotel chain with 15 hotels, will soon add its most sustainable Hotel Jakarta Amsterdam to the program, whereby WestCord Hotels will also support the Mews integration from a hotel operating perspective.
"We are very enthusiastic about joining this very easy, specific and transparent initiative which fully aligns with the sustainable way in which we run our hotel," said Nico Evers, General Manager at Hotel Jakarta Amsterdam by Westcord. "It makes guests feel good to know they're having a positive impact, however small. It also means we can turn around other rooms more quickly as well as save on energy cost, linen, water and chemicals."
To find out more about how you can incorporate sustainability throughout your hotel operation, download Mews' latest report - The Green Hotel of the Future.
About Hotels for Trees
The Hotels for Trees Foundation contributes directly to a greener hotel world. A hotel world in which one new tree is planted each time a guest chooses to skip the daily room cleaning. The impact of this green choice can already be seen on the Hotels for Trees website the very next day and directly contributes to (re-)forestation projects of partner Trees for All across the globe.
For more information, please visit hotelsfortrees.com