The Mews Blog > Maximizing your property's full potential: download your free guide
You know the theory that we only use 10% of our brains? Well, the same can be said for hotels and lodging.
Okay, so the real number isn't as low as 10%, but in almost every single property, there's more that you can be doing to reach your full potential. Most of this comes down to better utilizing your hotel space in order to increase and diversify your revenue, while at the same time modernizing your guest experience.
If that sounds complicated, it doesn't have to be. Our guide to Maximizing Your Property's Full Potential is a blueprint to more profitable, guest-centric hospitality. From ground floor parking spaces to rooftop terraces, we explore how you can fully utilize your hotel with practical tips, tech tricks, and real-life inspiration.
What's in the guide?
Maximizing Your Property's Full Potential is a combination of easy actionable tips and expert advice that will encourage you to think about your property's space and services in a different way. Here's what's inside.
Tips for rethinking every space
Get practical insights about how you can use each space in order to maximize revenue and provide an ever better guest experience. The guide has dedicated sections about:
Outdoor space
Ground floor space
Rooms
Rooftop and terrace
Tech enablers
Find out which hotel tech solutions are primed and ready to fuel your growth and connect seamlessly with your existing hospitality cloud. Get integration ideas for:
Event management
Spa management
Upselling
Point of sale
Hotel success stories
Hear from hoteliers about how they rethought their spaces and embraced connected technology to generate more revenue without creating extra work for their teams. Successes include big revenue gains from wedding reservations, day use rooms, and co-working spaces.
Read an extract
Want a little taste of the guide before you download it? We don't blame you. Here's a short extract about how hotels should think about occupancy differently and how they can benefit from day use rooms.
Day use rooms
Using nights as a unit of time is an analogue measure in a digital world. Many guests don't check in until the evening, and plenty have to check out early in the morning. Even once housekeeping has been and gone, some rooms will be completely unoccupied for 12 hours – half a full day – despite the fact that they have "100% occupancy". It's wasted space and it's missed revenue. That's where day use hotel rooms come in.
The beauty of day room use is that it doesn't require any real physical or operational changes to your property. Extra housekeeping and a system to manage day use bookings is all you need. There are a number of distribution platforms you can use to sell these rooms, or Mews lets you create a separate booking engine and manage everything from within a single platform.
It's also a boost to other services you provide. If you have an on-site bar, restaurant, spa, gym, or any other bookable service, the increased footfall dramatically improves the likelihood of use. Day rates are typically cheaper, which means hotels can attract new customers who might otherwise be priced out for nightly stays, but still want to enjoy a taste of excellence.
Day use distribution channels:
Day use rooms success story
Compagnie Hôtelière de Bagatelle make €15,000 in additional day use revenue.
Vice Versa Hotel and Les Plumes Hotel are both part of Compagnie Hôtelière de Bagatelle, and they're both offering their rooms for day use and coworking. A 'Book by the day' button at the top of their website leads to a high-converting Mews Booking Engine that makes it quick and easy for guests to book a room for the day. In its first few months the hotels have generated an extra €15,000 of revenue through over 300 bookings.
"We realized that we could make much better use of our rooms by opening them up to day use. It's a great source of extra revenue and it makes us more visible within the local community."
Delphine Juhel, Director of Operations, Compagnie Hôtelière de Bagatelle
Download the guide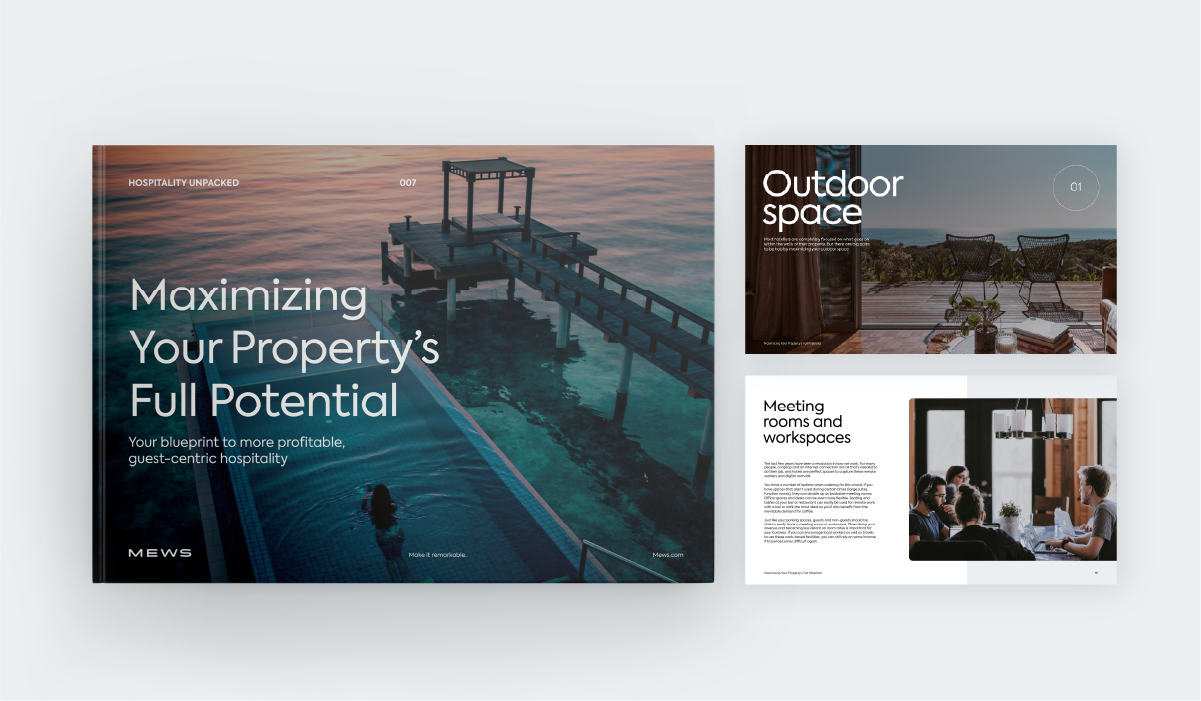 You're only moments away from being the proud owner of Maximizing Your Property's Full Potential. Do the right thing and click the button.
Hospitality hot takes straight to your inbox
Sign up to our monthly newsletter for industry insights, product news, partner updates and more.