The Mews Blog > How to increase revenue with day use hotel rooms
There are two ways of looking at the world: binary thinking and spectrum thinking. The binary on/off, yes/no mindset is comforting because it's easy to understand and act within. A light is on, or it's off. A room is booked for the night, or it isn't. But that's not how the world really works, and hoteliers are beginning to understand that a shift in perspective is critical for success in the 21st century.
Let's begin with some simple maths. Don't panic, it really is simple. A hotel has 100 rooms. On the night of the 23rd February, every room is booked. The GM rejoices because he has 100% occupancy. Well, no, he doesn't.
Using 'nights' as a unit of time is an analogue measure in a digital world. Many of the guests checked-in after 10pm and had to catch an early flight, leaving their rooms at 7am. Even once housekeeping has been and gone, some rooms will be completely unoccupied for 12 hours – half a full day – despite the fact that they have "100% occupancy".
It's wasted space, and it's missed revenue. That's where day use hotel rooms come in.
What is hotel day use?
Even those among you who aren't rocket scientists will have already worked out that day use is, on the surface, as simple as it sounds: letting out otherwise empty hotel rooms to guests during the day.
As we explored above, day use hotel rooms don't have to be an either/or alternative to night bookings. Yes, if the room is unoccupied during the night, it makes it easier to offer for day use because there's less pressure on housekeeping turnover. But there's no reason that many of your spaces can't double up (or more) during a 24-hour period.
What are the benefits of day use bookings?
From the hotelier's perspective, the number one benefit is increased revenue. There are plenty of reasons why guests might want to book a day room (more on that below) and by providing them the option you immediately tap into additional revenue without having to make any significant modifications to your property or operations.
It's also a boost to other services you provide. If you have an on-site bar, restaurant, spa, gym, or any other bookable service, the increased footfall dramatically improves the likelihood of use. Day rates are typically cheaper, which means hotels can attract new customers who might otherwise be priced out for nightly stays, but still want to enjoy a taste of excellence.
Who wants day use hotel rooms?
Airport layovers
One of the most longstanding day use examples is at airport hotels. The transient nature of the location means that guests often have a few hours to kill between flights, and after hours stuffed into a cramped seat, a short sleep in a soft hotel bed is hard to resist. Airport hotel guests arrive at all hours of the day, and so it doesn't make sense for these hotels to operate with traditional 'night only' reservations.
Yotel even have a special housekeeping 'cabin crew' who turnaround rooms "like a Formula 1 pit crew". This helps them sell a single room to two different customers (sometimes even three) within a 24-hour period, ensuring the property makes the most of their bookable space.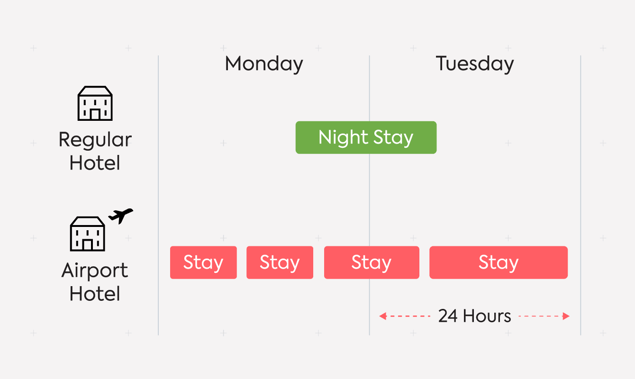 Daycations
'Daycations' are growing in popularity. Particularly when travel is more difficult, daycations are an excellent way to treat yourself in your local area. A trip to the spa is even more relaxing if you have a room for the day as well, which you can use as a base between trips to the pool and the gym, with a bit of room service in between.
Business
Wfh doesn't only mean working from home – it can mean working from hotel, too. A hotel room is a more attractive proposition for a day of work than a desk in a shared office. It means you have access to a private, quiet space that's also good for meetings, and when you need to take a break, all the hotel's facilities are at your fingertips.
Opera Hotel Zurich offers their rooms for day use, from 10am to 5pm. Their business centre "The Lobby" with co-working spaces makes it a popular workspace and alternative to working from home, with a terrace and bar for more informal meetings or relaxation. Michael Böhler, GM, says: "One of the benefits of day use rooms is that it gives the hotel an extra sense of activity and turnover – it can feel like a real hub for meetings and important conversations. It also comes at very little extra cost, because we would have the same number of staff onsite anyway."
Romance
A night in a hotel remains one of the classic romantic getaways, but who said it has to be the night and not the day? Whether it's an anniversary gift, a Valentine's treat, or a surprise just because, there's a market for romantic day stays. Of course, romance takes many shapes and forms, so think carefully about how you choose to market your day use rooms and what clientele you want to attract.
How to make your rooms available for day use
The Mews development and product teams have been particularly busy bees over the last few months, building the foundations required for day use rooms within the Mews system. It's part of a much bigger project to reimagine how guests book services and what hoteliers can offer, which you can read more about here.
Any Mews property can now make their rooms available for day use. You just need to create a day use bookable service within our platform and away you go. You'll find step by step instructions on how to do that here.
In terms of external solutions, there are a number of distribution platforms that specialize in selling your rooms for day use. They essentially work like any other OTA, but they can't offer rooms for overnight bookings. These are some of the best options we've found:
Can your property unlock extra revenue?
The crux of the matter is that in the 21st century, people want and need to use space outside of traditional hours. The compelling argument for day use already exists. And in an increasingly competitive market where every booking counts, hotel day use is an excellent way to diversify and enhance your revenue. If you're already powered by Mews and are considering day use, just reach out to your account manager and we'll be happy to talk through your options.
Hospitality hot takes straight to your inbox
Sign up to our monthly newsletter for industry insights, product news, partner updates and more.