28 June 2022
Mews Announces Mews for Salesforce on Salesforce AppExchange, the World's Leading Enterprise Cloud Marketplace
Mews' customers can now benefit from real-time guest personalization as CRM and PMS can now be connected
Orlando, Florida – Mews, one of the leading hospitality cloud property management systems, today announced it has launched 'Mews for Salesforce' on Salesforce AppExchange, empowering hoteliers to connect their Property Management System (PMS) and Customer Relationship Management (CRM) systems in real-time. This will fast-track guest personalization and enable data-driven guest experiences that increase loyalty and lifetime value. 'Mews for Salesforce' marks the first collaboration between the two companies following the strategic investment made by Salesforce Ventures, the global investment arm of Salesforce, in Mews in December 2021.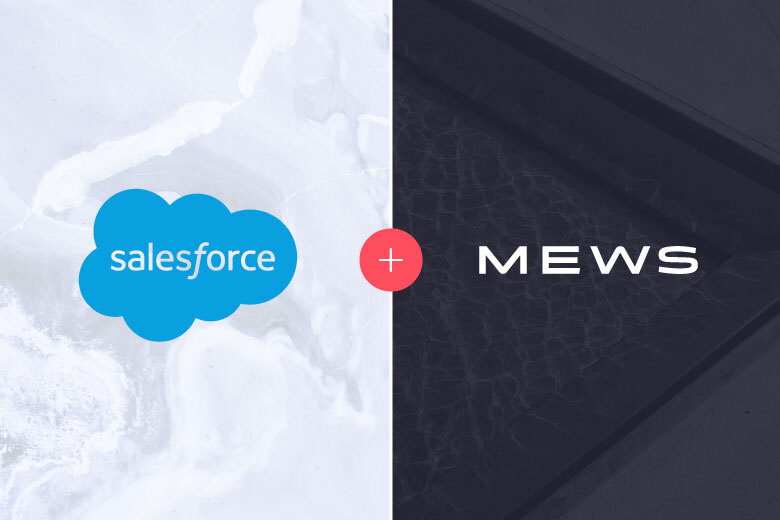 Mews is solving a huge headache for hotels: the inability to reap the benefits of integrating customer data which is held separately in a CRM and a PMS. This prevents hotels from offering personalized experiences or tailored communications and offers that drive customer satisfaction, loyalty and new revenues.
Integrated directly with Salesforce, Mews for Salesforce is currently available on AppExchange click here.
Mews makes it possible to connect the Mews PMS and Salesforce CRM in just a few hours, with minimal technical expertise. This enhanced connection enables hoteliers to create personalized guest communications before, during and after their stay. This includes delighting clients the moment they enter the hotel by instantly knowing who they are and their preferences, offering a unique dining experience during their stay based on their previous dining choice, to sending post-stay communications with offers, and products that are uniquely relevant to them as an individual not just at customers like them.
Comments on the News
Richard Valtr, Founder of Mews, said; "For hoteliers to create and deliver exceptional guest experiences they need the tools and information about every one of their guests at their fingertips, no matter where they stayed in the hotel group. By having one single profile of each guest, they can focus their efforts on delighting guests to make every stay remarkable and every subsequent stay even better than the last. This rapid integration feature means every member of staff can now become a super-charged concierge, enabling them to make personalized product or service recommendations based on a guest's current and past stays."
Mark Liversidge, Chief Digital, Technology & Experience Officer at The Student Hotel, said; "The Student Hotel always strives to offer a unique experience to each customer in our community of international citizens. No matter which of our locations they visit across Europe, we want our customers to feel personally engaged, to have an experience that is personalized to their needs and become a lifelong member of our community. Technology has a key role to play in this, acting as the enabler for our team members and helping them wow customers throughout the customer journey. With Mews and Salesforce as our two core operating systems becoming connected we are now able to optimize our operational processes and take customer experiences to the next level."
About Salesforce AppExchange
Salesforce AppExchange, the world's leading enterprise cloud marketplace, empowers companies, developers and entrepreneurs to build, market and grow in entirely new ways. With more than 7,000 listings, 10 million customer installs and 117,000 peer reviews, AppExchange connects customers of all sizes and across industries to ready-to-install or customizable apps and Salesforce-certified consultants to solve any business challenge.
Additional Resources
Salesforce, AppExchange, Ventures and others are among the trademarks of salesforce.com, inc.
About Mews
Founded in 2012 by a team of former hoteliers, Mews is transforming the hospitality industry with a cloud-based property management system. The Mews Hospitality Cloud acts as a central nervous system for properties of all sizes from small independents to large group brands. Over 3,000 properties across 70+ countries run their hotel operations, booking, payments, and guest management on Mews. Customers include Accor, The Student Hotel, Generator-Freehand, Life House, and the Wythe Hotel. For more information, please visit www.mews.com