9 November 2022
Mews Named a Major Player in the 2022 IDC MarketScape Hospitality PMS Vendor Assessment
Innovative hospitality cloud cited for its mindset shift from occupancy to utilization, ability to customize, and efforts to transform the industry.
[AMSTERDAM & NEW YORK – 9th of November 2022] - Mews, the innovative hospitality cloud, has been named a Major Player in the IDC MarketScape: Worldwide Hospitality Property Management Systems 2022 Vendor Assessment (doc #US48098122, November 2022). This marks the first time that the IDC MarketScape has assessed the Property Management Systems (PMS) market, using thorough inclusion criteria and analysis to provide an overview of the competitive fitness of global providers.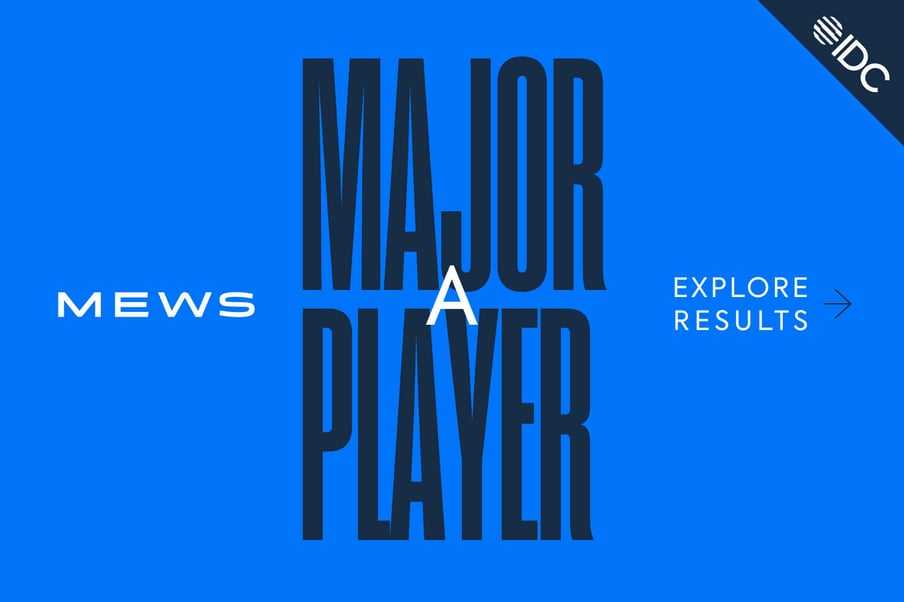 In the report, Dorothy Creamer, Senior Research Analyst, Hospitality and Travel Digital Transformation Strategies at IDC, describes Mews as a "product-first company and is very well-positioned to help the hotel industry move to a model that enables hoteliers to redefine occupancy and monetize every attribute and space of a hotel."
One of the main themes of the assessment is Mews' commitment and position to redefine how hoteliers think about operations and profitability, with the bigger picture of hotel success always in mind. The report continues:
"Mews takes a holistic view of hospitality that is attractive for both small and large chains. Making the shift from a 100% occupancy to a 100% utilization mindset offers a clear path for ROI for hotels and that is enabled by the Mews product offering."
"We're delighted to be named a Major Player in the IDC MarketScape for Hospitality Property Management Systems," said Richard Valtr, Mews Founder. "What's particularly pleasing is being recognized not only for our product offering, but the way in which we're driving the industry to rethink long-held notions like occupancy and how to utilize spaces. It's a validation of the hard work and vision of our exceptional product and tech teams."
To download an excerpt of the IDC MarketScape Hospitality Property Management Systems 2022 Vendor Assessment, click here

About Mews
Mews is a leading platform for the new era of hospitality. Over 3000 properties in 70 countries are powered by Mews. The Mews Hospitality Cloud is designed to streamline operations for modern hoteliers, transform the guest experience and create more profitable businesses. Customers include Accor, Generator-Freehand, Nordic Choice Hotels, The Social Hub, Life House and Les Airelles. Mews has been named the World's Best Independent Hotel PMS Solutions Provider by World Travel Tech Awards (2022) and won Best Place to Work in Hotel Tech (2021, 2022) from Hotel Tech Report. Mews has offices in Europe, the United States and Australia. Learn more at www.mews.com

About IDC MarketScape
IDC MarketScape vendor assessment model is designed to provide an overview of the competitive fitness of ICT (information and communications technology) suppliers in a given market. The research methodology utilizes a rigorous scoring methodology based on both qualitative and quantitative criteria that results in a single graphical illustration of each vendor's position within a given market. IDC MarketScape provides a clear framework in which the product and service offerings, capabilities and strategies, and current and future market success factors of IT and telecommunications vendors can be meaningfully compared. The framework also provides technology buyers with a 360-degree assessment of the strengths and weaknesses of current and prospective vendors.