25 October 2022
Mews named World's Best Independent Hotel PMS Solutions Provider
The innovative hospitality cloud takes home the prize at the World Travel Tech Awards

2022

.
[PRAGUE / LONDON – 25th October 2022] Mews has been named the World's Best Independent Hotel PMS Solutions Provider 2022 at the prestigious World Travel Tech Awards.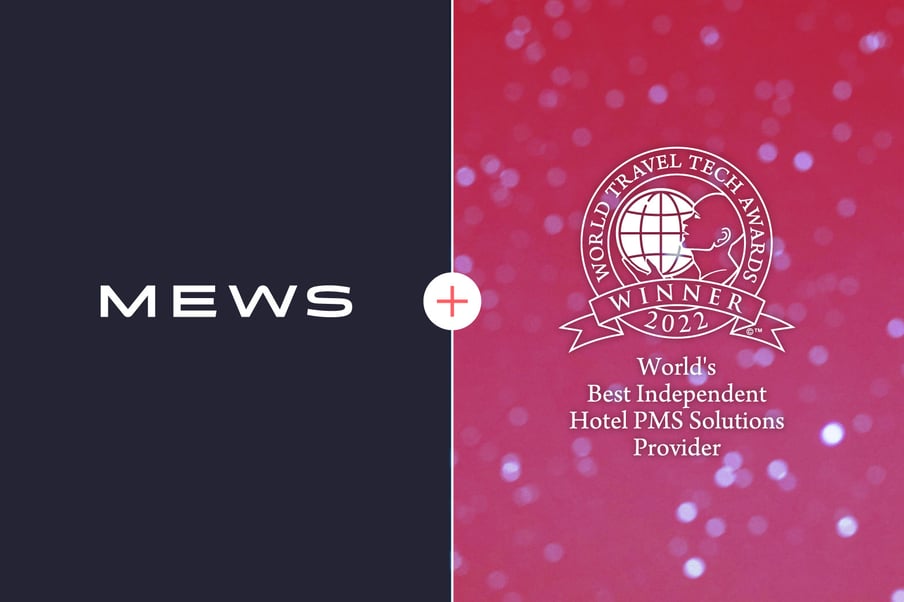 The award is the latest in a long line of successes for the innovative hospitality cloud, which has been recognized for its modern user experience and its agility in supporting custom tech stacks for hoteliers around the world.
Voted for by hoteliers, industry professionals and consumers, the award ceremony took place at The Ritz-Carlton Amman.
"We're delighted to win this award," said Matthijs Welle, CEO of Mews. "Mews was born in an independent hotel back in 2012, so helping independent hoteliers provide amazing guest experiences is part of our DNA. Everyone at Mews deserves credit for this win, which serves as a great ten-year birthday present."
Mews has been growing rapidly in the last few years, acquiring PMSs to expand its reach, adding new products such as Mews POS powered by Bizzon, and working with key investors like Salesforce to demonstrably move the hospitality industry forward.
The World Travel Tech Awards serves to recognize, reward and celebrate excellence in travel technology through their annual awards program. World Travel Tech Awards is the sister event of World Travel Awards.
About Mews
Founded by ex-hoteliers, Mews is a next-generation hospitality cloud for hotels, hostels, apartments and more. Mews gives hoteliers the power to provide a remarkable guest experience while improving the operations and performance of their property, thanks to smart automation and an innovative, user-friendly set of products and features.
Mews serves over 3,000 properties across more than 70 countries and works with a huge number of hospitality tech companies to provide hoteliers with an unbeatable platform – no other PMS offers as many integrations. At the 2020 HotelTechAwards, Mews was voted Best PMS by industry peers, was a Finalist in 2021 and 2022, and won Best Place to Work in Hotel Tech in 2021 and 2022.
Customers include Accor, Generator-Freehand, Machefert Group, The Social Hub, YHA Australia, and Southern Sun.
For more information, visit mews.com