22 June 2023
Mews recognized as a Booking.com Premier Connectivity Partner
As a Premier Connectivity Partner, Mews is recognised for its quality of connection and experience in supporting top performing properties.
[PRAGUE– 22nd of June 2023] Mews, the industry-leading hospitality cloud, has been recognised by Booking.com, one of the world's leading digital travel marketplaces, as a Premier Connectivity Partner for 2023.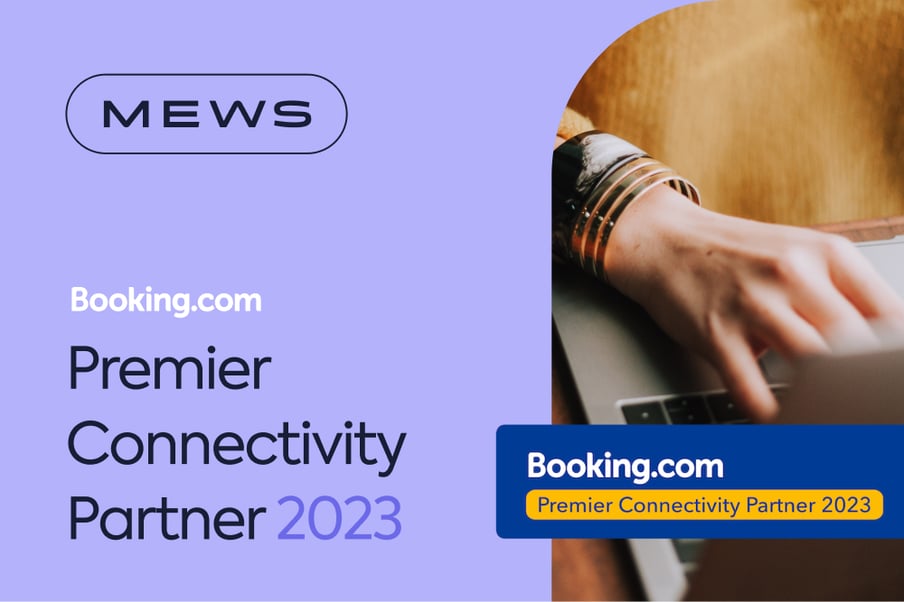 Premier Connectivity Partners are identified as offering the most advanced systems with the widest range of products and services. Connection quality is also an important factor, which speaks to the reliability and ease of integration through the Mews Marketplace.
Booking.com has recognized Mews as a property management system (PMS) that offers hoteliers the highest standard of service. Key criteria that Mews has met includes:
Experience supporting a portfolio of best-performing properties

Sharing insights to optimize property performance
Product features for hoteliers to easily manage promotions and content

A consistent high-quality connection for a bug-free user experience
"We're really proud to achieve Premier Connectivity Partner status with Booking.com as it unlocks a tremendous amount of value for us and for our customers," said Matt Welle, CEO of Mews. "We work with some of the most innovative and technically advanced hoteliers in hospitality, and Booking.com is a key distribution channel for them. Becoming Premier Connectivity Partners is a great step in our continued growth alongside Booking.com."
"We're delighted to welcome Mews as a Premier Connectivity Partner," said Eddy Veldhuizen, Senior Director of Connectivity Partnerships at Booking.com. "It's a reflection of their proven performance, quality of service and hard work dedicated to ensuring modern, remarkable guest experiences across thousands of Mews properties."
The integration uses a bi-directional link for accurate, real-time data. This means that the fastest and most accurate way to manage room availability is by updating the relevant Booking.com pages through Mews.
About Mews
Mews is a leading platform for the new era of hospitality. Over 3,000 properties in 70 countries are powered by Mews. The Mews Hospitality Cloud is designed to streamline operations for modern hoteliers, transform the guest experience and create more profitable businesses. Customers include Accor, Generator-Freehand, Nordic Choice Hotels, The Social Hub, Life House and Airelles. Mews has been named the World's Best Independent Hotel PMS Provider by World Travel Tech Awards (2022) and Best Place to Work in Hotel Tech (2021, 2022) by Hotel Tech Report. The company has offices in Europe, the United States and Australia.
About Booking.com

Part of Booking Holdings Inc. (NASDAQ: BKNG), Booking.com's mission is to make it easier for everyone to experience the world. By investing in the technology that helps take the friction out of travel, Booking.com's marketplace seamlessly connects millions of travelers with memorable experiences every day. For more information, follow @bookingcom on social media or visit globalnews.booking.com.