15 May 2023
Mews surpasses 500 DACH customers, fuelling the region's fast growth

This milestone expands Mews' strong presence in Germany, Austria and Switzerland
[BERLIN – 15th of May 2023] Mews, the industry-leading hospitality cloud, is delighted to announce that its DACH customer base (Germany, Austria and Switzerland) has now exceeded 500 properties. Building on the momentum of its strategic growth, Mews saw a 116% revenue increase, headcount growth of 55%, and a Series C investment of $185 million in 2022.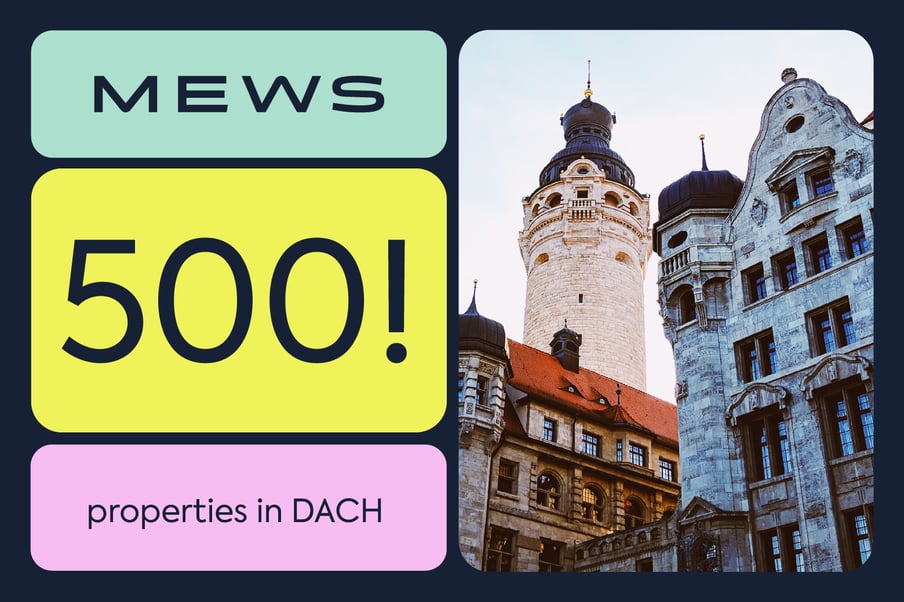 "This 500-property milestone indicates how exceptionally focused our team has been on this rapidly changing market," said Richard Valtr, Founder of Mews. "We are seeing hoteliers in Germany and beyond embracing a new era where automation and innovation plays a larger role than ever before, and we are happy to see how quickly this transformation is taking place. We expect to keep expanding our footprint in DACH and help provide remarkable hospitality for millions of guests every year."
The milestone comes not long after Hotel Oderberger, a historic boutique hotel running on Mews Hospitality Cloud, was named Berlin's best hotel by Condé Nast. "Since moving to Mews, we've been able to transform our tech stack and connect to the best hotel tech solutions on the market," said Dr. Verena Jaeschke, Hotel Director at Hotel Oderberger. "The results speak for themselves."
Joining the extensive list of DACH customers are household names such as Big Mama, Revier, Prinz von Hessen, EMA House, harry's home, and Wilmina, which opened in April 2022 and went on to win Hotel Property Award 2022 at the 196+ hotelforum. These unique heritage properties, serviced apartments, family-owned hotel groups and enterprise clients rely on Mews for a variety of tools to manage reservations, payments, guest services, analytics, and shifts for hotel staff.
Mews is also at the heart of Mercure MOA Berlin, an Accor conference hotel, where its modern set-up is driving efficiency and helping the property to become more connected. "A lot of hoteliers call us about moving to Mews. I recommend them to do it, and I always tell them I would definitely do it again," said Johannes Rohde, Managing Director at MOA Group. "We needed a PMS with an established marketplace so that we can easily connect to convention space tools, for example. It's the same with APIs: we wanted a system where we could just grab the data, and Mews lets us do that."
"Our overall growth allowed us to attract some of the top talent in the hospitality industry, and we will count on them to further enhance our DACH presence," said Matthijs Welle, CEO of Mews. "Part of that is being even more present at regional events, including our memorable stand at ITB Berlin this year."
As part of this increased presence, Mews founder Richard Valtr is speaking at the International Hospitality Investment Forum, taking place in Berlin from 15th to 17th May. Visit stand TH2 to discuss how Mews can help DACH properties excel and create remarkable guest experiences.
About Mews
Mews is the leading platform for the new era of hospitality. Over 3,500 properties across more than 80 countries are powered by Mews. Mews Hospitality Cloud is designed to streamline operations for modern hoteliers, transform the guest experience and create more profitable businesses. Customers include Accor, Generator-Freehand, Nordic Choice Hotels, The Social Hub, Life House and Airelles. Mews has been named the World's Best Independent Hotel PMS Provider by World Travel Tech Awards (2022) and Best Place to Work in Hotel Tech (2021, 2022) by Hotel Tech Report. The company has offices in Europe, the United States and Australia.


Media Contact
George Barker, Director of Communications