24 January 2023
Mews welcomes Naomi Trickey to the leadership team as new Chief People Officer
Trickey will lead an award-winning People Team and continue to develop programs that nurture Mews talent
[PRAGUE – 24th of January 2023] Mews, the innovative hospitality cloud, is delighted to announce the appointment of Naomi Trickey to its leadership team. Trickey joins as Chief People Officer and will ensure that Mews continues to lead the way in employee engagement, nurture and culture. Based in the United Kingdom, Trickey will report directly to Mews' CEO, Mathijs Welle.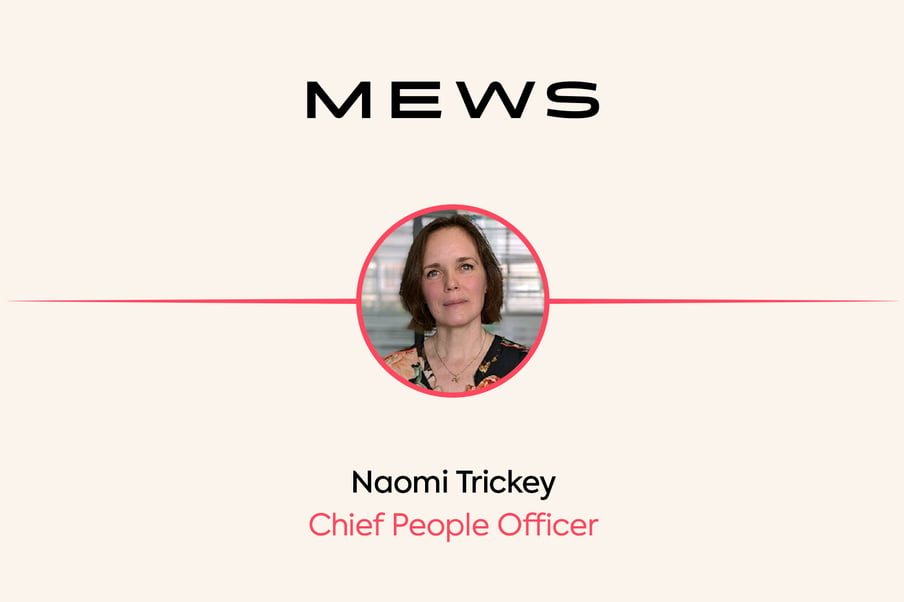 "Since our inception, Mews has always been much more than place to work," said Richard Valtr, founder of Mews. "Our culture is an integral part of who we are and what we do, and as such, Chief People Officer is one of our most important roles. I'm really excited to have Naomi on board to help us nurture our amazing teams and attract the best talent out there."
Trickey brings a wealth of experience to the role, having led people teams across several high-growth technology and software companies such as Brandwatch, PatSnap, Planday and Dext.
At Mews, Trickey's role will focus on supporting the relationship that employees have with the company, from its very beginning during the recruitment process, all the way through to onboarding and continual growth and development in every role. She will continue to develop existing people programs such as benefits and workplace management, building on the efforts that have seen Mews named Best Place to Work in Hotel Tech two years running, as well as a certified Great Place to Work.
"Mews' growth has been on my radar for a number of years," said Naomi Trickey, Chief People Officer at Mews. "I'm delighted to be joining an organization with such strong values and ambitions. Hospitality is such an exciting industry to be a part of and the change we will see over the coming years is going to be transformational. To be leading the people organization of Mews is a complete privilege."
About Mews
Mews is a leading platform for the new era of hospitality. Over 3,000 properties in 70 countries are powered by Mews. The Mews Hospitality Cloud is designed to streamline operations for modern hoteliers, transform the guest experience and create more profitable businesses. Customers include Accor, Generator-Freehand, Nordic Choice Hotels, The Social Hub, Life House and Les Airelles. Mews has been named the World's Best Independent Hotel PMS Provider by World Travel Tech Awards (2022) and won Best Place to Work in Hotel Tech (2021, 2022) from Hotel Tech Report. The company has offices in Europe, the United States and Australia.