9 March 2023
Mews welcomes Natasha Osborne Geurts as its new Chief of Staff
Osborne Geurts

will

take a prominent role in supporting

CEO

Mathijs Welle

and Founder Richard

Valtr

in

navigating

Mews

through its

fast-

scaling

era
[AMSTERDAM – 9th of March 2023] Mews, the innovative hospitality cloud, is delighted to announce the appointment of Natasha Osborne Geurts as its new Chief of Staff. Natasha will be critical in supporting Mews' fast-scaling business that saw headcount grow 55%, revenue growth of 116% and a Series C investment of $185 million in 2022. Based in the Netherlands, Osborne Geurts will report directly to Mews' CEO, Mathijs Welle.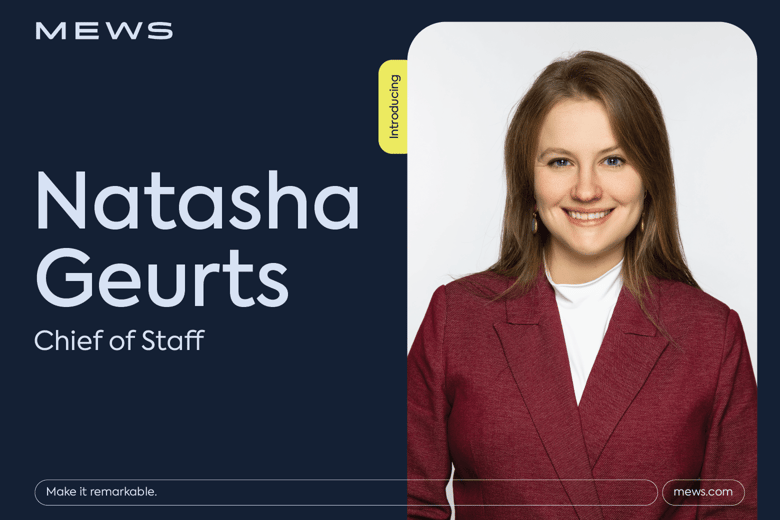 "Mews is growing at an incredible pace, making Chief of Staff one of our most important positions." said Mathijs Welle, Mews' CEO. "This is a critical role with a lot of transformational power to enhance how our amazing teams create and collaborate. I'm grateful we've managed to recruit such top talent to take on this challenge."
Osborne Geurts has vast experience in high-growth technology and software companies such as TicketSwap, Mavenoid, and Uber.
At Mews, Osborne Geurts will be responsible for creating a comprehensive view of the operational mechanics of the organization while building upon and maintaining the already established Mews culture. As Chief of Staff, she will be taking a collaborative and holistic approach to help shape the strategic initiatives for Mews. From building and nurturing relationships with all executives to helping define new operational strategies, Osborne Geurts will translate strategy into action, working across the Mews Leadership Team.
Driving key upward and horizontal review processes is another important aspect of this role. Osborne Geurts will create leverage for Mews' CEO by raising awareness of key issues, acting as a proxy when necessary.
"I am beyond thrilled to be joining Mews at such an exciting time marked by rapid growth and bold decisions," said Natasha Osborne Geurts, Chief of Staff at Mews. "The company values and ambitions resonate deeply with me, as does their forward-thinking mentality and incredible company culture that earned Mews the title of Best Place to Work in Hotel Tech two years running."
About Mews
Mews is a leading platform for the new era of hospitality. Over 3,000 properties in 70 countries are powered by Mews. The Mews Hospitality Cloud is designed to streamline operations for modern hoteliers, transform the guest experience and create more profitable businesses. Customers include Accor, Generator-Freehand, Nordic Choice Hotels, The Social Hub, Life House and Les Airelles. Mews has been named the World's Best Independent Hotel PMS Provider by World Travel Tech Awards (2022) and won Best Place to Work in Hotel Tech (2021, 2022) from Hotel Tech Report. The company has offices in Europe, the United States and Australia.