14 September 2023
Private Selection Hotels & Tours choose Mews as their preferred partner for their collection of luxury hotels
The group's 50+ four and five-star hotels across Europe offer guests a charming, first-rate experience in memorable locations.
[LONDON, 14th of September] – Mews, the leading cloud-native property management system (PMS), has been chosen by Private Selection Hotels & Tours as the only officially preferred provider for their portfolio of privately-run properties.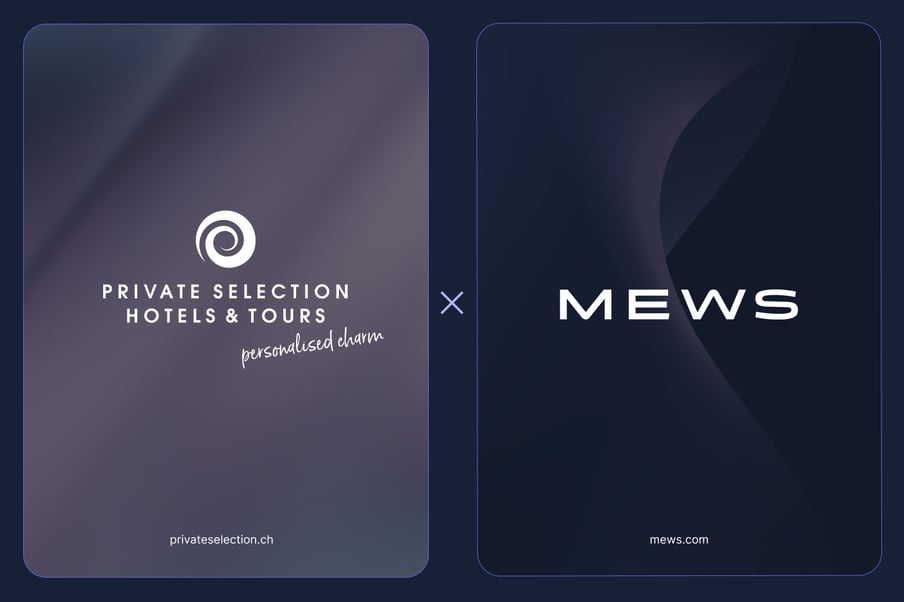 Private Selection Hotels & Tours is a selection of more than 50 hotels across Switzerland, Italy, Germany, Austria, France and Spain. This carefully curated collection prioritizes quality service and personalized charm in some of Europe's most interesting regions.
"Our guests expect exceptional experiences when they stay at our hotels, which is why we chose Mews as our preferred hospitality cloud," said Esther Dysli, CEO at Private Selection Hotels & Tours. "The software is smart and unobtrusive, empowering our hoteliers to focus on guests while also delivering operational excellence."
By streamlining and automating daily operations like room assignment and payments – and eliminating unnecessary legacy processes altogether, such as night audits – Mews frees up huge amounts of time for Private Selection Hotels & Tours properties. This time can then be invested in their guests, which also results in happier, more engaged staff.
"Private Selection Hotels & Tours is a brilliant example of what hospitality should be doing: moving beyond a bed-first mentality to create holistic stay experiences," said Matt Welle, Mews CEO. "We're delighted that they've recognized Mews as the best solution to help their hoteliers deliver their unique brand of luxury, experiential travel."
About Mews
Mews is the leading platform for the new era of hospitality. Over 3,500 properties across more than 80 countries are powered by Mews. Mews Hospitality Cloud is designed to streamline operations for modern hoteliers, transform the guest experience and create more profitable businesses. Customers include Accor, Generator-Freehand, Nordic Choice Hotels, The Social Hub, Life House and Airelles, as well as hostel groups such as YHA Australia, Clink Hostels and Wombat's Hostels. Mews has been named the World's Best Independent Hotel PMS Provider by World Travel Tech Awards (2022) and Best Place to Work in Hotel Tech (2021, 2022) by Hotel Tech Report. The company has offices in Europe, the United States and Australia.
About Private Selection Hotels & Tours
Discover the hallmark of quality and luxury with Private Selection Hotels & Tours, a gateway to 50 privately-run first-class, luxury, and boutique hotels sprinkled across Europe, each exuding a unique charm. Private Selection Hotels & Tours, with over 25 years in the industry, guarantees a memorable experience, encapsulating the joy and relaxation of your holidays and free time.
Member hotels are recognized for their extensive range of indoor and outdoor leisure activities and a meticulous approach to enhancing the value of locally sourced premium products. At the core of the mission are the people – both the esteemed guests and dedicated hosts, aligning with the motto, "Happiness is making others happy!" This commitment to satisfaction is echoed by an impressive 94% average rate of customer satisfaction and recommendations.