7 July 2022
Criterion Hospitality group choose Mews to fuel fast growth and unforgettable experiences
The UK property group are already benefiting from a fast onboarding and huge integration marketplace
[PRAGUE] – Mews, the global cloud-based property management system (PMS), has been selected by Criterion Hospitality to power their hospitality operations going forward.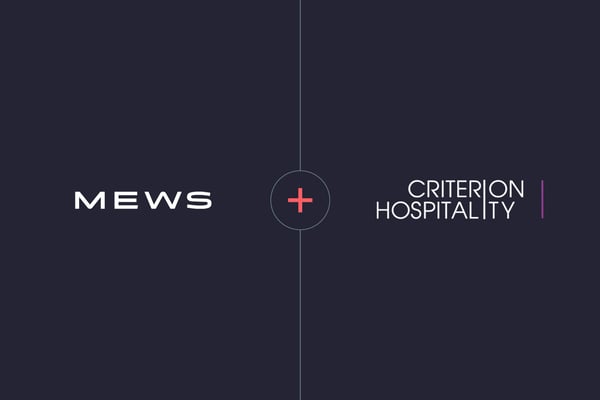 Criterion Hospitality own properties in some of central London's most iconic locations, with hotels and apartments in Leicester Square, Trafalgar Square, and Picadilly Circus. With over a thousand hotel rooms and a further thousand under construction, Criterion Hospitality is a premium brand with a need for excellence.
The group have already gone live with Mews in three hotels, with the first property onboarding in only three weeks. By the end of the year, six properties will be fully migrated to Mews, providing their portfolio with unrivalled connectivity.
"Criterion are exactly the kind of forward-thinking group that we love to work with," said Matt Welle, CEO of Mews. "They've got big plans for growth and innovation that align perfectly with our own vision. More than anything they strive to give their guests unique experiences, and we're excited that Mews will help them do that."
Automated payments were key to Criterion's decision. The group have chosen to use Mews Terminals to process transactions and embrace a fully integrated payments ecosystem, improving efficiency and minimizing human error.
Other key features included easy and accurate reporting and taking full control of their tech stack via swift and simple integration management. Mews Marketplace hosts over 500 integrations, many of which are plug-and-play. This allows the group to connect to the best hospitality tech without long delays or connection fees, ensuring they can always provide their guests with the best possible stay.
"We wanted to choose a hospitality cloud that would support the growth of our varied portfolio, and Mews was the obvious choice," said Marc Sandfort, COO at Criterion Hospitality. "Not only in terms of product fit, but a shared mindset of doing the simple things well and putting guests at the heart of hospitality.
About Mews
Founded by ex-hoteliers, Mews is a next-generation hospitality cloud for hotels, hostels, apartments and more. Mews gives hoteliers the power to provide a remarkable guest experience while improving the operations and performance of their property, thanks to smart automation and an innovative, user-friendly set of products and features.
Mews serves over 2,500 properties across more than 70 countries in all five continents and works with a huge number of hospitality tech companies to provide hoteliers with an unbeatable platform – no other PMS offers as many integrations. At the 2020 HotelTechAwards, Mews was voted Best PMS by industry peers, was a Finalist in 2021 and 2022, and won Best Place to Work in Hotel Tech in 2021 and 2022.
Customers include Accor Group, The Student Hotel, Tsogo Sun Hotels and Generator-Freehand.
For more information, please visit mews.com