31 January 2023
Industry insights: Mews releases its bi-annual hospitality data dive
Analy

z

ing

data from thousands of properties shows a positive picture for hospitality across 11 metrics.
RevPAR was an average of 92% higher in 2022

In 2022, Mews properties generated €24million+ in additional bookable services

Occupancy in 2022 comes very close to 2019, overtaking it for a brief moment in August and then again in December
[PRAGUE – 31st of January 2023] Mews, the innovative hospitality cloud, has released its latest report examining hospitality's performance and trends.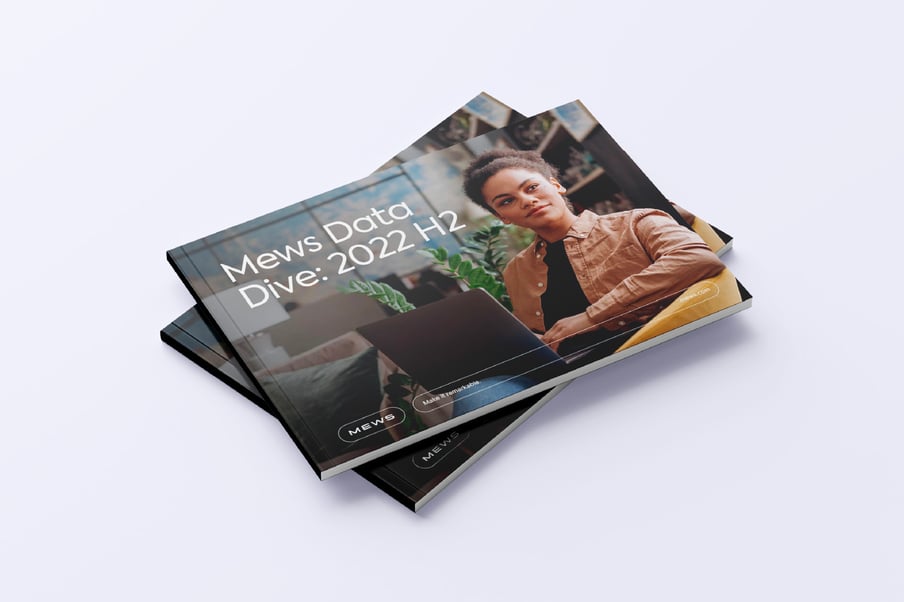 Using anonymized data gathered from over 3,000 properties, the Mews Data Dive 2022 H2 explores industry performance throughout last year – with a focus on July to December – across 11 key metrics, and compares the data with previous years.
"There is a deluge of data now means Hoteliers are drinking from a firehose of information," said Richard Valtr, Mews Founder. "Our Mews Data Dive builds on our success. It takes hospitality data and distills it into takeaways that are both insightful and actionable, making it a must-read for any forward-thinking hotelier."
Some of the report's key findings include:
End of year occupancy levels exceeded pre-Covid (2019) levels

Year-on-year booking lead times have increased by 11 days to a 31-day average

ADR and RevPAR consistently outperform all previous years
The Data Dive also gives property managers and owners the opportunity to benchmark their own performance against the industry average so that they can identify any areas for further improvement.
Overall, the data presents a positive picture for hospitality, with encouraging numbers for traditional indicators like occupancy and RevPAR, alongside the adoption of technology and greater connectivity across operations.
Download the Mews Data Dive 2022 H2.
About Mews
Mews is a leading platform for the new era of hospitality. Over 3,000 properties in 70 countries are powered by Mews. The Mews Hospitality Cloud is designed to streamline operations for modern hoteliers, transform the guest experience and create more profitable businesses. Customers include Accor, Generator-Freehand, Nordic Choice Hotels, The Social Hub, Life House and Les Airelles. Mews has been named the World's Best Independent Hotel PMS Provider by World Travel Tech Awards (2022) and won Best Place to Work in Hotel Tech (2021, 2022) from Hotel Tech Report. The company has offices in Europe, the United States and Australia.