24 May 2023
Mews wins Travel Tech Titans award for 2023
The inaugural global travel technology awards recognized Mews as a Late Stage Titan.
[PRAGUE – 24th of May 2023] Mews, the industry-leading hospitality cloud, has won the Travel Tech Titans award for 2023.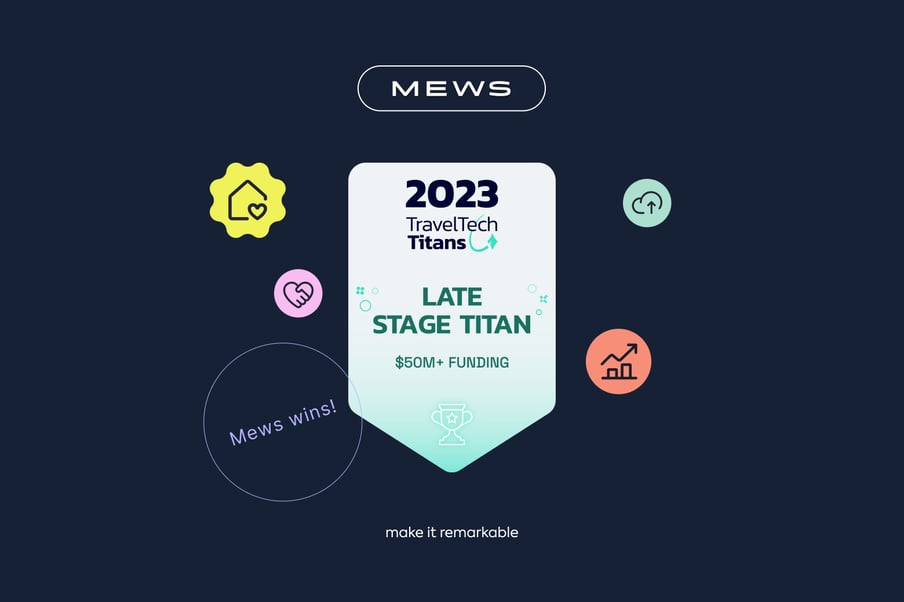 The award recognizes innovative start-ups and scale-ups that are redefining the future of travel and hospitality, and Mews is a winner in the Late Stage Titan category, awarded to businesses that have received $50m or more in funding.
"Travel Tech Titans are driving the transformation of travel, and we anticipate they could become pillars of the industry in the future," said Gaurav Tuli, partner at F-Prime Capital. "On behalf of the judges, we're thrilled to congratulate Mews on this well-deserved recognition for all of their exceptional contributions to the industry."
A panel of 18 expert judges voted on a pool of 200 nominees across 21 countries, representing more than 12,000 employees and $6.9billion in funding.
"It's a real thrill to become a Travel Tech Titan," said Richard Valtr, Mews Founder. "Like the mythical Titans, we hope we give birth to a new world order in hospitality technology – without the need for our banishment when the Olympians come to take over! It's an incredibly exciting industry to be a part of alongside a great community of innovators, and we look forward to what comes next."
Mews has been transforming hospitality since 2012. A recent funding round in 2022, led by Kinnevik and Goldman Sachs Asset Management, saw the company raise an additional $185m to continue its mission.
In 2023, Mews acquired Hotello, a Canadian PMS, tripling its North American business and adding to its talented workforce.
About Mews
Mews is a leading platform for the new era of hospitality. Over 3,000 properties in 70 countries are powered by Mews. The Mews Hospitality Cloud is designed to streamline operations for modern hoteliers, transform the guest experience and create more profitable businesses. Customers include Accor, Generator-Freehand, Nordic Choice Hotels, The Social Hub, Life House and Airelles. Mews has been named the World's Best Independent Hotel PMS Provider by World Travel Tech Awards (2022) and Best Place to Work in Hotel Tech (2021, 2022) by Hotel Tech Report. The company has offices in Europe, the United States and Australia.
About Travel Tech Titans
The Travel Tech Titans award recognizes game-changing disruptors in the travel tech industry. Winners are selected by a panel of judges — including leading investors, industry executives, and founders — who review nominations to select the startups and scale-ups who will form the future pillars of the travel tech industry. The Travel Tech Titans are divided into three stages based on the amount of funding raised: Early (0-$10M in funding), Mid ($10-$50M), and Late ($50M+). Travel Tech Titans is organized by F-Prime Capital and Eight Roads Ventures.