The Mews Blog > What are the best payment terminals for hotels in 2022?
When trying to find the best payment terminal for hotels, there are a lot of things to consider. For starters, you want to make sure it helps you to provide a fully connected experience by integrating with your hotel payment processing tool. The more automated your processes are, the more you can focus on offering the best guest experience possible.
Since searching for a payment terminal can be a bit of a daunting task, we've laid out the top eight payment terminals for hotels this year so that you can better decide on the tool that will help simplify your operations and make your life as a hotelier easier. Easy transactions translate into efficiency and open up the possibility for more revenue-driving activities once you have your processes streamlined.
8 top payment terminals for hotels
With so many terminals to choose from, we have selected the top eight for hotels so that you can make a better-informed decision. The main goal of a terminal should be to expedite the check-in timing and processes. Read more about refining your hotel check-in timing and processes.
1. Mews terminal
Mews is an excellent choice for a payment terminal because they offer a more complete and integrated payment system. With Mews' terminal, you can automatically sync with your Mews hotel payment processing tool, simplifying the whole process of handling transactions from the ground up.
Another key feature is that transaction information is automatically available within the Mews Operations and Mews Payments tools. When it comes to simplifying operations, Mews should be your go-to terminal.
You can choose between a kiosk or a countertop terminal. Both terminals have the highest security standards and are PCI-compliant, offering real time updates, customizable logos, as well as multilingual support.
With the kiosk or the countertop terminal you can process transactions at any time during the guest's stay with major credit cards, debit cards, and digital wallets like Apple Pay, Samsung Pay and Android Pay.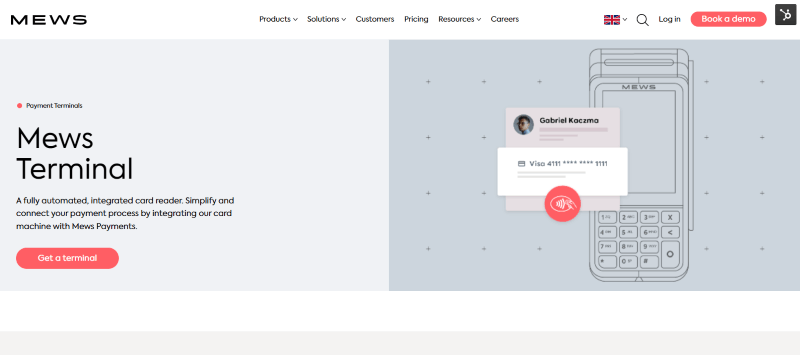 2. Ingenico
Ingenico is a popular choice for US-based hotels. Their terminals can either be a countertop, wireless terminal, or a kiosk version, allowing for remote check-in as well as payments anywhere in the hotel. They also offer a range of solutions that allow you to accept all forms of electronic transactions such as magstripe, EMV and NFC/contactless.
Whether it be self-service check-in at a kiosk, mobile check-in, paying at your hotel's restaurant or anywhere in the facilities, Ingenico allows for convenience and mobile solutions that give hoteliers the payment flexibility they need.
Read about the top eight payment processing softwares, a helpful place to start to make sure your terminal is compatible with your payments tool of choice.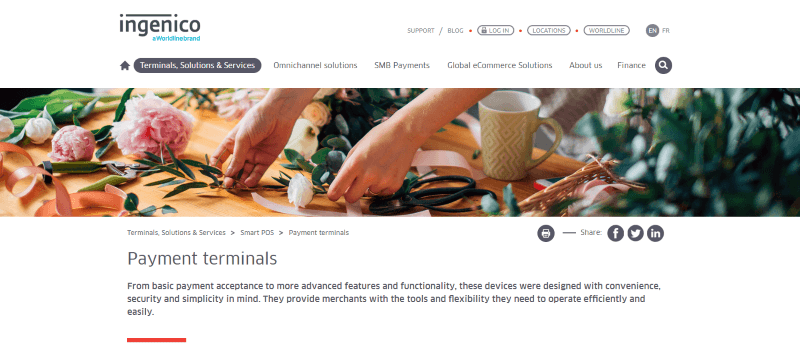 3. Square
Square made a name for itself thanks to its ability to be used without an outlet, simply by connecting to your smartphone or tablet, which is of course ideal for payments in different areas of your hotel like the pool or for room service. Now Square also offers different terminals, supporting EMV, magstripe and NFC-based payments.
Square is an easy solution for hoteliers because it comes preloaded with the necessary software, allowing you to manage inventory, employees, reporting and other helpful features for the hospitality sector such as the possibility of special features for your hotel's restaurant. The less training necessary on a tool, the better.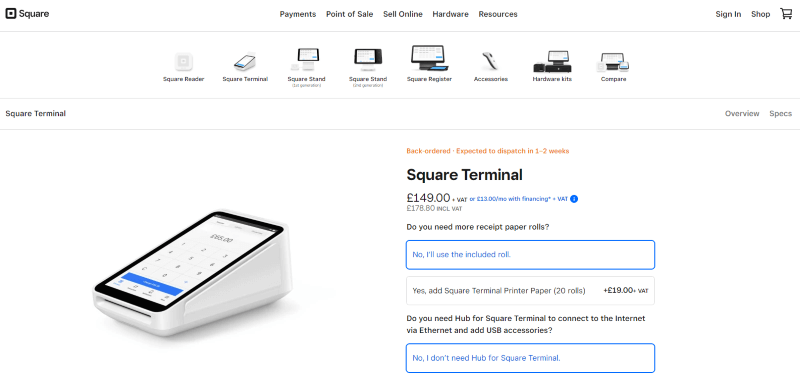 4. Verifone
Verifone is easily one of the most recognizable payment terminals across industries. It is a relatively basic terminal, which lacks some additional features of a POS system. That being said, it is a very reliable device for hotels thanks to its ability to process a large amount of transactions.
It is especially a good choice for those looking for an exclusively countertop device. As it doesn't have an internal battery, using it as a mobile device is not possible. However,
Verifone is a good choice for small hotels because of its competitive price point, in addition to the fact that it supports the majority of payment methods.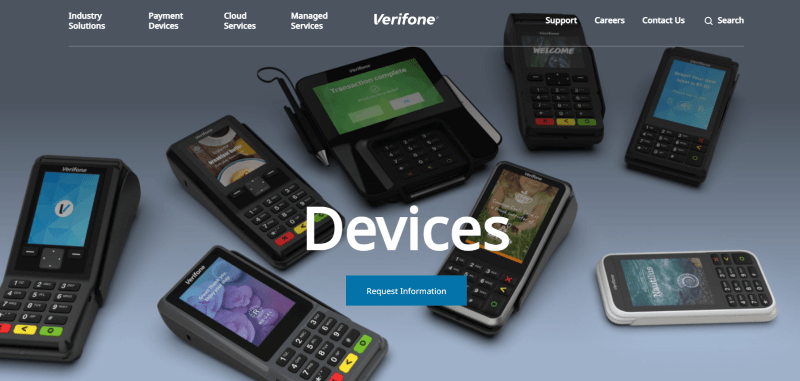 5. Elavon
Elavon is great for hotels of any size, including international chains and small boutique hotels. Thanks to its flexibility, security and efficiency, it is a convenient payment terminal provider for the hospitality industry. Furthermore, Elavon gives your staff the training necessary to install and use the technology easily.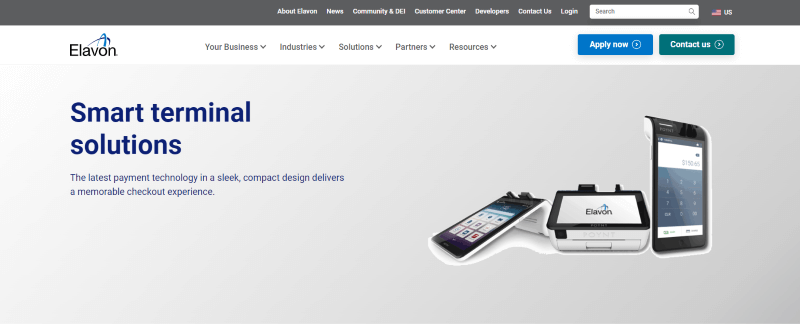 6. Poynt
Poynt smart credit card terminal is a great alternative to your traditional point of sale device, and it's extremely easy to use. Thanks to the ability to install business management apps right within the terminal, you can take a smarter approach to payments. Learn more about smart payment systems.
This is a very customer-forward device because guests can see the transaction being carried out in real time thanks to its two-screen desktop system. You also have a portable system which allows you to take payments anywhere in the hotel, which gives a lot of flexibility to your property.

7. Clover
Clover is a good POS for a variety of industries, but especially for the hospitality industry. Clover has a dashboard and app that allows for live reporting, inventory updates and even allows you to manage staff.
You can take different kinds of payments from digital wallets to credit cards and debit cards to make processing transactions easy. You can also sync up with different accounting tools.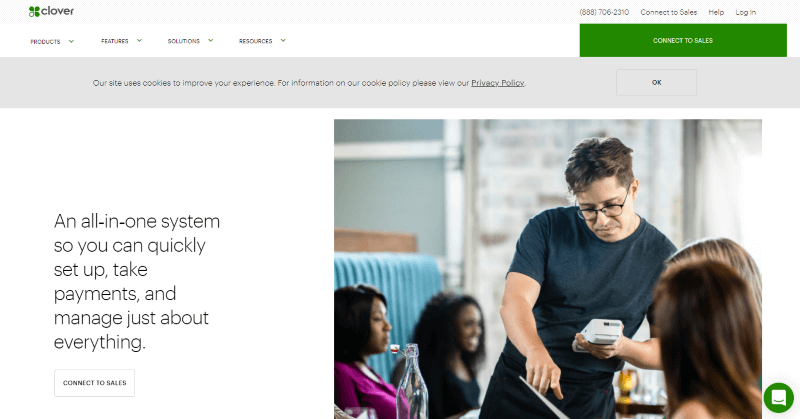 8. Pax
Pax offers many of the same features as Verifone or Ingenico, with the added bonus of being well-designed and colorful. It has a contactless processor, capable of handling a range of payment methods. Security is also an important feature of Pax, which is ideal for providing guests with a safe way to pay.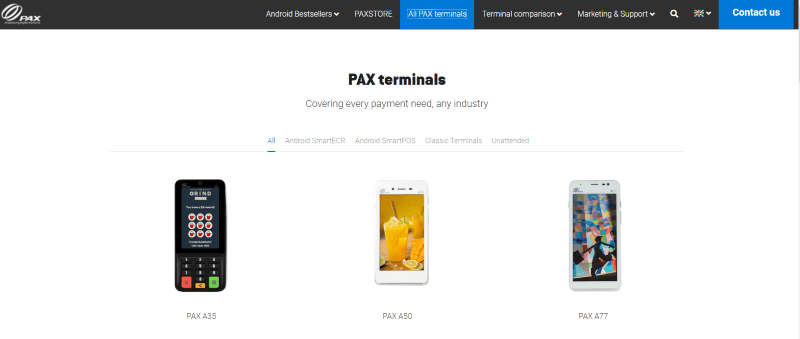 Conclusion
In this article, we've looked at the top eight payment terminals for hotels. While there are many options out there, one of the most important things to consider is the flexibility, ability to accept payments anywhere in your structure, and the integration capabilities with your payment processing tool.
The best payment terminal will be the one that most adapts to your needs and is easy-to-use and intuitive for your front desk staff. A terminal should make your operations smoother and easier, so that you can offer your guests the best experience possible, whenever they pay throughout their entire journey with your hotel brand.

Author
Eva has over a decade of international experience in marketing, communication, events and digital marketing. When she's not at work, she's probably surfing, dancing, or exploring the world.
Hospitality hot takes straight to your inbox
Sign up to our monthly newsletter for industry insights, product news, partner updates and more.