The Mews Blog > Best hotel booking engines in 2022
There's a lot to keep in mind when looking for the best booking engine for hotels. A booking engine essentially acts as a shopping cart for your website with the aim of driving direct bookings, and increasing revenue by diminishing acquisition costs from third-party services.
Due to the competitive nature of the hospitality industry, having the most streamlined booking process possible with the right technology in place is crucial to your hotel's success and to stand out from the competition.
The better the features and integrations the tool offers, the more possibilities for conversion. With that in mind, let's look at the top 10 booking engines in 2022 to help guide you in choosing the best tool possible.
Find out the best hotel booking sites.
What are the 10 best hotel booking engines?
Hotel booking engines should be optimized for mobile and for conversion so that you can truly take advantage of all the potential benefits of having such a tool integrated into your website. Implementing this technology is easy and is without a doubt one of the key ways to increase direct bookings. Keep reading to find out what the top choices are.
Mews
Mews' Booking Engine is a great choice to provide your potential guests with the most effortless experience possible. Use it as a widget or on its own as a standalone website, or you can even build your own interface with the Mews API.
Mews offers a smooth reservation process with the ability to select up to 20 currencies and languages, connect various properties for cross-selling purposes, can be easily booked by third parties such as travel agents or friends, and guarantees secure payments.
Some of the other important booking engine features of Mews' tool is that it can be customized to your hotel's brand identity so as to ensure an optimal first experience with your brand. You can add your hotel's colors, logo and the look and feel of your website, which provides a sense of security for guests.
The quick and easy form means the booking process is fast and there is less possibility for website abandonment. Finally, this engine provides many conversion and revenue boosting opportunities with the ability to create promotional rates, upselling possibilities, and performance analytics.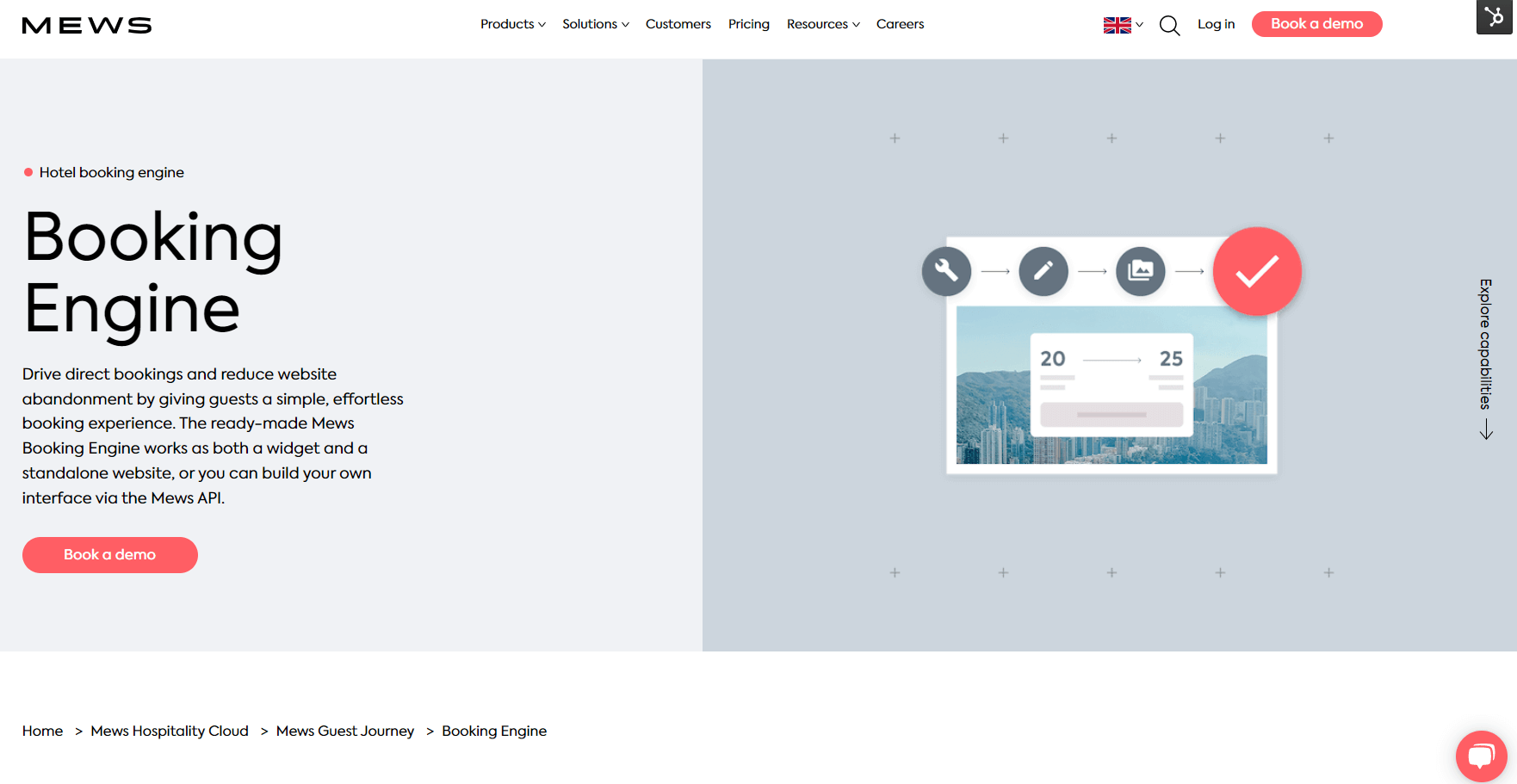 SiteMinder
SiteMinder's booking engine is optimized to improve every step of the booking process, allowing you to get insights into rate parity and easy access to hotel apps, which drive conversion. With their secure payment system, guests are ensured the safest possible reservation process.
Another benefit of this tool is that hoteliers don't have to spend time and money to invest in creating their own systems, but instead can take advantage of the integration capabilities.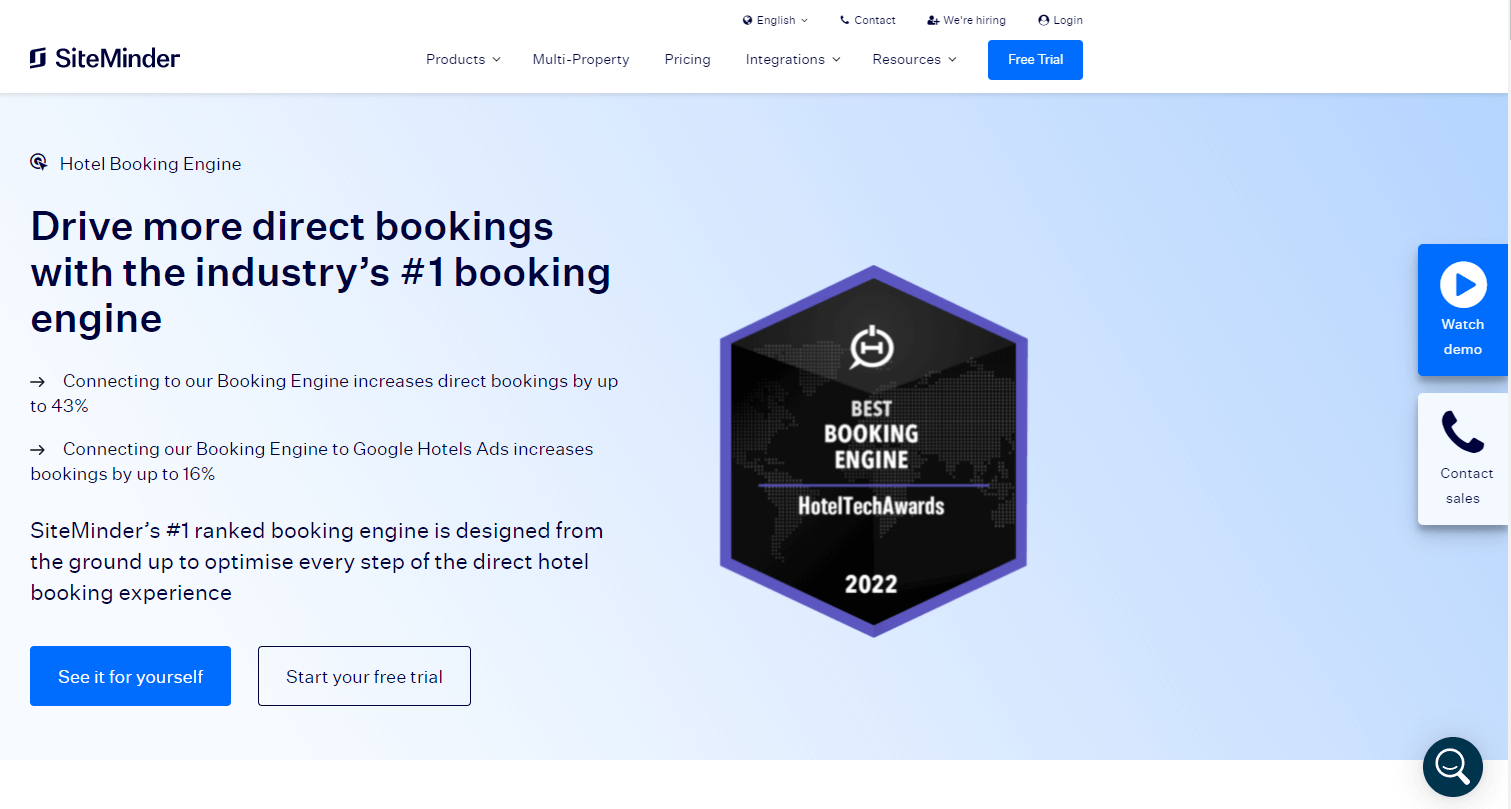 Avvio
Avvio is an AI-powered booking system that is aimed at using data science and artificial intelligence to optimize the online booking experience. It integrates with your central reservation system, business intelligence, and channel managers for the smoothest experience possible with great opportunities for personalization. The more personalized the user journey, the more chances for conversion.
Find out how Artificial Intelligence is changing the future of the hotel industry.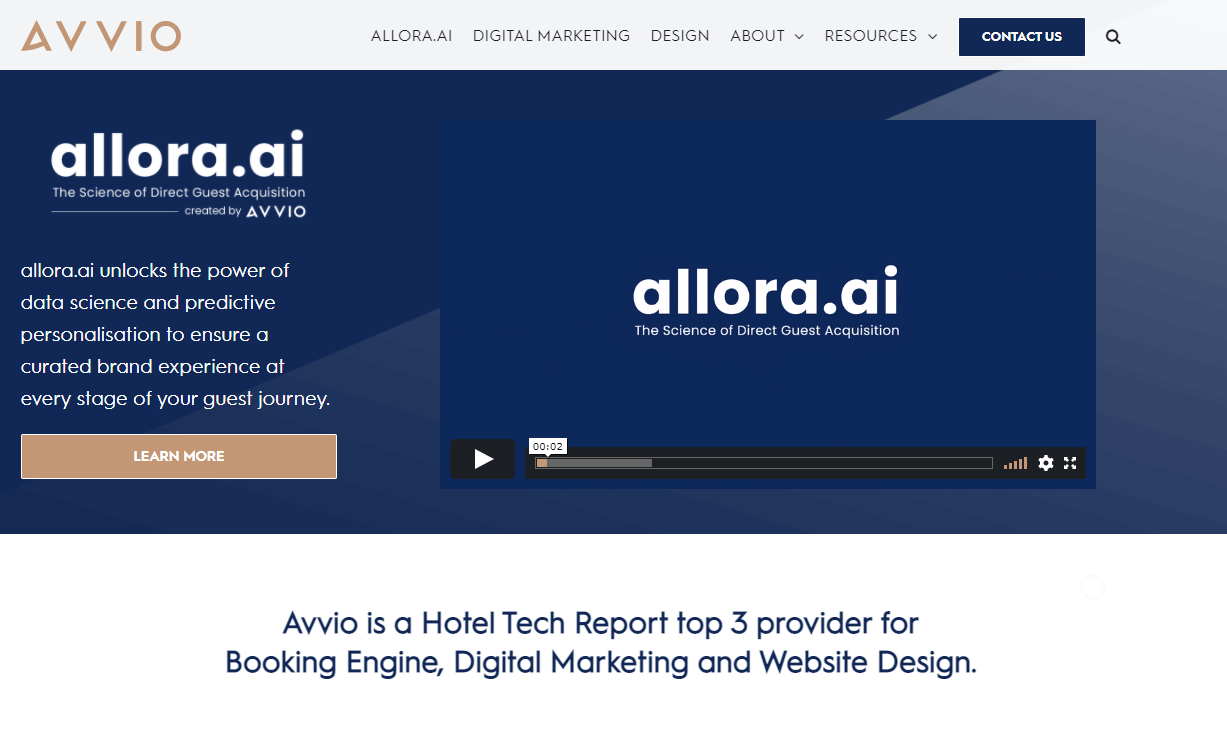 Bookassist
With Bookassist you can work with technology to grow your online sales by maximizing direct traffic to your website. The system is easy to use and user-friendly featuring customized reports and data that hoteliers can put into practice to optimize the reservation process.
Direct bookings are at the heart of this technology that helps increase profit margins. Bookassist also boasts top-notch customer support to answer any questions about how technology can help grow your business.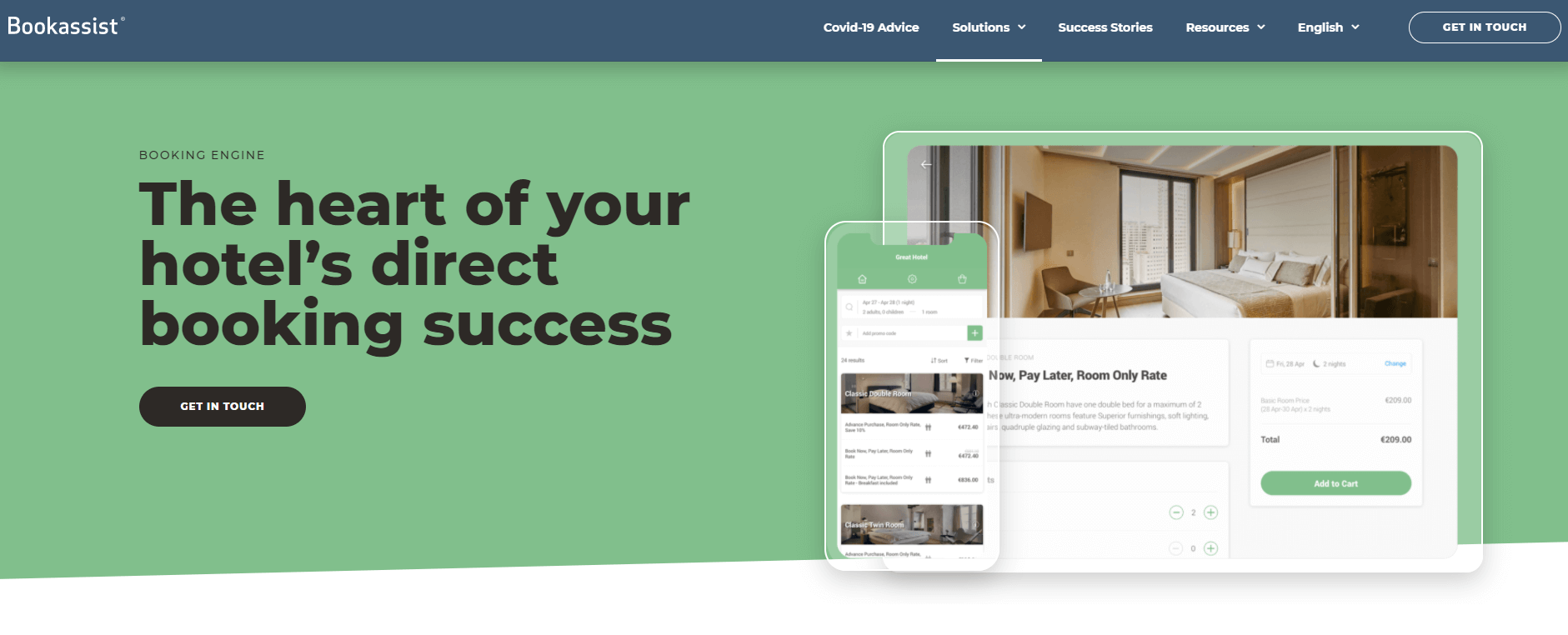 Net Affinity
Net Affinity's product is aimed at independent hoteliers who want to convert first-time visitors to their website into lifelong clients. Their technology helps ensure the smoothest and easiest guest journey possible, which helps remove any obstacles to booking. Their support agents are on hand to help you every step of the way, and with easy integrations and great reporting features, this tool will make the life of independent hotelier's easier.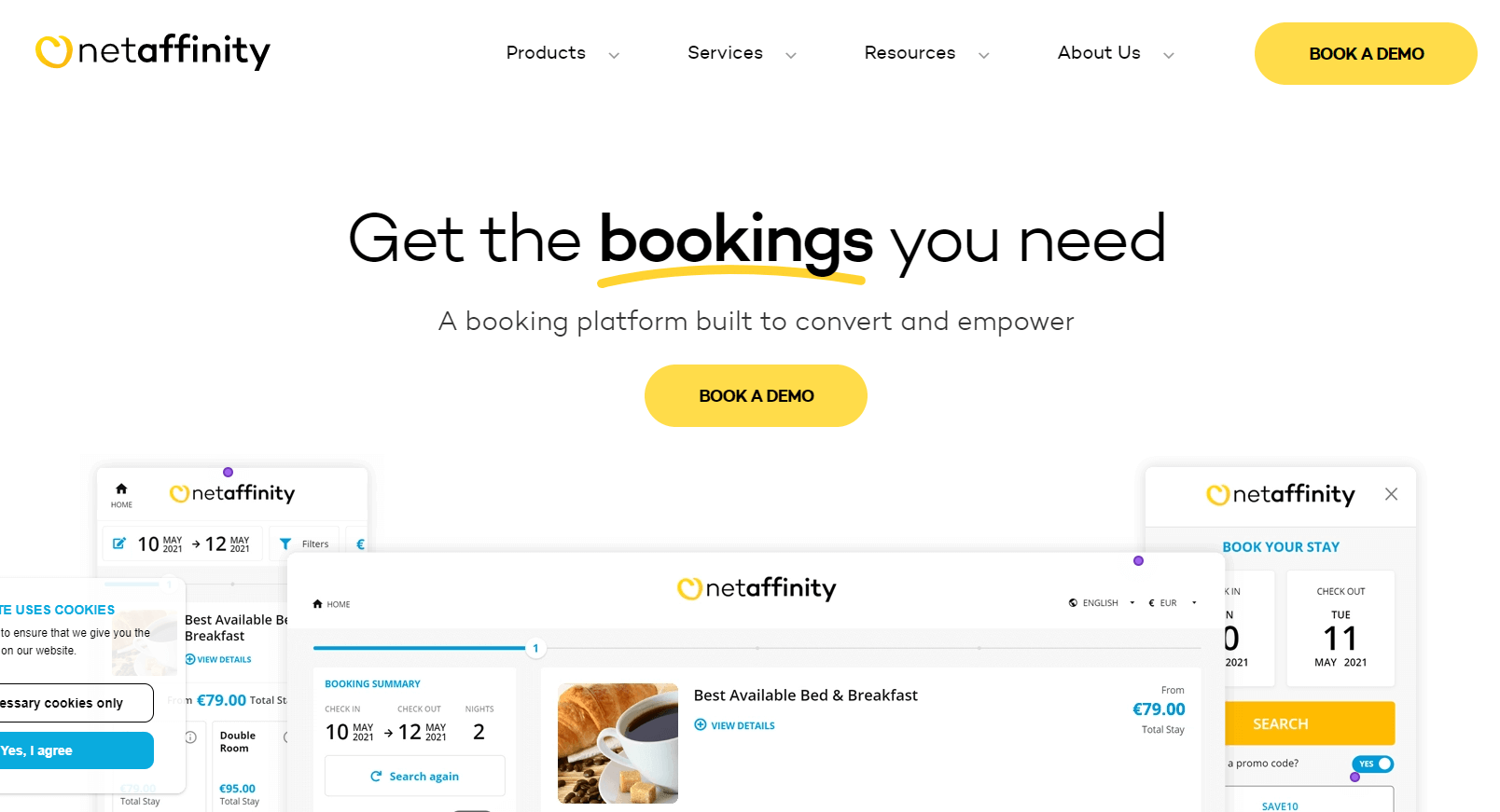 InnRoad
InnRoad promises an increase in direct bookings thanks to its easy-to-use technology. Hoteliers can increase revenue with upselling opportunities like add-ons that are offered all from the same tool. The tool also allows for multiroom and group reservations, which allows you to get the most revenue possible from one reservation. The more chances for upselling and cross-selling during the reservation process ensures a boost in your hotel's bottom line.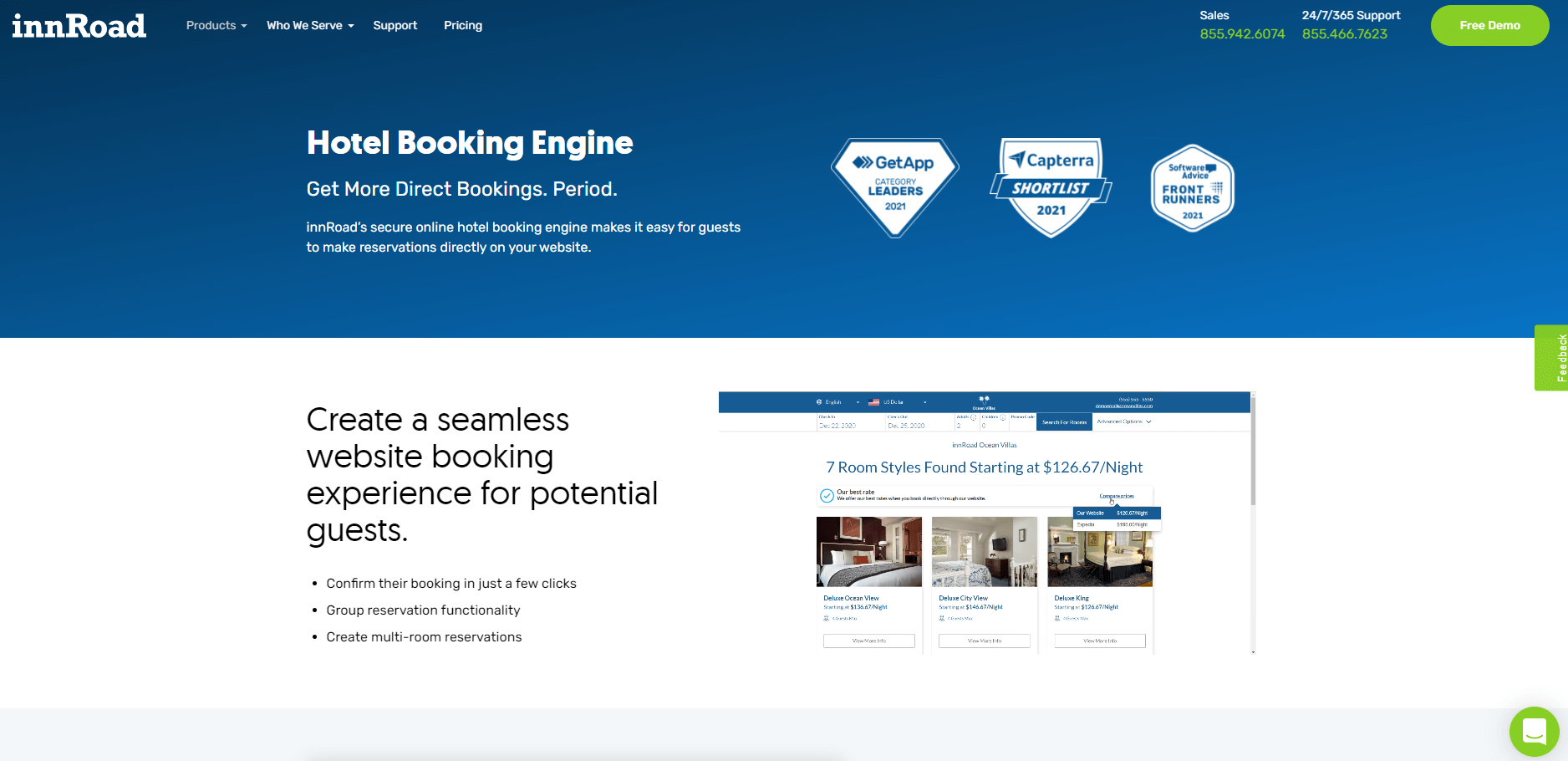 Profitroom
Profitroom is an intuitive platform that allows you to deliver an ideal first experience with your hotel's brand, allowing for cross-selling across multiple locations. It easily connects with CRM systems and different interfaces, allowing for a smooth management of all the necessary processes to ensure the most revenue for each direct reservation.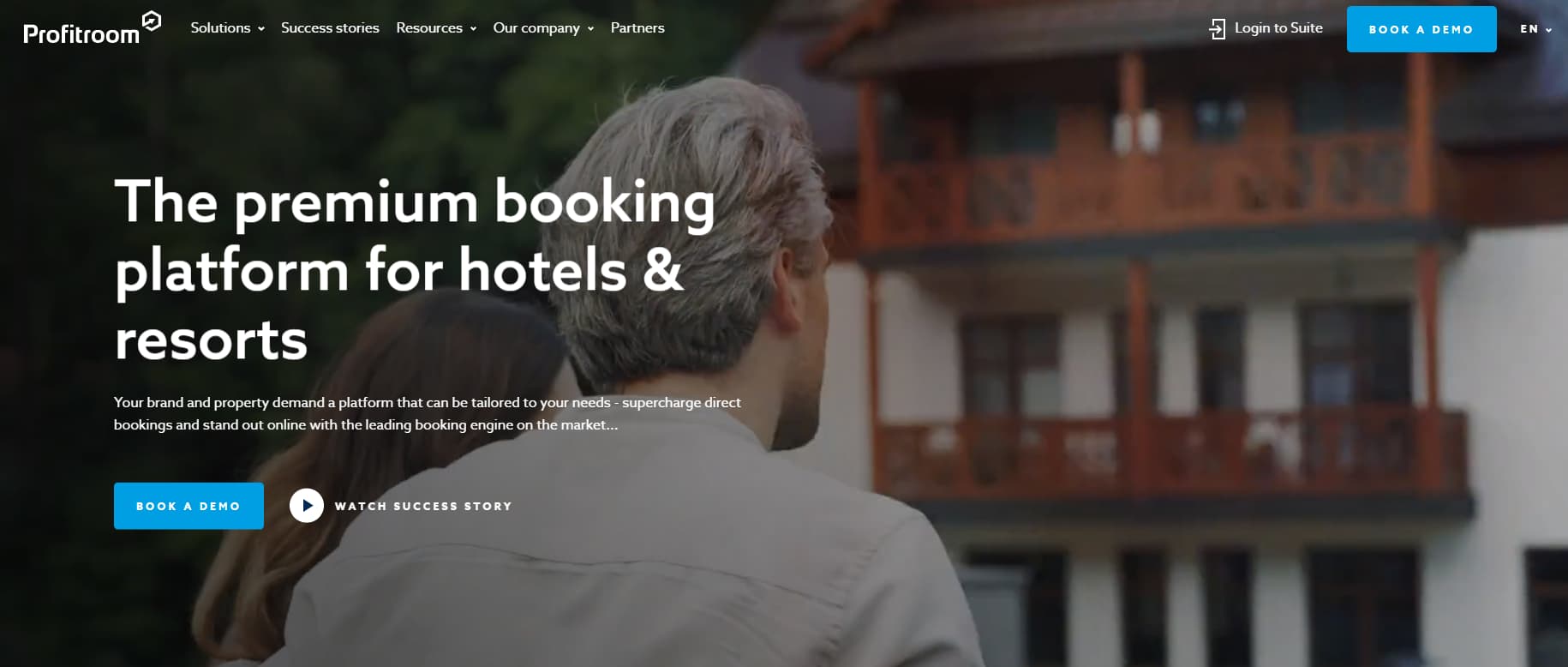 D-Edge
With the idea that your website should be the most profitable sales channel, D-Edge helps to increase conversion rate. The platform is very intuitive and can integrate with any property management system. They are constantly enhancing functionalities and core capabilities to offer the best possible service to hoteliers.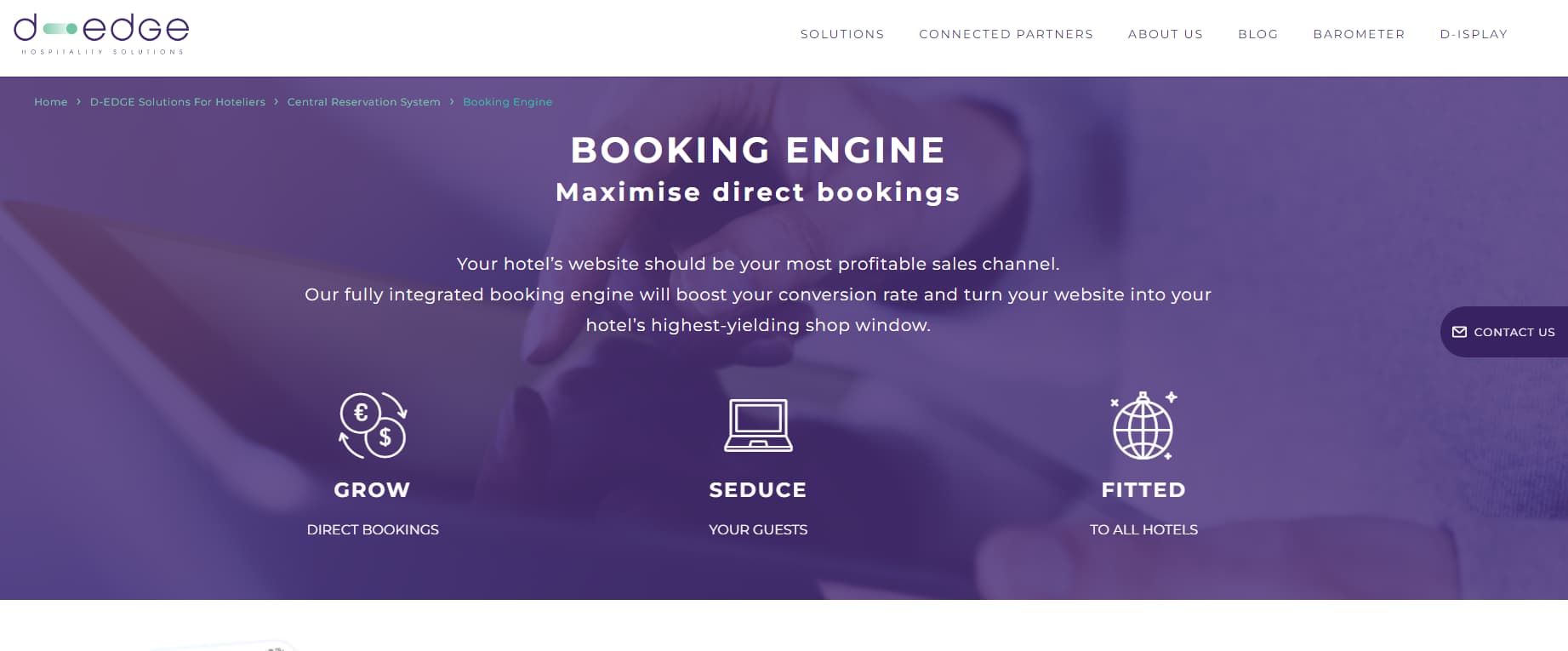 Simplotel
Simplotel is, as its name suggests, a simple tool that allows hoteliers with different-sized properties to increase direct bookings. The engine can be customized to match your brand identity, so it seamlessly integrates into your website, and gives users a sense of security when reserving directly on your website.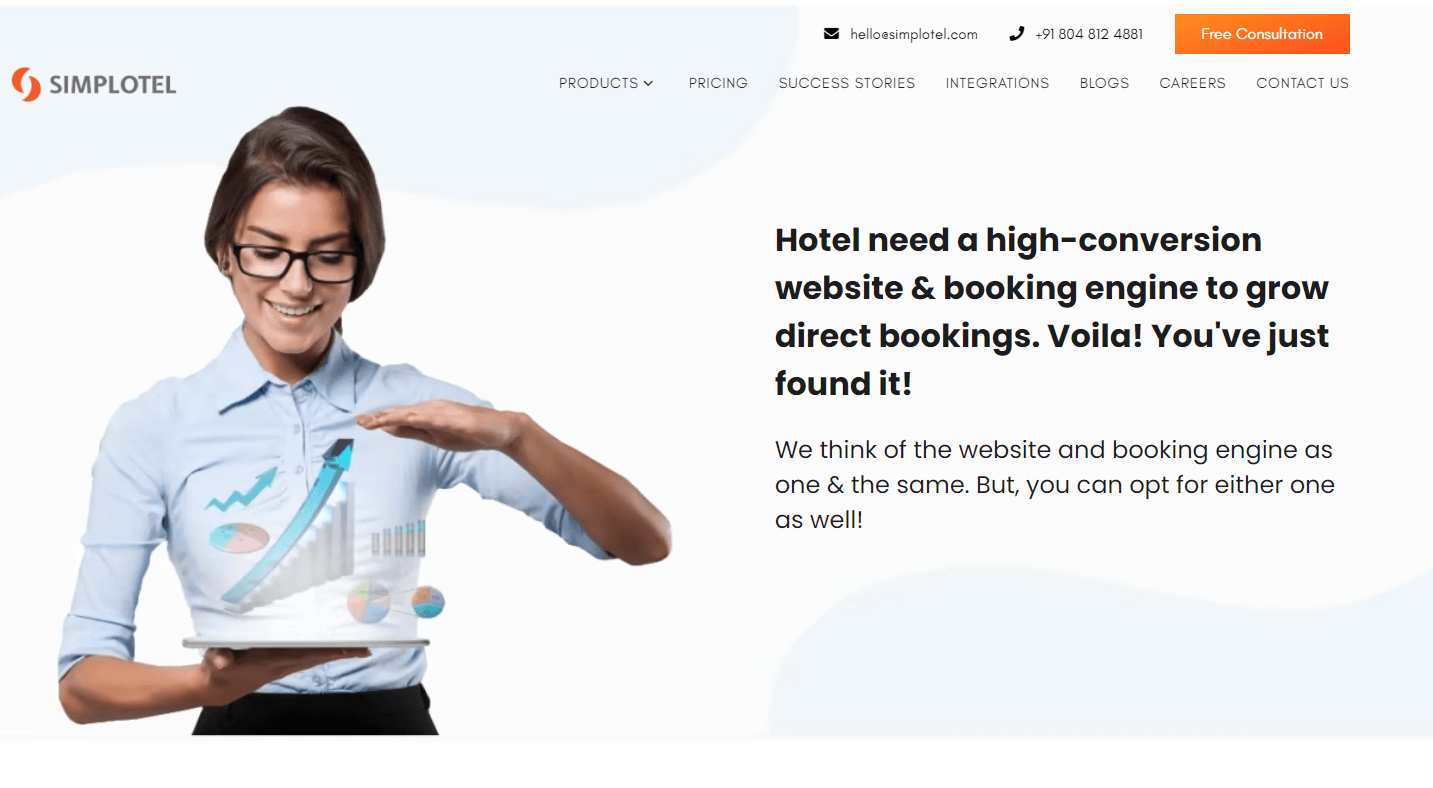 Room Raccoon
Room Raccoon's software connects with your website to convert visitors into clients. The software allows you to process pre-payment in order to avoid no-shows. Plus, you can also offer add-ons directly from the tool, and match the look and feel of your property's website.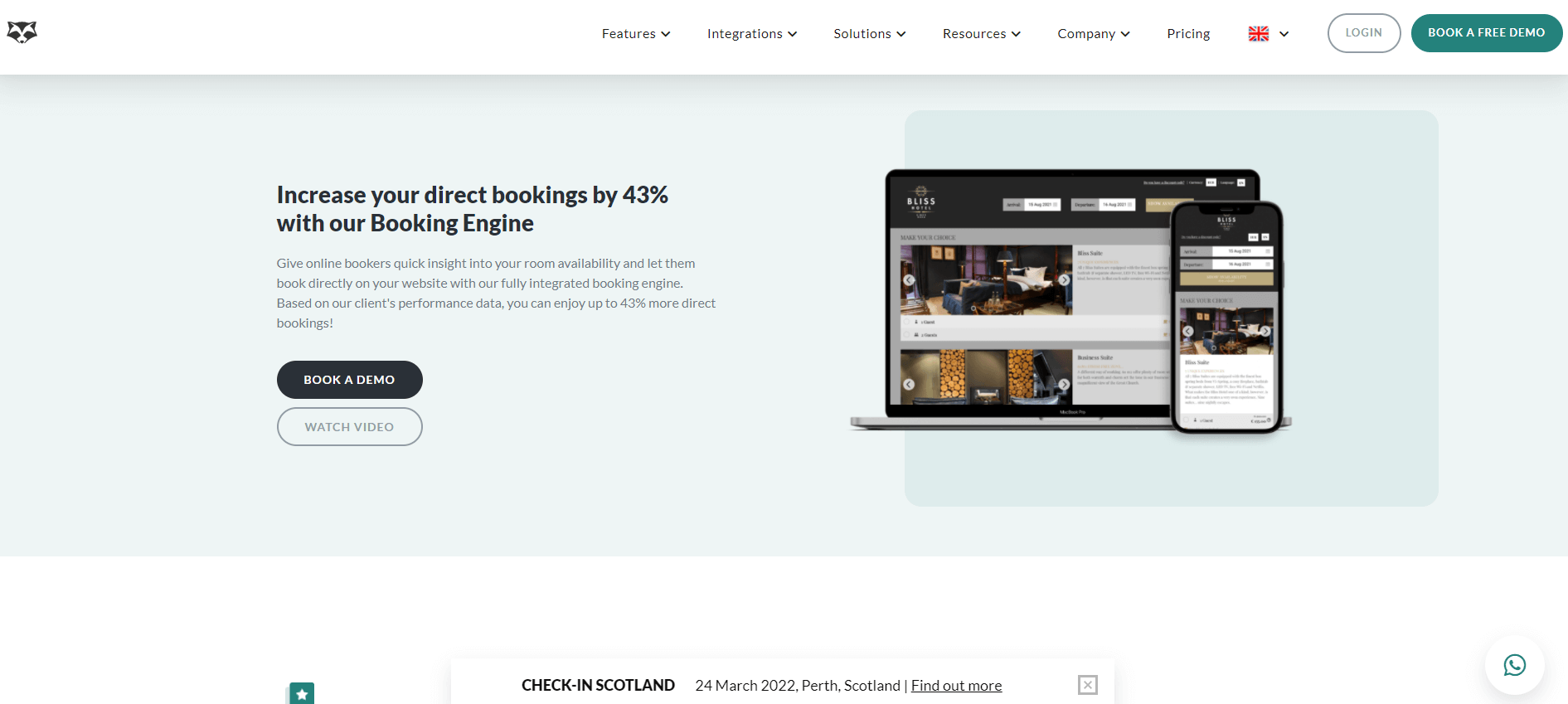 Conclusion
In this article, we've looked at the best hotel booking engines in 2022 to help demystify your journey to finding the direct reservation tool that will best suit your needs. The aim of all the booking engines mentioned is to ensure an easy and intuitive experience on your website so that you can turn one-time visitors into repeat clients.
A streamlined reservation experience is key to driving more conversions and ensuring the most revenue per booking by removing the middleman. Booking engines facilitate a seamless experience with your brand, and at the same time increase direct revenue, make reservation management easier, and give you smarter insights that will help you make data-driven decisions.
With real-time data, you can analyze the different paths to conversion, which will allow you to optimize the user journey and thereby increase sales.

Author
Eva has over a decade of international experience in marketing, communication, events and digital marketing. When she's not at work, she's probably surfing, dancing, or exploring the world.
Hospitality hot takes straight to your inbox
Sign up to our monthly newsletter for industry insights, product news, partner updates and more.