The Mews Blog > Effective strategies to set up the best hotel loyalty programs
Loyal clients are what all hotels strive for. The more loyal the client, the less likely they are to switch to another brand, and hotel loyalty programs are an ideal way to ensure this fidelity.
While there are different strategies behind designing such programs, the main purpose is that your potential guests choose your hotel over another one, and that they keep coming back.
As it's human nature to be different, making sure that a loyalty program caters to different needs and motivations is fundamental to a program's success. Carrying out a unique marketing strategy for these different profiles, including a tiered approach, offering personalized offers, and getting consistent feedback from your members will without a doubt guarantee the longevity of your rewards program.
This article will look at the benefits of hotel loyalty programs, the best strategies, and how these strategies help increase your hotel's results. So, let's get started.
What is a hotel loyalty program?
A hotel loyalty program is a reward program similar to an airline's mileage rewards program in that it offers benefits for traveling more frequently. Essentially it's a marketing strategy that hotel chains (and sometimes independents) use to attract and retain guests by offering discounts and other privileges.
What are the benefits of using a loyalty program in hotels?
Now that we've looked at what a hotel loyalty program is, let's look at the benefits.
Know your guest
Any strategy should always be accompanied by numbers, and one of the benefits to having a rewards program is that you have those numbers at your fingertips. You can use these numbers and preferences to create a valuable guest profile, which will help you launch customized discounts and targeted privileges like upgrades.
For example, you can use the guest's geographic profile to target language preferences and make sure you have multilingual staff to greet them, as well as language-specific marketing materials. On the other hand, if the majority of your hotel loyalty program members are corporate, you can target the deals to fit their needs, such as airport shuttles, business center discounts, and spa services for them to relax when they're not at meetings.
Attract frequent travelers
Frequent travelers, especially corporate guests, are looking for ease of booking and are likely to repeat if they're happy. On the plus side, they also tend to travel regularly to the same locations. So with the help of a rewards system, you are likely to attract these frequent travelers, because they tend to search out those hotels that offer perks for regular bookings.
Guest retention and cost effectiveness
Loyalty programs are a great way for hotels to boost guest retention. In fact, a study from the Harvard Business Review found that generating a new customer was five to 25 times more expensive than retaining a current customer. The same study found that increasing customer retention rates by 5% increased profits from anywhere between 25% to 95%.
As numbers rarely lie, it's important to take into consideration that the best hotel loyalty programs build long-term relationships and happy customers, which ultimately reduces costs and increases profit margins.
More bookings
Not only do loyalty programs entice travelers to book based on rewards and perks, but they are also useful for attracting new bookings, both corporate and leisure. Whereas a leisure guest might be more likely to book a last minute getaway because they have a deal or a coupon, corporate guests are likely to be repeat and quality bookers. For example, if the corporate guest has to travel to different areas where the hotel chain is located, if they are loyal members, they are likely to book all the reservations with the same chain they are a rewards member of.
How to set up the best hotel loyalty program for your properties
Setting up the best hotel rewards compensation strategy for your property is no easy task, but the following ideas and strategies can make this daunting project a bit easier.
Define "loyalty" for your brand
Loyalty can differ from brand to brand, but the important part of defining a loyalty program is defining what is loyalty for your brand and how you are going to reward it. Be strategic about how you do this and have a plan from the beginning. Make sure everything is laid out as clearly as possible, defining black-out dates, whether those be national holidays, three day weekends or high season, and the time frame for which points expire. Rewards can be in the form of birthday discounts, frequent stays, prolonged stays, referrals, discounted upgrades; the sky's the limit.
That being said, you need to find a balance between incentivizing bookings during low periods and keeping your loyal guests happy. After all, there's nothing more frustrating for a rewards member than not being able to book when they want.
Personalization is key
Since every client is different, every client should be treated differently in the rewards program. A corporate guest may be looking for a free shuttle service or a complimentary drink while they work in the business center. On the other hand, a family might be looking for discounted tickets to the theme park. Make sure your rewards reflect these segment differences.
Mix up these rewards between long term rewards and experiences. Long term rewards could be discounted rates year-round, free upgrades, expedited check-ins or a complimentary bottle of wine in your room. You might decide to offer free yearly experiences such as wine tasting for rewards members, a free happy hour, and discounted spa access.
Take a tiered approach
A tiered approach is essentially dividing your customers into sections much like the airlines rewards programs do. You then assign a points system that can be used to classify your guests into tiers.
For example, those who stay the most frequently might be your gold members whereas those who stay less frequently but book for long periods of time every year might be your silver members. Finally, those who book in different hotels from the chain around the world, but stay at a less frequent rate at each individual hotel might be bronze members. These stays would be assigned points, and the more points accumulated, the higher your tier; the higher your tier the better rewards you get.
Don't use a one size fits all marketing approach
An important thing to note is that your rewards program should not be one size fits all. Keep your different segments in mind when designing the offers and make them adaptable across different targets.
Of course, the different targets will each have their own customer journey, and will need to be marketed in different ways. The millennial loyalty members, for example, will want social media promotions, as well as a specialized app to monitor their rewards level and cash in on the different perks. On the other hand, baby boomers may still want direct mail or to sign up to get a newsletter for updates straight to their inbox. Make sure to have information about the initiatives available upon check in, as well as online and in the post-stay phase.
A loyalty program also means a connected guest as they are likely to use the app and other technology to manage bookings. You can take advantage of technology to keep guests connected, such as by sending push notifications to frequent guests' smartphones, as well as other personalized messages, designed to keep your members thinking about you year-round.
Get customer feedback
Feedback is key in order to make educated decisions. Keep in contact with your loyalty members regularly (but not so regularly that they unsubscribe from your newsletter), and ask them for feedback. Reward them with special treats for filling out a brief questionnaire, and make sure to ask what kinds of rewards your customers want to get. Never stop doing market research to keep your hotel loyalty program dynamic and exciting.
Conclusion
The best hotel loyalty programs are those that are well thought out. Start by defining loyalty for your brand and how loyalty translates into different perks. Keep it personalized, and dynamic, while asking for customer feedback to keep improving.
With a carefully planned marketing strategy, keeping in mind the different phases of the customer journey and the different guest segments, you can without a doubt build a successful hotel loyalty program that will not only improve guest retention rates but also increase revenue and bookings.
Perfecting guest communication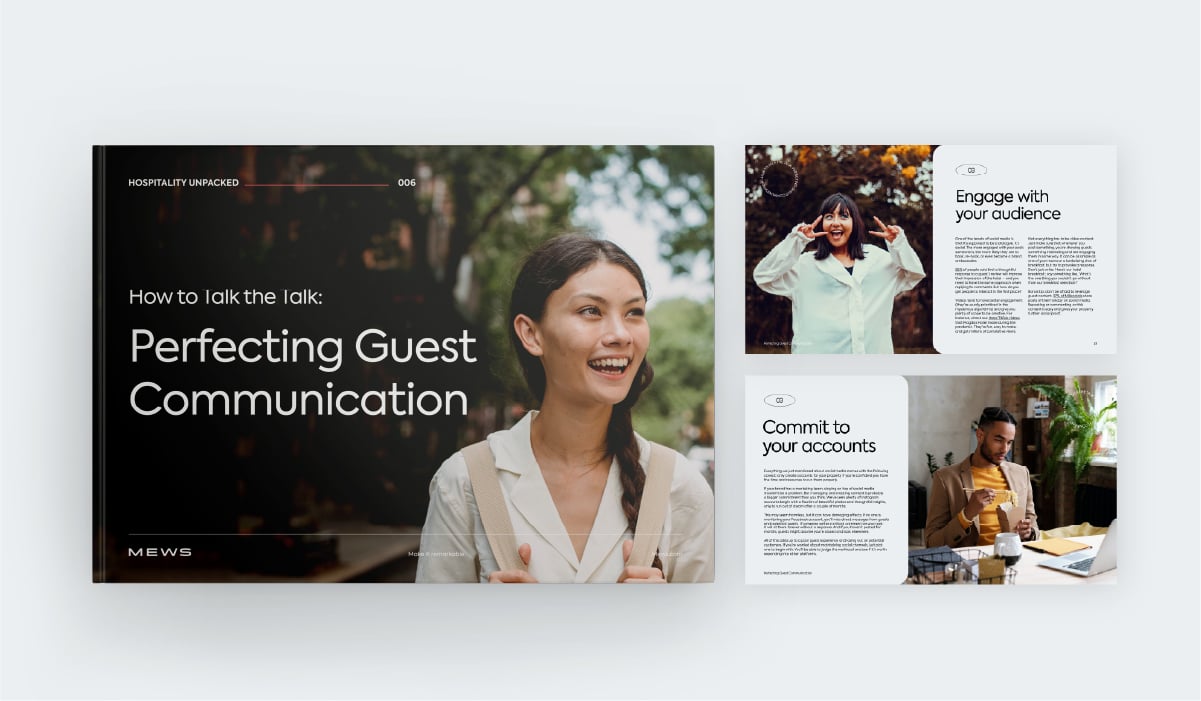 The right marketing strategy plays a huge part in improving guest loyalty. How you speak and engage with your guests across different channels can be the difference between a repeat booking and a one-time customer.
Our guide to Perfecting Guest Communication gives you practical tips across emails, social media, your website and more, as well as pointers about tone and branding.
Hospitality hot takes straight to your inbox
Sign up to our monthly newsletter for industry insights, product news, partner updates and more.