The Mews Blog > How does an online hotel reservation system work?
A hotel reservation system is the mechanism through which guests can create secure online reservations. While the process is similar to booking with an online travel agent (OTA), the difference is the hotel's booking engine essentially links up to their own website so that there are no additional fees incurred for the property.
Through the hotel reservation system software, guests can choose how long they will stay, the type of room they want, get add-ons, and pay securely online through a payment platform. In this article we'll go in depth about what a hotel reservation system is, how it works, and the benefits that it offers to the hospitality sector. So let's get started.
What is a hotel reservation system?
A hotel reservation system is a software application that allows guests to book directly with the hotel online, with no intermediaries necessary. The software essentially processes online reservations made via the hotel's website and then passes this information to the hotel's own backend so that the information can be easily accessed. Bookings are then managed by hotel staff.
With the boom of the Millennial traveler, now more than 700 million people are expected to book primarily online by 2023, so having an online reservation system is key to reaching a widespread audience. It is also key to generating a good first impression because guests are able to place bookings without having to navigate to another domain. Keeping the whole process internally prevents clients from navigating away from the page before making the final booking.
How does a hotel reservation system work?
The reservation management software essentially automates the booking process, syncing up with your hotel's website and social media so that guests can reserve easily and conveniently without having to visit another site. The reservation system can also link up to the channel manager, allowing hotels to distribute their availability to both online agents in real time.
These types of booking systems are used in the hospitality industry in order to allow guests to book their own stays online through software. It helps facilitate a smoother booking process and easily gathers data into your system. Furthermore, it gives you an edge over your competitors and improves efficiency by automatically syncing across your system and channels.
This type of software is key to having global appeal and to increased occupancy rates. It's an essential tool to increase reservations, create enhanced guest experiences, leading to higher customer retention and increased revenue.
What are the benefits of using a hotel reservation system?
Nowadays, having software to manage bookings is without doubt fundamental, no matter the size of the property. So let's take a look at why it's necessary and the benefits that an online booking system brings.
Improved efficiency
A reservation system improves efficiency for hotels, primarily because availability is updated immediately across all channels, including your own system. This reduces the amount of time needed for the front desk to dedicate to administrative tasks and also minimizes the risk of overbooking.
Furthermore, an online booking system has the ability to automate tasks like sending out booking confirmations so that staff can spend their time taking care of other important areas like providing top-notch customer service. Since guests are essentially in charge of generating their own reservations, bookings arrive into the system with all the necessary information already in place – all the reception staff have to do is get ready for their arrival. Automating processes is the key to having a successful and efficient operation during the pre and post trip process.
Gives you a competitive edge
In the digital age, there's no excuse for not being online. However, some smaller hotels don't want to invest right away in software to manage their own bookings and thereby have to forfeit some of the profit gains to intermediaries.
Hoteliers can also customize the software to implement a clear branding message throughout the buyer journey, generating confidence, and therefore leading to conversions. The booking engine can reflect your hotel branding within your own unique URL, giving a sense of security to the guests and making them want to book directly with you, an advantage competitors won't have if they don't have their own booking engine. Plus, in this way, booking experiences are more functional and user-friendly than through a third party.
Furthermore, since the vast majority of people are now booking online, having the ability to book online gives you an edge over those businesses that have not yet invested in the software to make this possible. When guests book directly through the hotel's own reservation system, hotels don't have to share the profit, so they can also offer better prices to guests.
Reduces chances of human error
When you have your own system, guests are in charge of making their own reservations, so presumably, there will be no errors in guest details and contact information. However, should an error occur, the hotel will not be held accountable, hence keeping your reputation intact. Moreover, since the reservation system syncs up with channel managers, the likelihood of an overbooking due to human error is little to none. Reducing human error in bookings allows a better service and frees up time to take care of other tasks rather than cleaning up errors.
Data collection is easier
Collecting customer data is key for marketing purposes, and an online booking system is a way to ensure that data collection is easy and that all guest data is in one place. You can easily understand guest demographics, preferences, what amenities they prefer, where they are coming from, and how many guests are traveling. You can use this information to tailor your marketing strategies and improve the overall guest experience, thus boosting retention rates.
Easily manage rewards
A booking system allows you to keep track of your reward customer's stays and allot them benefits accordingly. Guests can keep track of their rewards by having a unique login so that they input their information once and then from thereon out, it's the system that monitors their rewards status, with little maintenance necessary from staff.
Since hotel loyalty programs are an important means of guest retention and keeping occupancy up in low season, the simpler it is to administer rewards, the easier it is for your staff to keep track of, and the more likely it is you'll be able to keep the guests coming back thanks to rewards.
Conclusion
We've looked at what a hotel reservation system is, how it works, and the benefits to the hospitality industry. The benefits of an online booking system range from reducing human error to improved efficiency, from making data collection and rewards management easier to giving you a competitive edge.
With the advent of technology, having a hotel reservation system software is the one of the easiest changes a hotel can implement to reap the benefits mentioned in this article. It allows you to keep occupancy up and ensure everything is running smoothly with little intervention from hotel staff. The more time that is freed up for staff to take care of administrative duties, the more time they can dedicate to offering the best service possible.
The Guide to Switching Your PMS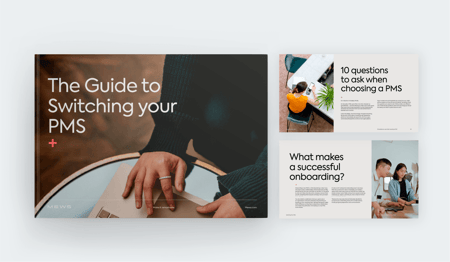 Download your guide to moving to a new property management system, covering the 10 questions you need to ask, typical implementation timelines, and what makes a successful onboarding.

Author
Eva has over a decade of international experience in marketing, communication, events and digital marketing. When she's not at work, she's probably surfing, dancing, or exploring the world.
Hospitality hot takes straight to your inbox
Sign up to our monthly newsletter for industry insights, product news, partner updates and more.