The Mews Blog > The Power of Power BI: Transforming Business Analytics for Hoteliers
Mews has partnered with Microsoft to help hoteliers harness the capabilities of groundbreaking hospitality analytics platform Power BI...
---
In a nutshell, BI (business intelligence) is the journey from data to decision. We all generate a lot of data, which in turn brings opportunities (insightful decisions, timely action and focused efforts) as well as challenges (time to implement, learning curve, cost).
At our recent 'Back to the Hospitality Future Summit', one of the day's most impactful presentations came from Microsoft, who used their stage time to show us the capabilities of business analytics solution Power BI and how it is transforming hospitality operations with unprecedented insights.
Today's hoteliers are operating in an increasingly competitive environment, in which they should take full advantage of the wealth of data at their fingertips. With Microsoft Power BI it's possible to filter through and then transform such data into clear stories which help to better understand a hotel's performance, cut costs, enhance the stay experience and build long-lasting relationships with guests.
Oh, and thanks to our latest collaboration with Microsoft, you can now directly integrate your property management system with Power BI…
It's a tech-heavy topic, but Anum Ajmal (Technical Evangelist at Microsoft) and Manu Kanwarpal (Partner Technology Strategist at Microsoft) expertly served up a user-friendly and example-filled explanation of the market-leading platform.
As Anum explained, the experience of using raw data sources, getting insights from them, and then sharing them as something useful can be compared to gathering lots of raw ingredients, cooking them and serving up a delicious meal. So, a pretty straightforward process then!
How it works
Having explained the "what", the "how" and the "why", Manu gave an express live demo to show how it's possible to build an end-to-end report for hoteliers from scratch within five minutes. And the power of the tool spoke for itself..!
Within just a few minutes he:
- created a new end-to-end report
- carried out data extractions
- made data changes
- added a new custom measure
- created some visualisations
The demo showed how simple it is for a hotel to connect to a typical reservations spreadsheet, extract guest data, look at reservations by segment (e.g. customer nationality or arrival month), and get meaningful insights in minutes. Thanks to Power BI's high level of detail it's also possible to enable data labels to instantly see key statistics and find the answers to questions in a glance.
Watch it for yourself and prepare to be impressed:
In short...
Power BI uses machine learning and predictive analysis to take what can be created in Excel to the next level. It provides valuable insights based on real time data, as well as interactive dashboards and informative reports which can empower industries to differentiate themselves and make data-driven decisions.
Power BI for hoteliers, powered by Mews
We've been using the Mews API and Power BI to generate a set of intuitive reports which we believe today's hoteliers need in order to analyse what's really important to them. We've used our API to make imports and exports from Excel a thing of the past (despite Manu's impressive five minute demo!), removing the need for manual manipulation and eradicating human errors.
Three of the most popular reports are:
The YTD Comparison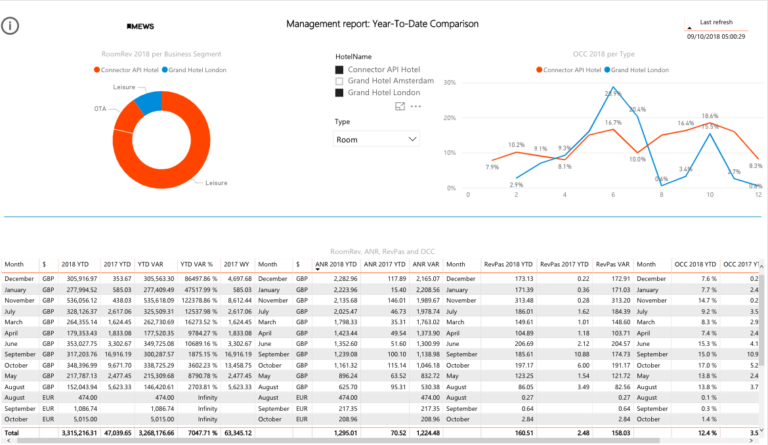 ---
The Marketing Report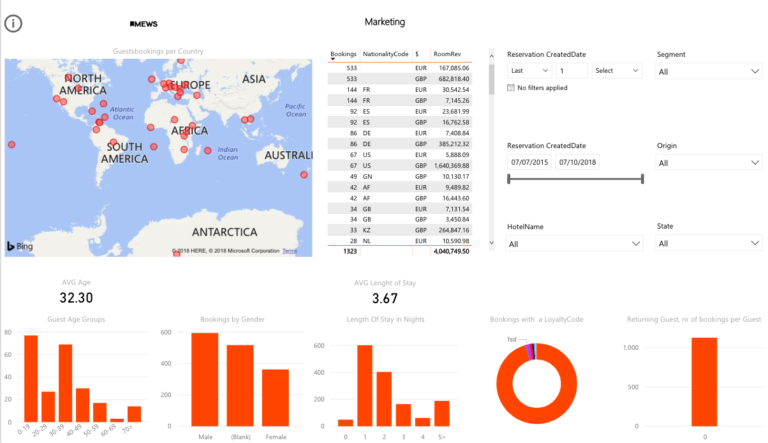 ---
The Pick-Up Report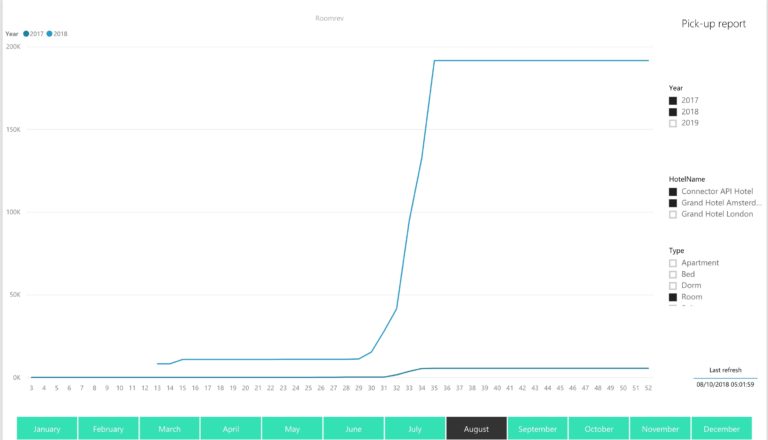 ---
We've learned that every hotel has a specific set of needs, and as properties grow the number of data touch points increases (websites, restaurant POS, conferences and events, PMS and reservations…). What's practical is that Power BI allows us to have multiple data sources and the app allows data to be easily manipulated whilst on the move, helping to provide instant answers to questions.
"We understand that cost analysis and being able to see the cost of acquisition are incredibly important to hoteliers."
Through hosting workshops for our clients we've identified and taken into consideration all of the different market segments of hospitality accommodation and drawn up the dashboard that they want and need.
Amongst the most requested features were...
A revenue report... which can be split by market segment.
A commercial workspace... designed for sales teams who need to own their data and their performance, so as to gauge how well or badly their hotel is performing.
Real-time data... which is accessible to everyone in the property.
A length of stay report... with different filters which allow users to drill down into historical data
A returning customer report... which looks at spends, market segment, seasonality and choice of room type.
An accounts ageing report... which shows how long it takes for invoices to be paid per zone / property / cluster / customer.
An F&B turnover dashboard... which allows a hotel to measure the performance of individual F&B services.
And the result? We've created lots of management report templates, whose functionalities include:
- the possibility to access data straight from the Mews PMS
- a performance-type dashboard which offers an instant visual overview of the hotel's activity and YoY analysis
- a high level of granularity (e.g. visualising the split of OTA revenue by month and by guest gender)
- aggregating Google Analytics against PMS data
- creating different types of management reports
Our clients can access all of these for free on our Enterprise subscription and our hope is that, in time, they will become a default set of reports.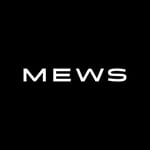 Hospitality hot takes straight to your inbox
Sign up to our monthly newsletter for industry insights, product news, partner updates and more.