The Mews Blog > How to calculate the Average Daily Rate (ADR) in the hotel industry
Are you wondering what ADR, hotel and revenue all have in common? Well, ADR stands for a hotel's average daily rate, and it is a key metric in order to understand the average rental income generated by having a room occupied each day. It's an invaluable calculation for a hotelier's revenue management strategy, giving a better idea of the hotel's performance in comparison to other hotels of the same size, clientele and location.
In order to calculate ADR, you must divide room revenue by the number of rooms sold, factoring in only the revenue that is generated from paying for the room itself.
In this article, we'll go into more detail about this metric, such as how to calculate it, other essential information, and examples so you can understand the concept better.
What is an Average Daily Rate (ADR)?
An Average Daily Rate is an important hotel KPI that's based on calculating the average rate or price of a hotel room sold on any given day. As we mentioned before, this rate helps you to compare and understand how well the hotel is doing in comparison to hotels of a similar caliber. Furthemore, it's one of the most important metrics when looking to draw conclusions from hotel data analytics.
Since room rates can vary depending on where the hotel is located, the time of year, or the type of hotel, ADR can help determine the average amount of income that's being generated by occupied rooms. While occupancy indicates how many rooms are actually sold; instead, ADR indicates the price at which these are being sold for, or the average room rates.
This is because the first rooms tend to be booked with promotions, with prices increasing as it gets closer to the date, which can sometimes skew ADR. Using these two indicators together, hoteliers can get a general idea of how much revenue is being generated by room sales.
What do we have to know about ADR?
Since ADR is such an important metric, let's take a look at what is essential to know about it. As the name indicates, average daily rate measures how much revenue is made per room on average. As hoteliers, you want to look for a high ADR; in fact, the higher the number, the better, because it indicates that the hotel is making increasingly more money from their room sales.
Of course there are ways to increase ADR by boosting price per room and other price management strategies. Some of these strategies could be promotions, upselling, and other complimentary services such as a free city walking tour or a shuttle to the airport. While prices depend on the current market trends and seasonality, hoteliers should seek to match the prices to the demand at any given time.
We've already mentioned that this rate can be used to determine how well a hotel is performing against other similar hotels, but it can also be measured against the hotel's own historical performance to determine trends, seasonal impact and to understand the effectiveness of promotions and different pricing strategies.
ADR can be misleading
While this metric can be useful to get a better picture of how your hotel is doing compared to the competition, nonetheless it's important to mention that this metric can be misleading. For example, if you have a booking of $600, your ADR would increase greatly but your sales or revenue would not be greatly impacted. Furthermore, this metric does not take into account hotels with different space categories, different rates, promotions and properties with add-ons such as towels, room service, etc.
Alternative metrics
Because ADR can be misleading, it would be ideal to look more closely at KPIs like revenue per available space or revenue per guest, which give insight on a similar topic, but provide a clearer picture of how well the property is performing operationally. GOPPAR, or gross operating profit per available room, can also provide clearer insights on how well a property is performing on a high level, and can point out inefficiencies in reaching these profit goals.
If you'd like to know more about the new generation of metrics, including RevPAG and TRevPAR, download the Metrics that Matter. The report dives into how to make your operations more efficient and more profitable.
How do I calculate Average Daily Rate (ADR)?
Average Daily Rate can be calculated by taking room revenue and dividing it by the number of rooms sold. Or in other words, It is calculated using the following formula:
ADR= Room revenue / Rooms sold
In this equation, Room Revenue is the total gross revenue that is generated from hotel room rentals and the net of any discounts. It does not include revenue from room service, movie rental, and mini bar, all of which are important metrics for a hotel, and budget properties above all.
ADR essentially takes into consideration the average price the guests pay for a hotel room, but the rooms sold can, of course, vary from structure to structure based on the type of rooms, i.e. whether a hostel counts a room sold as a dorm bed or once the entire room is booked.
On the other hand, rooms sold refers to the number of rooms occupied and paid for on a given day. ADR does not take into consideration the revenue earned in other areas of the hotel, and should not take into mind any complimentary rooms, or rooms occupied by non-paying guests.
An example of Average Daily Rate
Now that we understand how to calculate the rate, let's take a look at some examples to understand how it works and how to use the formula.
Say, for example, your average room revenue in peak season in August was $400,000. The number of rooms sold that month was 2,000, so the ADR in August would be $200.
Let's look at another example. Imagine you have 200 rooms to sell, and you only sell 175 of those rooms, your occupancy rate would be 87%, which is quite good. If you were to consider in terms of ADR, let's imagine these same 200 rooms cost $250 during the high season and $150 during the low season. You would have quite a range of revenue of $43,750 during the high season vs $26,250 in the low season.
These examples help you to demonstrate that if you're looking to increase the amount of revenue generated by room sales, then shooting for a higher ADR would be a good strategy to do so.
Through an effective pricing strategy and promotions such as discounts for booking a multiple-day stay, you can effectively manage the revenue streams.
This figure can be used to calculate the revenue per available room (also known as RevPAR). While the ADR shows how much is made per room per day, RevPAR shows the hotel's ability to fill the available rooms at the average rate, so they are interconnected.
Conclusion
As far as revenue is concerned in a hotel, ADR is an important figure but not the only one to consider, as it does not provide a holistic picture of a hotel's entire revenue successes nor does it take into account ancillary revenue or hotels with varying room types. While this figure does tend to increase if a hotel's prices increase, this number on its own is not enough to get the whole picture. It's important to look at all the different metrics together.
For example, if occupancy falls, overall revenue might be lower. Moreover, it does not take into consideration commissions to OTAs or money that is reimbursed to the client should there be a problem, since it only measures whether the room was sold.
That being said, this figure can be used as part of a holistic hotel revenue strategy, which can include (but is not limited to) pricing strategies, promotions and other methods to increase revenue. Segmentation can also be used as part of this strategy because by fully grasping clients' needs and barriers to entry, hoteliers can understand what they need to do in terms of prices to pull that client in. Maybe they can provide complimentary services or implement a loyalty program or provide lower prices for direct bookings. All of these factors can help contribute to increased revenue.
Boosting ADR is useful to help increase revenue, coupled with upselling, cross-selling and segmentation. Furthermore, it is an important KPI to better understand the hotel's and other campaigns' overall performance, and should always be used together with other data points.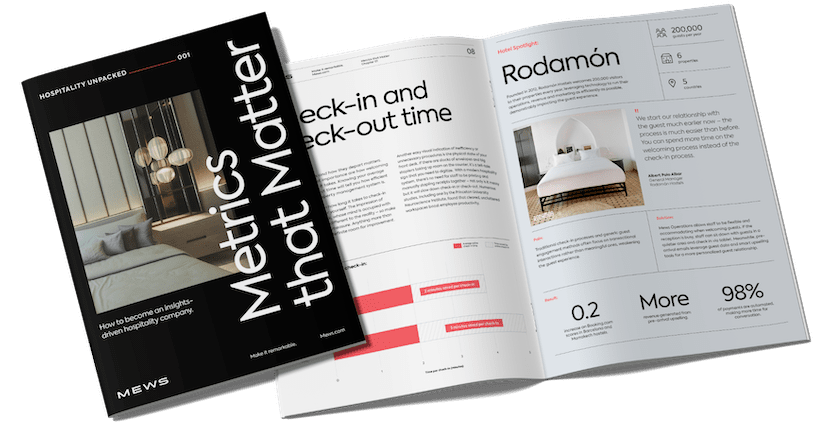 How does your property measure performance? With an almost endless amount of data available, tracking the right metrics is key for success – and we're here to guide you.

Author
Eva has over a decade of international experience in marketing, communication, events and digital marketing. When she's not at work, she's probably surfing, dancing, or exploring the world.
Hospitality hot takes straight to your inbox
Sign up to our monthly newsletter for industry insights, product news, partner updates and more.