The Mews Blog > 10 Tips to Improve Your Housekeeping Operation: download your free guide
Cleanliness is next to godliness, so they say. While we don't have the authority to make a judgement on that, we can confidently say that cleanliness is vital for the success of your hotel. In fact, 78% of guests say it's the most important factor in choosing where to stay.
The pressure is on to run an efficient housekeeping operation, and in all likelihood your property is already doing a good job. But that doesn't mean your operation can't be better optimized.
Streamlined processes go hand in hand with happier guests and boosted revenue. How exactly can you fine-tune your team? Our guide, 10 Tips to Improve Your Housekeeping Operation will show you.
What's in the guide?
10 Tips to Improve Your Housekeeping Operation outlines – big surprise – 10 actionable items that will help your housekeeping team to work faster and more effectively. Some of the areas covered include:
Digitalizing operations
Streamlining workflows and workloads
Reading your guest reviews
Engaging more with your team
Giving guests the option to skip housekeeping
You'll also hear from some happy hoteliers and how they're managing their housekeeping teams with Mews Operations and the Mews housekeeping app.
Read an extract
Hopefully you're ready to read the guide already, but if you need a little more persuasion, here's a small sample. Don't say we don't treat you.
Streamline workflows and workloads
Housekeepers spend between 10-15% of their time finding the next room to clean. That's a waste of time. Streamlining your team's workload is made much easier if you go digital. Planning your housekeeping shifts in Mews Operations is fast, easy, and completely paperless. You'll see a workload overview for every housekeeper, and they'll see all their assigned spaces in the app – all they do is mark it as clean once they're done, then move on to the next space.
If you want to take things a step further, predictive technology and deep machine learning can save you hours every week. Optii, for example, automatically maps daily routes based on guest profiles and hotel needs. This saves staff time and energy and leaves them with more time for their actual work.
Communicate better
Good communication is efficient communication. If your housekeepers are calling your front desk to let them know a room is now available, that's not a good use of time. And if they're waiting until the end of the shift and then calling down to say everything is done, that's a missed opportunity for your front desk team to have upsold early check-ins.
Instead, use an app where the housekeepers can check off a room as completed, which is then immediately updated in the system for front desk to see. Use an instant messaging tool so there's a trail of recorded messages within your platform so that nothing gets missed. This also makes is easier to assign and follow up on tasks.
"We had far fewer calls from housekeeping to the front desk and vice versa, because now they can see on their tablets which rooms are ready."
Inge Decuypere, Owner, C-Hotels
Download the guide
Ready to read 10 Tips to Improve Your Housekeeping Operation? Follow the button below and it will all be yours.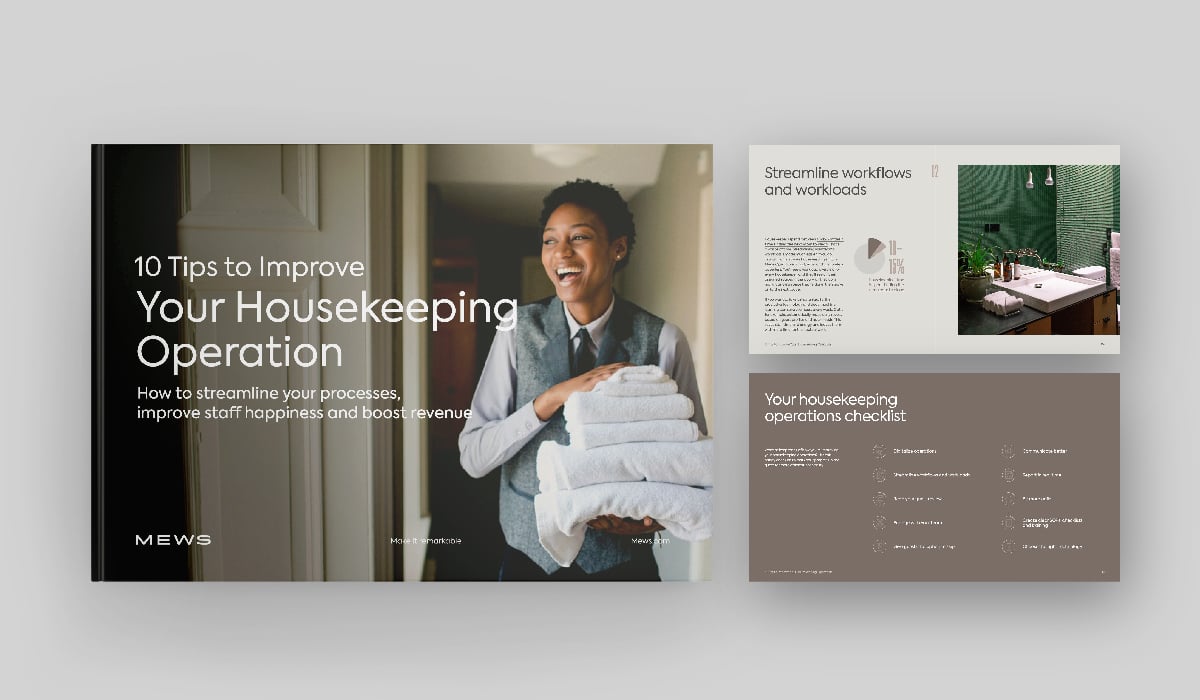 Hospitality hot takes straight to your inbox
Sign up to our monthly newsletter for industry insights, product news, partner updates and more.