The Mews Blog > How to use Alexa and voice control speakers in the hotel industry?
Alexa for hospitality and other voice-activated services are changing the way guests interact with their room and the services provided in-room. Apple's Siri was one of the first voice controlled services on the market for smartphones, but this technology has made the cross-over into voice control speakers that can be used anywhere.
As people become more comfortable with the available technology, they will start to expect this type of technology as a way of improving the overall guest experience.
There are many ways this technology can help improve a hotel's operations across departments from concierge services to housekeeping, the front desk and more. In this article we will look in close detail at voice control speakers like Alexa, learn how they can be used at your hotel, and cover the benefits.
What is Alexa and voice control speakers?
Alexa and other voice control speakers are a line of products known as smart speakers. Smart speakers have many users, both at home and across different industries. The hotel industry is seeing a particular advance in the technology available, allowing hoteliers to offer a top-notch guest experience with service at the command of your guest's voice.
Smart speakers rely on artificial intelligence for voice recognition, which then allows them to both understand and respond accurately to voice commands. They can be used to set alarms, answer questions, and sync with other smart devices.
How can you use Alexa at your hotel?
Voice control speakers such as Alexa for hospitality are being used to offer an incomparable user experience powered with virtual assistant technology. While Alexa's use in hotels is relatively new – only since 2018 – it is revolutionizing personalization and convenience within hotel rooms. It can easily integrate with other smart devices in the room so that guests can turn on the TV, listen to music from their spotify account, and get information from other internet devices.
This technology can be particularly useful when synced with your hotel property management system's direct booking engine. You can compile a list of guest preferences such as musical taste, temperature, lighting preferences, among others, so that you can already program Alexa before the guest's arrival, which will make them feel at home right from the start. Not only that, but Alexa can essentially handle requests that are usually handled by the concierge, helping you to set a wake-up call, get the weather, approximate arrival time to get to a monument and search the internet for the best restaurants or sightseeing in the city.
Read about how to bring your hotel into the future with smart rooms.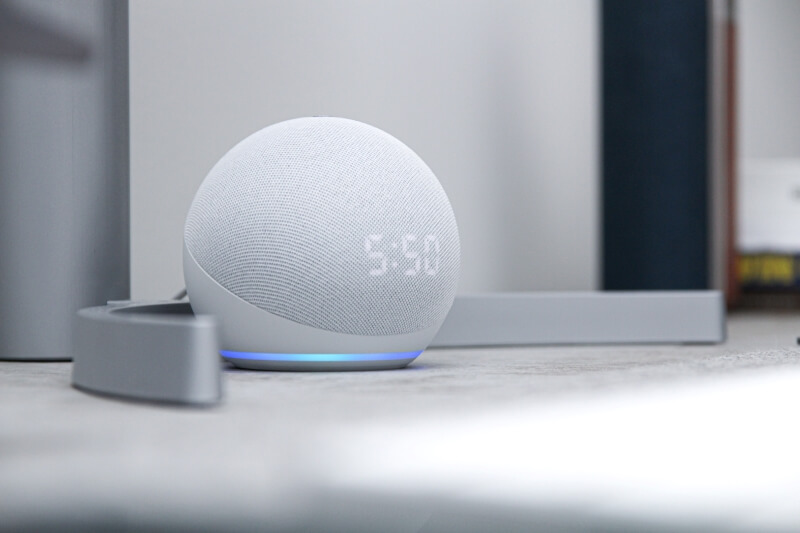 What are the benefits of using Alexa in your hotel?
Alexa and voice control speakers provide many benefits that will be particularly useful for the hospitality industry in terms of personalization and quality of services. Likewise, it proves a powerful device to get important learnings about guest preferences that can be used to constantly improve the level of service offered. Furthermore, it is an extremely effective tool in driving guest engagement. Read more about how guest engagement can help your hotel.
Now, let's take a look at all the benefits of voice activated devices in the hospitality industry.
Capture information about guest preferences
Due to privacy and data collection laws, the information available to hotels can be limited, but hoteliers can still get valuable data about engagement nonetheless. For example, they can assess the functionalities that are most used by guests, whether that be controlling the lights, searching the internet or playing music, which will help hoteliers get a sense of how much use is being made of the device, and even if there are more features that they would like to offer.
Virtual assistant functionality
Virtual assistants are all the buzz, not only because they allow hotels to handle requests more efficiently, but also because they can provide 24/7 assistance, which helps guest satisfaction levels. With the addition of voice control speakers to the room, hoteliers can provide internal room service without human intervention.
Guests can essentially order room service, book a table at the restaurant, make a massage appointment at the spa and get all the concierge help they might need directly from the device. Or they can even send direct requests to housekeeping for extra pillows or blankets. Dialing "0" for the front desk will slowly become a relic of the past. Common guest questions and requests are now more easily and more quickly handled.
Stellar in-room experience
We've already mentioned the importance of smart devices in improving the guest experience, but think about this: they no longer need to have the remote control in their hand to turn off the air conditioning or the TV. Alexa will do it for them. They can even turn off the lights directly from bed, redefining luxury.
Find out about other top technology trends that will help improve the overall experience.
Multilingual service
Since housekeeping and other areas of the hotel don't always speak all the languages of the guests staying at the hotel, Alexa helps take the mystery out of multilingual communications. Guests no longer need to shy away from getting the help or services they need if they don't speak the local language. New languages are constantly being added as well as a translation app that will allow people to get the assistance they need no matter what language they speak.
Personalization
Personalization is one of the most important ways to set your hotel apart from the competition. And nothing says personalization quite like a voice-controlled device. Smart hubs that can sync with smart speakers allow hoteliers to take personalization to the next level; they can greet guests by name upon arrival into the room and sync with user's personal entertainment accounts, among other advantages that are increasing as the technology improves. Plus, they can set the language so that all their needs will be met in their language of choice, which helps the guest feel more at home and get help more easily with common requests.
Conclusion
Alexa for hospitality provides many benefits such as the ones we've discussed in this article. While there are indeed some privacy and data concerns, as the service improves, the privacy concerns will likely disappear and all that will be left is a superior guest experience facilitated by quick resolution of common concerns and requests.
Hoteliers can also use the engagement data to continue to improve the services offered and provide the utmost level of service that is facilitated by these technological advances. Improved service is one of the driving forces behind loyalty.

Author
Eva has over a decade of international experience in marketing, communication, events and digital marketing. When she's not at work, she's probably surfing, dancing, or exploring the world.
Hospitality hot takes straight to your inbox
Sign up to our monthly newsletter for industry insights, product news, partner updates and more.