The Mews Blog > Bring your hotel into the future with smart rooms
A smart room is just what hoteliers need to bring their hotel into the future. Using Wi-Fi technology and other smart elements can enhance the customer experience, keep them engaged and improve a guest's overall brand perception. So why wouldn't you go smart?
In this article we'll discuss what exactly a smart room is, as well as the benefits and positive changes you can implement to catapult your rooms into the digital age. Let's get started.
What is a smart room?
You may or may not have heard of a smart room before, but essentially a smart room uses internet connected devices to enhance the guest experience. By connecting devices using what is called the Internet of Things you can offer an incredibly dynamic hotel experience.
The Internet of Things (IoT) connects and exchanges data among internet systems and networks by means of devices that are embedded with different technology such as sensors and software. Think Alexa or the Google Home devices.
This technology can be applied to hotel rooms in order to give guests more control over their experience and make them more comfortable. This can also be applied to everything from lighting to room temperature, smart TVs and shades and curtains. Read more about the top technology trends this year.
What are the benefits of offering smart rooms to your guests?
There are many benefits of offering smart rooms to your guests. For starters, guests will be able to be in charge of their comfort and enjoy different conveniences to tailor their experience.
Hotel owners on the other hand, will be able to operate more efficiently, save money and provide optimal guest experiences that will contribute greatly to retention rates.
Streamlined housekeeping operations
Using smart hotel housekeeping software for example, will allow your hotel housekeeping staff to better control their tasks and communication among staff members.
Housekeepers can even download an app and directly communicate with the maintenance team if anything needs to be fixed inside the room. They can change the status of a room, allowing guests to check in early if the room is ready sooner than expected, which opens up new revenue streams by driving efficiency and optimizing processes.
They're more sustainable
Another important benefit of smart rooms is that they're more sustainable. Smart rooms have the technology available to make energy-efficient adjustments based on occupancy. If the occupancy sensor detects an unoccupied room, it will automatically dim or turn off lights and change the thermostat.
Furthermore, you won't have to worry about unnoticed (or noticed) plumbing problems or leaks, as you can install sensors that not only detect but also report leaks so that maintenance can fix them immediately, which saves money and is more environmentally responsible by reducing unnecessary water usage.
Saves money
Of course we already mentioned that detecting leaks and adjusting lights and climate control settings is ideal for environmental reasons, but it is also great for cutting costs. The sooner you catch a leak, the less damage is done and effectively the less you will have to spend to get it fixed.
In addition, by managing room settings more intelligently you won't be paying unnecessary utility costs when rooms are unoccupied, and you can reduce energy costs drastically. All these smart settings can add up and save hoteliers both short and long term.
They're safer
Smart is not only cost effective, it's also safer. Instead of hotel room keys, hoteliers can use the IoT to implement new ways of entering rooms. They can use facial recognition or a secure app on their phone to unlock the door, which is more secure, and also gets rid of the pesky problem of lost or stolen room keys.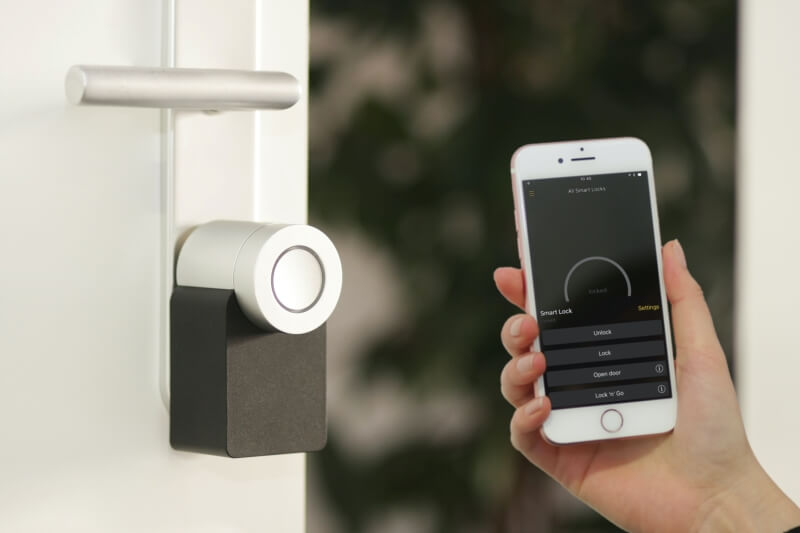 How can you transform your hotel rooms into smart rooms?
There are many ways to transform your hotel rooms into smart rooms, so let's take a look one by one.
Personalize room controls
Personalizing room controls may seem like technology of the future, but it's without a doubt here, and it's here to stay. With smart technology, guests can personalize room controls, change the temperature of the room, water temperature, lights, and even lower the shades from their smartphone or voice controlled device. Guests can even set the ideal temperature conditions for their room from their phones before they arrive.
Key card integrations
Whether you decide to offer mobile keys, room key apps, or facial recognition technology to unlock hotel room doors, key card integrations are a great way of automating services. Guests can unlock doors from their smartphones and access the hotel facilities at any hour of the night without having to employ 24-hour staff so that guests can come and go as they please. Learn more about key card integrations.
Unlock the power of mobile
Take advantage of your connected guests and allow them to control their hotel experience with the power of their mobile or tablet devices. Whether that be key card integrations, mobile check in, housekeeping requests, or a bespoke app, smartphones have the power to unlock a smarter, more connected hotel stay that will without a doubt positively contribute to brand perception.
Voice technology
Alexa and Google Home are now being used in hotel rooms to offer a personalized experience. Guests can control the television, lights and music through voice controlled devices or even create their own music playlists. They can even tap into their own third party services such as Spotify, Amazon and Netflix to have the same comforts that people have gotten used to in their own homes.
This will create a more relaxed and convenient hotel experience – imagine, guests won't even have to get up from their bed to turn off the lights.
Interactive walls and mirrors
Another interesting use of this technology is to implement interactive walls and mirrors. Digital mirrors can tell you the weather and answer questions about restaurant hours, where to go for dinner, or even let you request room service or extra towels.
Beyond interactive mirrors, hotels can also offer interactive wall maps that show maps in real time, as well as traffic, tourist attractions and places of interest and a whole lot of other information that used to be provided primarily by concierge staff.
Conclusion
Smart technology is redefining luxury. It's the luxury of convenience where a smartphone can unlock a seamless guest experience and comfort is in the hands of the guest.
By implementing some of the above-listed ways to transform your hotel rooms, you can be sure to move your hotel into the future. This will allow you to set your hotel apart from the competition by offering a customized, unique and seamless guest experience. Furthermore, you can save money and be more sustainable at the same time, which makes the decision to go smart a no-brainer.

Author
Eva has over a decade of international experience in marketing, communication, events and digital marketing. When she's not at work, she's probably surfing, dancing, or exploring the world.
Hospitality hot takes straight to your inbox
Sign up to our monthly newsletter for industry insights, product news, partner updates and more.