The Mews Blog > Using availability blocks with Mews
'Availability blocks' may not be the most exciting term in hospitality. You may know them as 'group blocks', which is even less exciting. But even so, they're really useful when it comes to managing your inventory for travel agencies and group reservations.
Our Product team has spent some quality time expanding our availability blocks functionality, and we'd love to take a little time to show you how they work. If you're already with Mews (excellent decision), this should help you to get even more from our platform. If you've yet to join us, maybe this will inspire you to...
What are availability blocks?
Just a quick recap because we get into the details. Availability blocks are a fixed set of inventory (rooms or beds or any other space) that you remove from public availability. Most commonly, this is because you have a deal with a travel agency and you need to set aside a certain number of rooms for them, or because you have an onsite event like a wedding that requires a blocked-out amount of space – a block party, if you will.
The inventory is set aside for a specific date range and rate, with the amount of space type agreed upon. For example, 40 rooms between 1st and 7th April at a rate of €100 per night. If the spaces haven't been sold by an agreed upon date, they're released back into the wild for the public to book them – hopefully with enough time for them to do so.
What's so great about Mews availability blocks?
Group blocks are nothing new. We're not trying to pretend we've reinvented the wheel. But what we have done is made them super easy to use with a clean interface and logical functionality.
For every block you create in Mews Operations, you'll be able to view a dashboard that automatically updates whenever reservations within that block are made. At the top of the dashboard you'll see conversion data, i.e. what the occupancy of this block is and how many spaces have been booked and are still available.
From here you can also see a more detailed breakdown of bookings, plus you have the ability to adjust the rules of the block. There's also a simple button that automatically generates a specific booking engine link for this availability block – any reservation booked through this link will automatically be included as part of this block, with no need for your staff to manually update the booking.
This is also easier for guests. If they click on the special link provided to them by the travel agency or event organizer, they'll be able to book a room in the pre-defined date range. There's no special code they need to enter and they don't need to speak to your front desk to make sure it's part of the group reservation. Simple and seamless.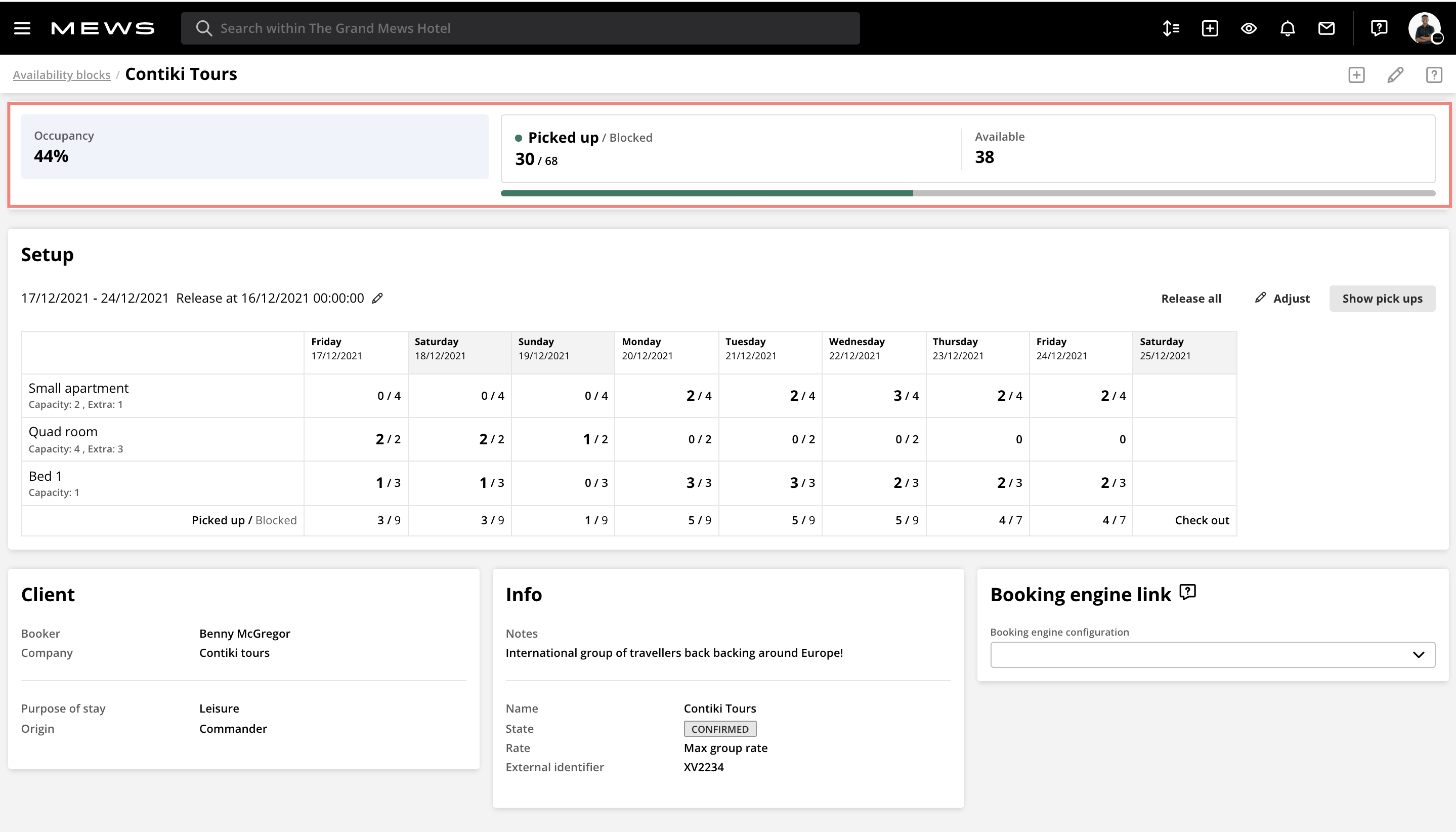 An in-platform view of an availability block dashboard
Availability blocks reporting
Improved availability and occupancy reporting is another big feature of our availability blocks. You can now see availability and occupancy side-by-side, with color-coded blocks that quickly highlight your busy or quiet days for occupancy and availability.
There's also a handy link that will take you straight to our new availability block report. It gives you an overview of current status of all current blocks for your property in a given date range, and as always it's just a click or two to download it as a PDF, print it, or export it to Excel.
This is where you can create new blocks, and it's where you can click into any existing block to see the dashboards we spoke about earlier.
Find out more about availability blocks
Want to see what all of this looks like when you're moving through the Mews platform? Your wish is our command. Back in February, we ran a webinar about how to make the most of availability blocks, and you can watch the recording here.
Hospitality hot takes straight to your inbox
Sign up to our monthly newsletter for industry insights, product news, partner updates and more.