The Mews Blog > Best hotel booking sites in 2023
Choosing the best hotel booking site is no easy task. Nowadays, there are a range of OTAs, metasearch engines, and even your own hotel's website are important for boosting bookings. With this never-ending list of resources available for listing your hotel rooms and deals, you must be able to sort through the good and the not-so-good sites in order to optimize your distribution strategy.
On the other hand, you don't want to become fully reliant on third party channels. The ideal distribution strategy will use a combination of third party channels, paired with optimization of your direct channel in order to maximize the revenue gained per booking. Ideally, you will use third party sites to not only boost bookings but also to drive traffic to your direct channels.
Keeping this in mind, let's take a look at the eight best sites that will help to grow your business. The sites listed below are prime spots where users will compare prices and ultimately decide whether your property's quality-price ratio is up to par.
What are the eight best hotel booking sites to list deals?
Booking sites are important places to list deals in order to drive bookings, particularly in low season and when you are trying to fill up your hotel last minute, because it will gain you more visibility. Some users who wouldn't ordinarily find your hotel on their own can find you via these sites.
These eight sites listed below are a combination of OTAs, metasearch and aggregators that can also be used to drive direct traffic to your own website. This is by no means an exhaustive list as there are still so many options out there, but it's a great combination of different kinds of sites that will be useful when designing your distribution strategy.
Find out the best hotel booking engines.
HotelsCombined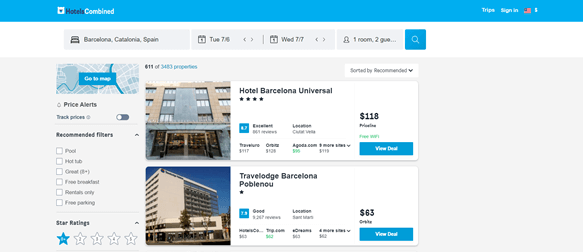 HotelsCombined partners with many of the top websites to compare prices. This metasearch engine searches travel websites such as Agoda and booking.com to show travelers availability and the optimal hotel deals. The hope is that then travelers will click directly through to your website to book.
HotelsCombined is considered one of the best metasearch engines because it searches up to 30 OTAs. For this reason, you'll also want to be listed at some OTAs such as Agoda and Booking.com before building this website into your distribution strategy. Since many users choose this site for last minute hotels and for family reservations, be sure to list last minute deals as well as family packages.
Families prove a good target to optimize revenue per booking because they often travel in big groups together with grandparents or other immediate family members so they require several rooms, meaning that you will have a multi-room booking but pay just one commission fee.
TripAdvisor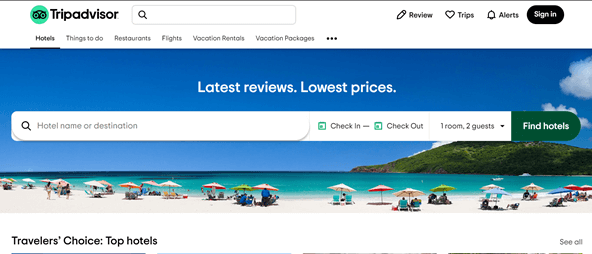 No distribution strategy can be complete without being on TripAdvisor. Of course you have to be careful to do some reputation management if you want to make the most out of this site because reviews can make or break your hotel's reputation.
With the new-ish "click to book" function, listing your site and your deals on TripAdvisor has become even more indispensable. Keep in mind that if you want to appear higher in the list you may have to invest a little bit of money, but it will be worth it for sure.
Booking.com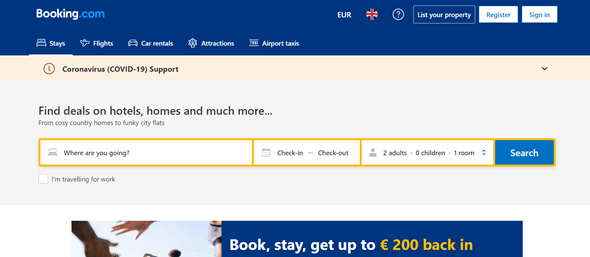 Booking.com is the mother of booking sites and for listing hotel deals. They have a preference and filter option available for deals which will allow your property to be listed in the top results. Since Booking puts a high emphasis on properties with good pictures, be sure to list your property with high quality imagery.
You will pay commissions based on the size of your property, which are quite steep but it will pay for itself. Furthermore, since reviews are verified, you will not have to worry about fake reviews.
Kayak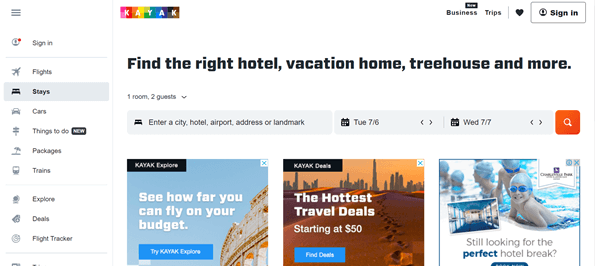 Kayak has a clean, easy-to-use website that users love. Keep in mind that if you want to show prices and availability in real-time and allow users to book online, your hotel will need to connect to KAYAK via other booking engines that can sync up to Kayak.
It's recommended to have deals and low rates listed so that your hotel can appear when users filter by price. Be as upfront as possible about your fees and leverage reviews so that you can appear as "recommended" which will allow you to appear higher up in the results.
Google Hotels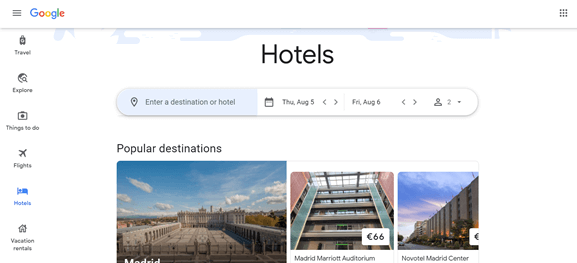 Google's hotel search engine is becoming the place to be for any hotel looking to ramp up their bookings. Make sure your Google My Business listing is up to date and your map is indicating the right place. The Google Maps integration is key to appearing in search as this metasearch engine is very location-dependent. In addition, you'll also want to make sure to offer deals and competitive prices as it is very price-forward.
Trivago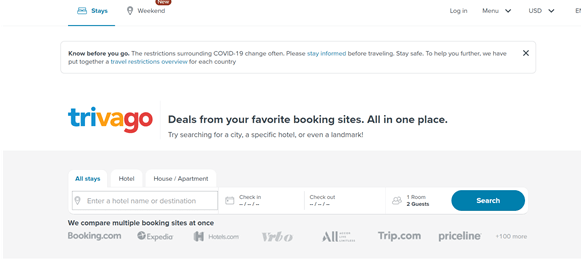 Trivago is a powerful metasearch hotel booking site that is now proving more and more important for independent hotels to improve their own direct booking channel. The Direct Connect integration allows hotels to drive direct bookings to their own channel, run cost-per-click marketing campaigns, and publish website rates on their hotel profile. This functionality is something that many of the other sites listed also offer, but this is particularly one of the value propositions of Trivago.
Agoda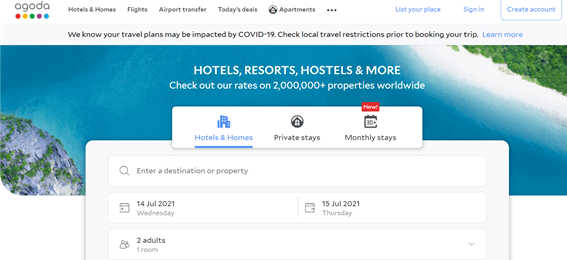 Agoda is particularly important for hotels in the Asian market but is slowly gaining force in the US market. Users can become members and you can give them the opportunity to save on your property to boost your rankings on the site, which is a great way to bring in more bookings.
Priceline

Priceline is a great way to boost your bookings by offering deals. They have a feature called Express deals where users can save if they are open to learning the hotel's name and address after they've paid. They also have a unique feature called "name your price."
These unique features have led to many loyal users and for this reason Priceline should definitely be a part of your distribution strategy. Priceline is also used regularly to search for last minute deals, so you can list deals in order to increase your average daily rate by filling up all your remaining rooms with last minute deals.
Conclusion
We've looked at the eight best booking sites for hotels: HotelsCombined, Agoda, Booking.com, Kayak.com, Priceline, Trivago, Google Hotels and TripAdvisor. Some are aggregators, some are OTAs and some are metasearch engines. While using different sites is a key element of your distribution strategy, the most cost effective tool for driving bookings is without a doubt having your own hotel booking engine.
By having your own booking engine like the one offered by Mews, you can reduce website abandonment and drive direct bookings. The Mews Booking Engine can work as a widget or can be built into an interface via the Mews API. By working with a combination of the above-listed sites, along with your own engine, you are bound to increase conversions and occupancy rate.
Thinking of upgrading your PMS?
Want a hospitality cloud that can seamlessly connect to the hotel booking sites of your choice? If you're thinking about moving PMS, it's important to be prepared.
Read our Guide to Switching Your PMS to find out the 10 questions you need to ask when moving, typical implementation timelines, and what makes a successful onboarding.

Author
Eva has over a decade of international experience in marketing, communication, events and digital marketing. When she's not at work, she's probably surfing, dancing, or exploring the world.
Hospitality hot takes straight to your inbox
Sign up to our monthly newsletter for industry insights, product news, partner updates and more.