The Mews Blog > Metasearch engines and how they work in the hospitality industry
Metasearch engines started off as a way for potential guests to compare hotel room prices across different booking websites all in one place. Over the years, these engines have evolved from a simple pay-per-click model to a commission-per-booking model. Internet omni-presences like Google and TripAdvisor now offer instant booking options, in which they charge hotels a commission for any bookings made on their sites.

In this article we will first look in detail at what a metasearch engine is, what it does, and how it works. We will then explore how you can connect your hotel to these engines, the most popular ones, and the difference between them and OTAs, as well as give you some tips in order to use them to increase your revenue.
What is a metasearch engine?
A metasearch engine is a comparison tool used by travelers to compare rates across different hotels in a given destination. This unique search engine sends the user's request to other search engines and compiles the results in one easy-to use list that facilitates a convenient booking process. Travelers can compare rates immediately and see availability in real-time.
Metasearch engines present a way of streamlining your hotel's marketing and distribution efforts all in one place because it can be used as both a booking channel and a place to advertise your hotel. Furthermore, they represent a big opportunity for hotels because guests can find rooms and book instantly, facilitating last minute bookings.
What does a metasearch engine do and how does it work?
A metasearch engine collects prices from a variety of sources, allowing potential guests to find the best rate from the best site at the same time. Hotels can pay for placement on this list and try to convince users to reserve through their respective platforms. This is done using a cost-per-click (CPC) or pay-per-click (PPC) model.
This type of search engine can be an incredibly useful tool to grow the hotel's business and reach a large number of travelers all at once. Travelers are drawn to these booking engines because prices are transparent, they can see all the options at once, and they can do everything all in one place: search, compare and reserve. Using this tool together with a hotel booking system software is without a doubt a recipe for success. You will get visibility, and the chance for global distribution, allowing you to maximize revenue by generating more leads and bookings.
How to connect your hotel to a metasearch engine?
Connecting your hotel to a metasearch engine is easy to do. It's important to keep in mind that not all of them use the same model, so you should do their research before deciding which one to connect their property to. First things first, no business can go without connecting to the two most powerful engines: Google and Tripadvisor.
Google has a series of products such as Google Hotel Ads and Google Hotel Finder. The Ads rely on data feeds that communicate to Google about the hotel rooms you offer and a bidding system, which tells Google how much you are willing to pay for each booking generated. In order to connect to and use these tools, it's recommended to have a third party integration partner to assist with entering rates and availability, and managing successful ad campaigns to avoid technical barriers.

With the exception of Google, you can connect to the other engines by having a channel manager that allows you to partner with the different distribution agents. A PMS or a CRS will also allow you to connect directly to the most important metasearch giants as well as monitor your KPIs of these channels.
What are the most popular metasearch engines?
There are several big players when it comes to metasearch, such as Google, Tripadvisor, Trivago, Skyscanner, and Hotels Combined. As mentioned previously, Hoteliers have no choice but to be on Google and TripAdvisor but the other engines discussed below can also serve as powerful tools to reach other segments.
Skyscanner
Skyscanner is a metasearch engine and travel agency, which allows potential guests to research and book travel options, including hotels. Skyscanner is a popular tool in particular for the millennial segment.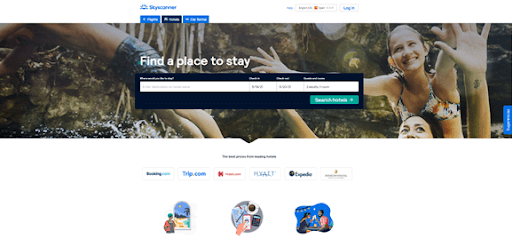 Google Hotels
Google Hotels is arguably the most important metasearch engine. The Google Hotel Search works with Google Maps and gmail to offer personalized results to travelers. Guests can price track and access deals directly from their inbox. Hotels can start using this monster engine by creating a Google My Business Account if you don't have it already; this way you will appear in the Google Maps view.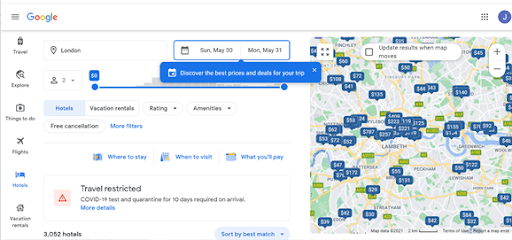 Kayak Hotels
KAYAK is an online travel agency that's a part of Booking.com. Kayak is best used to get combined rates for accomodation and flights. Hotels, unfortunately, don't get a high share of ad placements on this metasearch engine, but making a deal with an airline or offering special packages through Kayak could be a good solution to make the most out of this tool.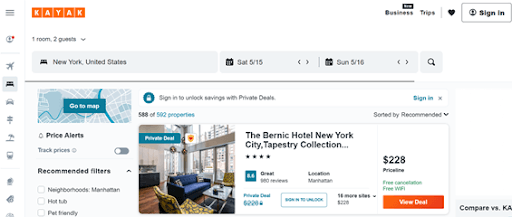 Tripadvisor
Tripadvisor is without a doubt one of the most popular and well-known travel websites. Your business is almost as if it doesn't exist if it's not on Tripadvisor. This engine offers the ability to book direct hotel reservations and do comparison shopping. Make sure you have an account set up from the moment your hotel opens because having a presence here is fundamental.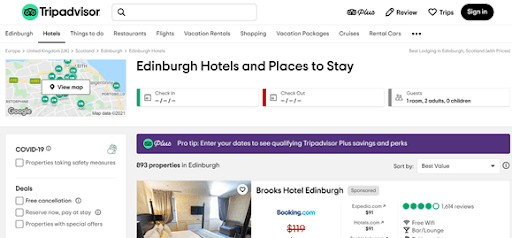 Hotels Combined
HotelsCombined, also a part of Booking Holdings, is a metasearch engine out of Australia. It aggregates more than 2 million deals from different hotel chains and travel sites. This is a good tool to use for those hotels looking to offer deals.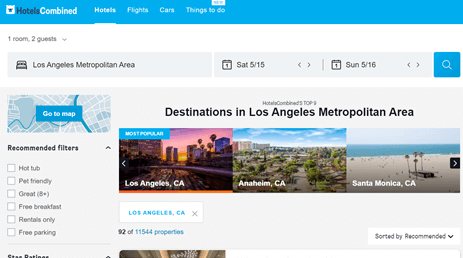 Trivago
Trivago is a popular engine for hotels and was consistently one of the big players before Google started to overtake the metasearch field. It sifts through hotel rates and availability provided by different booking sites, showing the aggregated results in one place. The booking sites pay them a fee if the user clicks on the specific deal, which leads to good revenue possibilities for your hotel.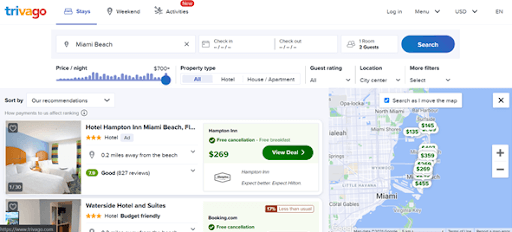 Tips using a hotel metasearch engine
Because there are so many different hotel metasearch engines out there, it's hard to know how to manage them. With the following tips your hotel can develop a strategy that will boost revenue and make metasearch your best friend.
Show all room rates
Showing all room rates instead of just the cheapest one creates a sense of trust amongst your clients. If clients can see all the rates at once, they won't think that you're just showing them the cheapest rate to draw them in. Not only does showing all room rates at once help build trust, but it also gives more options to book, and increase your chances of upselling better rooms with a sea view or a suite, as well as packages.
Different sites require different strategies
Using different strategies for different sites is especially true for the top engines like Google and Tripadvisor. While Google has a really high conversion rate, it is also expensive so you must be mindful of your advertising budget and keep optimizing campaigns so as to make the most of your budget and generate the most revenue.
On the other hand, Skyscanner is very popular amongst millennials, so if you are targeting millennials, be sure to get the most out of this engine. Tripadvisor, while very popular and important for getting traffic, is more for casual browsing. It doesn't tend to generate a lot of conversions. Keeping this in mind, you may want to set a low cost-per-click rate to make the most out of your marketing budget on Tripadvisor.
Keep rates the same across engines
Before beginning with these types of engines, an important place to start is with benchmarking. Check out the competition and see what rates they are offering. Then set your prices, and make sure the price matches the rate that appears on your website's direct booking site. On your own site you can experiment with different direct booking deals, but make sure that the rates don't fluctuate too much, and above all, make sure that the rates are the same across all metasearch tools.
Keep your priorities straight
Since there are so many metasearch tools out there, it's important to set your priorities straight (and your budget). It's impossible to be everywhere and depending on your budget, you may be able to advertise with all, or only some, of the potential channels. Research your target market and find out which engines they are using. If you're only going to choose a few, make sure you choose those that are accommodation-focused. Google and Tripadvisor are musts, but maybe when prioritizing, you will want to choose to advertise on those that are the most specifically for hotels.
Your software decisions are key
As with anything in the hotel industry, having a hotel PMS or CRS that is reliable and gives you the ability to integrate with metasearch engines directly is key to optimizing your performance and revenue that you generate. You need to make your life easier and streamline processes and the right software decisions will help make working with metasearch engines easy, and give you the data you need to evaluate how these tools are working for your business.
What's the difference between metasearch engines and OTAs?
The key difference between metasearch engines and OTAs is that metasearch engines aggregate information whereas OTAs sell inventory. Online travel agencies are a way of optimizing your advertising budget by handling distribution and allowing potential clients to book directly from their website. Typically commissions are high, between 10-20%, depending on the size and volume of your structure.
Metasearch engines, on the other hand, display rates for hotels around the world, allowing clients to easily compare rates, but not actually selling that available inventory. The commissions also tend to be a lot lower than those of an OTA, despite the fact that they are just as popular. While some engines, such as Google and TripAdvisor now allow clients to book directly, this wasn't initially the case.
Regardless of the difference between the two tools, it's important to be on both, it's a way of optimizing revenue and giving your structure the potential of maximum visibility. Yes, they both take commissions, but you will without a doubt reach clients that you wouldn't otherwise reach, thanks to their extensive marketing budgets.
Conclusion
As we've discussed throughout this article, metasearch engines are becoming one of the most important tools in the hospitality industry. We've looked at what they are, how to connect your hotel to them, the most popular ones and tips to making the most out of them.
While there are many popular engines, the two most important ones are without a doubt Google and Tripadvisor, so make sure to invest some of your marketing budget and once you hit that sweet spot, you can use them in order to maximize revenue.

Author
Eva has over a decade of international experience in marketing, communication, events and digital marketing. When she's not at work, she's probably surfing, dancing, or exploring the world.
Hospitality hot takes straight to your inbox
Sign up to our monthly newsletter for industry insights, product news, partner updates and more.