The Mews Blog > Our vision to reimagine the future of guest experiences
It's our unshakable belief that there's always a better way. A better way for guests to book and interact with products and services. A better way for hoteliers and their staff to manage operations. A better way to make experiences remarkable for everyone.
In many cases, customer expectations are now exceeding the capabilities of the technology infrastructures that hotel brands have implemented. It's the same across all industries, with the likes of Uber, Amazon and Airbnb driving the demand for easy, seamless booking and payments. Combine these raised expectations with the sheer volume of data now available, plus the rapid evolution of smart tech, and it's clear that it's time for a shift in mindset.
This shift requires us to think differently about the utilization of both space and time in every single hospitality venue. It requires moving away from traditional, unrepresentative measurements like occupancy and revenue per available room, and instead focusing on strategies that center around the guest, while at the same time squeezing every drop of revenue from your property.
If you've been speaking to our team recently, you may know this re-engineering of our technology as Project Spacetime.
How guest experiences will change
We believe that guest experiences, when it comes to booking services across a venue, shouldn't be fragmented and siloed. They should be seamless, simple and easy for guests to book and arrange.
Let's say you're taking a trip to Barcelona. When booking your hotel, you also book a car parking space for three days, two hour-long gym sessions, three breakfasts and a table at the hotel restaurant for dinner at 8pm on your first night. All from the same place, in the same transaction.
Enabling this part of our vision for the Mews Hospitality Cloud.
In the spirit of two of the key Mews values – openness and curiosity – let's take a closer look at how this vision will be turned into a reality.
Keeping up with guest expectations
The driving force behind this vision is our mission to enable remarkable guest experiences. Guest expectations have changed considerably in the past decade, and convenience is more important than ever. It's our aim to build a useful, usable product that enables a guest to easily book experiences and tailor their stay to suit their needs.
This makes a lot of sense for hoteliers as well as guests, and our customers have helped to power the development of our thinking. Over the last year, we've interviewed many industry leaders, as well as looked at how their guests engage and interact during a hotel stay.
Making guests happy isn't the only reason that this mindset change should excite hoteliers. There are exciting possibilities for additional revenue streams and, perhaps more importantly, for the optimized usage and income of existing spaces. In fact, this idea is something that hotel brands are beginning to grapple with, including the Wythe Hotel, Accor and Radisson Hotel Group.
The different stages to delivering our vision
Building something like this, which delivers unrivalled flexibility to both hoteliers and guests, requires us to think differently about the way our PMS is built. Moving away from just thinking about booking rooms, the question we've been asking ourselves is: how can we create a system that enables hoteliers to match any space or service they provide, with any time unit they see as appropriate? For example, enabling a room for day use for four hours, or a car parking space for 30 minutes.
In our minds, there are five different parts to think about when putting together this jigsaw:
Part 1: multiple services
Part 2: multiple time units
Part 3: internal processes
Part 4: the guest experience
Part 5: new pricing models
Part 1: multiple services
Multiple services are the main building blocks.
Guests should be able to book every element of a hotel stay in a single, seamless transaction. Even customers who aren't guests should be able to come to your website and book additional services that you provide, whether it's office space for half a day or an hour at the spa, or they are looking to use the gym and shower in a room afterwards.
Equally, hoteliers should be able to manage all of these resources, products and services through a single system. Co-working spaces, offices and meeting rooms, long term rentals, swimming pools, spa and wellness, parking... Whatever the service you want to provide, doing so should be convenient for you and your team.
In our vision, these services will not be managed and offered separately: hoteliers should benefit from the synergies between them, with optimized, automated user journey flows and payment processing.
Let's say your hotel has 10 rooms, and you want to offer hotel and hostel rooms. Currently, these rooms are all available through a single booking engine, meaning every guest goes through the same user journey (the same emails etc.) regardless of their room type. When the hotel rooms sold out, you can't welcome any more guests even though some of the hostel rooms were empty.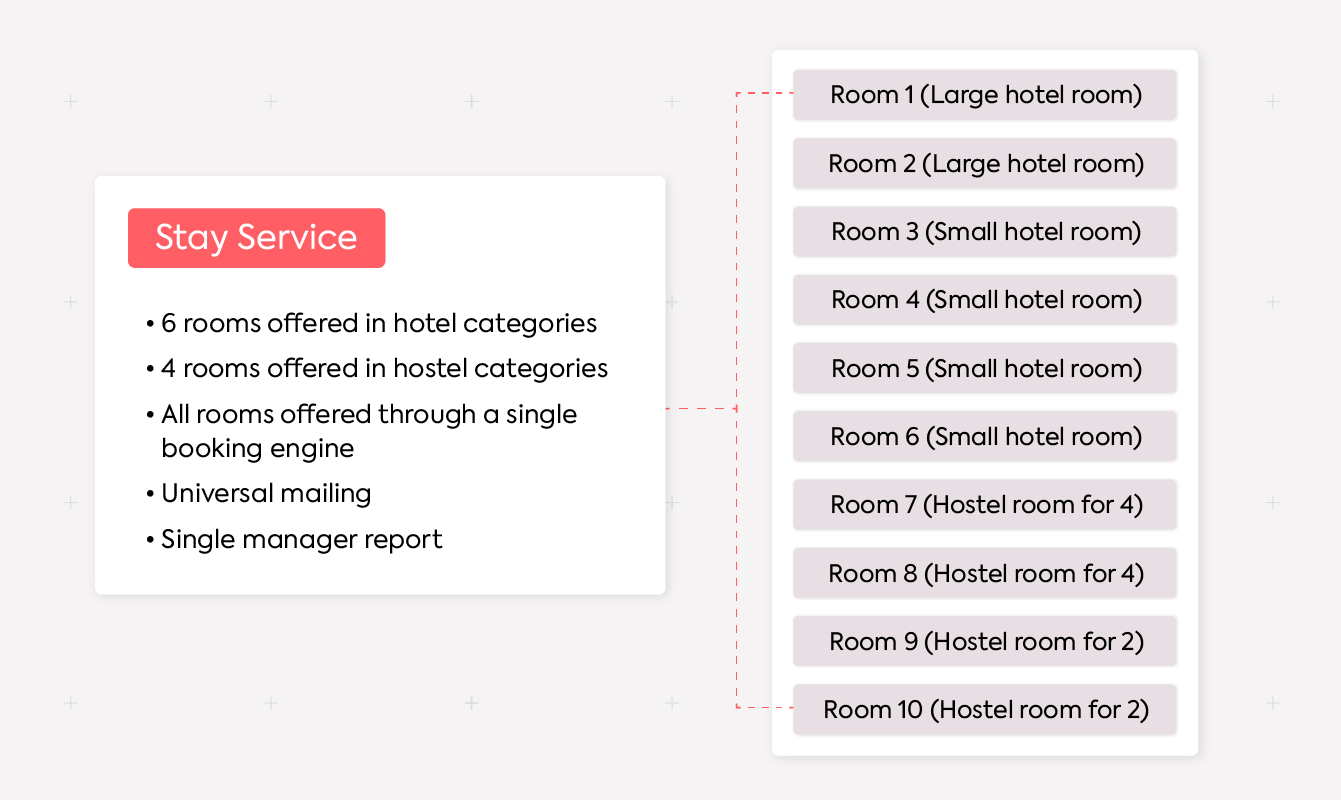 With multiple hospitality services in Mews, your property can replace this single 'Stay' service with two separate services – Hotel Stay, Hostel Stay. Each has a dedicated booking engine which means you can create different user journeys for the two categories, better tailored to the guest type. You can also set up different rates and cancellation policies for both services, meaning separate manager reports.
Most importantly, you can offer rooms through both services at the same time. This allows the market demand to decide which sales channel wins, while keeping the high occupancy in your property. Here's what this set-up looks like: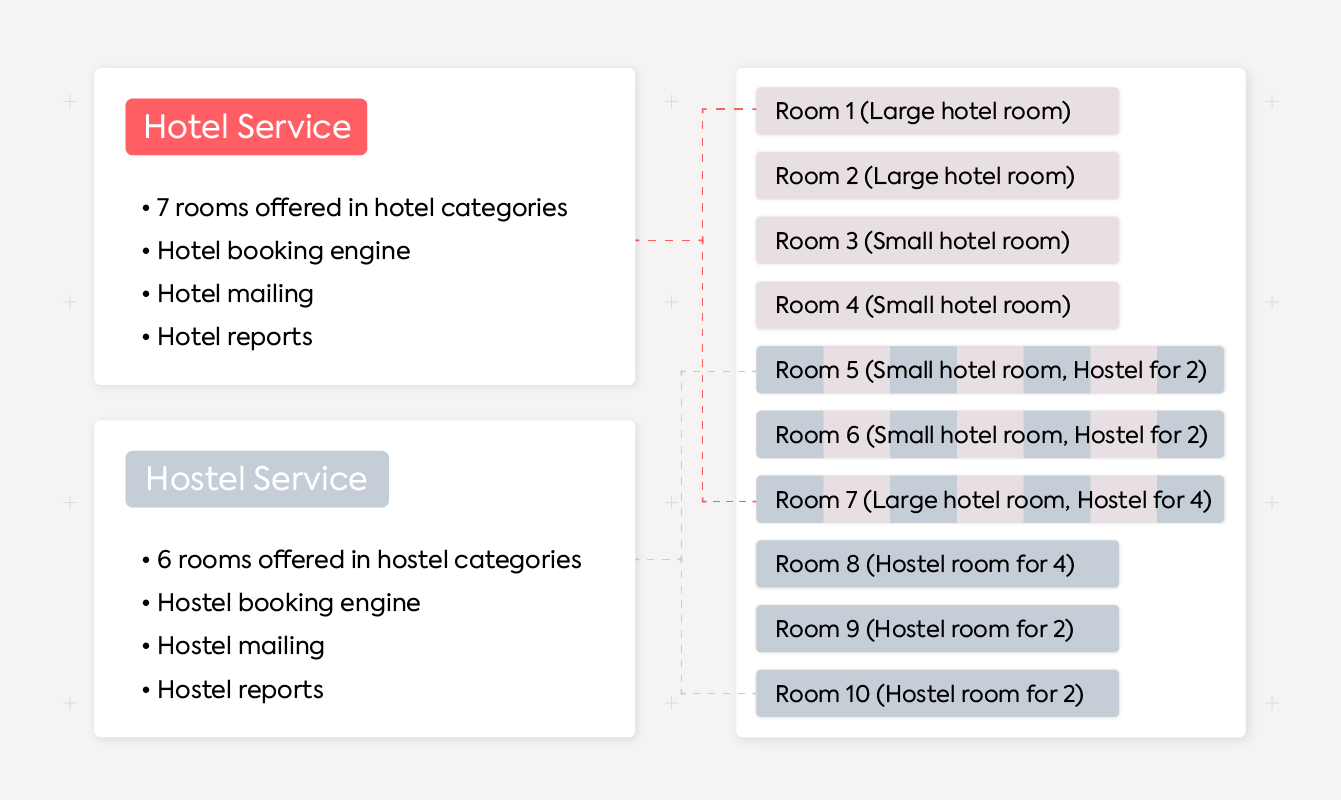 For Mews customers, multiple services functionalities is already built and available to use if you have this requirement.
Part 2: multiple time units
When you introduce different services, you need to introduce new time units as well. Meeting rooms, spas, parking spaces and long-term rentals all operate in different time frames; the standard unit of measurement in hotels – a night – isn't universal. For each new service, a default booking window should be specified, and various parts of the system adjusted accordingly. This will allow guests to easily book with total specificity, as per our Barcelona example earlier on.
One of the most immediate, universal ways that hotels can take advantage is through offering day use of their rooms. Plenty of properties do this already, usually through a third-party, meaning a smaller cut of the profits. Often, day use services (whether it's a room, a parking space or spa facilities) are managed through Excel spread sheets, which are time consuming and, frankly, a real pain to manage.
Very soon, day use functionality will be rolled out for Mews customers, opening up a whole new set of opportunities for hoteliers.
Part 3: internal processes
Adding both multiple services and multiple time unit "dimensions" only makes sense if operations behind the services run smoothly and efficiently.
Imagine that your property offers hotel service, co-working spaces and meeting rooms. Each occupied space needs to be cleaned at some point during the day. However, for each service this time is different: hotel rooms are typically cleaned when the guests check out or leave for a day, usually between 8am and 2pm. On the other hand, meeting rooms are busy during the day and can't be cleaned before 6pm. Those in the co-working space might be pulling late nights and don't leave their desks until 9 or 10pm in the evening.
For this property, it would make sense for the same housekeeping team to work across all three verticals. But based on my research, this isn't currently happening: properties use separate teams to support different services. Just like Mews will enable guests to book multiple services, it should also enable staff members to work efficiently across services.
In short, just because the system is complex, it doesn't mean it should be complicated for hotel staff to use. As with everything we build, user experience will be at the heart of design.
Part 4: the guest experience
In hospitality, it's true that "The hotel is only as good as its service… If the service is bad, the hotel is bad". No matter how good the location, how much you spend on design or furniture, if the staff fail to deliver a great experience, the guests will leave disappointed. As the Disney Institute puts it in their book, Be Our Guest, "Each magical moment builds guest satisfaction and increases brand loyalty". Both things are obvious. Now comes the tricky part.
A great experience is hard to standardize. Every person has different expectations, preferences, needs, or even limitations, and understanding them is crucial. By collecting and analyzing data, a hospitality cloud can help hoteliers provide a tailored stay. Hotels should have the ability to collect relevant guest data and work with these details in order to make the guest experience truly remarkable.
Did they request a room with a river view on their previous stay? Maybe they'd like to stay there again. Have they informed the staff that they're allergic to peanuts? They should never appear in their room again. It's their birthday today? No doubt a complimentary drink at the hotel bar would be appreciated.
In fact, this is nothing new. It has already been happening in the top hotels or restaurants for a long time. But although some of this data can essentially be automated and incorporated into the guest's journey (an email reminding them of the extras they bought last time, for example), much of the responsibility for providing great service belongs to the front-line workers – those who are in the building, interacting with your guests.
As Isadore Sharp, the founder and CEO of Four Seasons puts it in his book: "No one in a central office could ensure good service. The outcome in our industry normally depends on the front-line employees — doormen, waiters, housekeepers. These front-line staff represent our product to our customers. In the most realistic sense, they are the product."
It should go without saying, then, that these are the people who need to understand the guest's needs and preferences. As such, the features we're discussing must be built in a way that provides these staff members with all the necessary context to heighten each service. Ultimately, this could be in the form of a CRM within Mews Operations, which staff would have instant access to when interacting with guests.
Part 5: new pricing models
Sophisticated pricing models, such as attribute-based pricing or subscriptions, are the final pieces of the puzzle. Attribute-based pricing would allow guests to configure their reservation as easily as picking toppings on a pizza – they simply choose the services they really want and avoid those they don't want.
With this functionality, a guest might book three nights in a room with a river view but without a whirlpool bath, a parking space for the same period, two breakfasts, two hours in the gym, and access to the rooftop terrace with a drink included. They'd save money on the whirlpool and one breakfast, and they'd pay extra for the river view and access to the terrace. If the booking is over Easter, it's 20% more expensive. If the kids are coming too, everything is 20% less for them. There are almost endless possibilities.
Subscription pricing is an interesting proposition for companies and regular travelers, but we could even bring the benefits to anyone visiting the hotel. Instead of booking specific services at particular times, the guest would purchase "credits" for consumption, such as for four hours of sports activities in any of the chain's properties. As a working solution, it's not quite ready, but it's a model that we've been talking about for some time, and with the current situation in hospitality, it's becoming more and more popular.
So, what's next?
Mews' product and engineering teams are working on this vision right now, with some capabilities already rolled out and live, like multiple services. The arrival of day use functionality is imminent. With day use, services will be bookable during a day (e.g. 10am – 6pm), not just overnight.
We're constantly checking in and sharing updates with customers on our beta program (click here to join), as well as listening and hearing from key stakeholders from across hospitality and other industries about how what we build will make the biggest impact on guest experiences.
Hospitality hot takes straight to your inbox
Sign up to our monthly newsletter for industry insights, product news, partner updates and more.