The Mews Blog > The benefits of digital ordering in hotel restaurants
Digital ordering, once considered the wave of the future, is now firmly here to stay. This is good news because it's a win-win for all parties concerned. Hoteliers will be able to generate clearer guest profiles, allowing them to better optimize the guest experience, while guests will be able to take the hospitality journey into their own hands, deciding when to order and pay, and how to pay.
More and more the world is moving to a digital first model, and hotel restaurants are no exception. You may not be familiar with digital ordering, so we'll look at it in closer detail in this article, including how it benefits your hotel's restaurant.
What is digital ordering?
Digital ordering is technology that allows customers to order online at a restaurant from a mobile or tablet. As digital experiences evolve, they are becoming commonplace in all aspects of our lives, and hotel restaurants should follow suit. It enhances the guest experience by allowing your hotel to cater to guest's needs and preferences through profiling.
Ordering digitally is a way to streamline ordering and ensure good service, even in peak hours and with limited staff. Guests can order when they want and pay at their convenience, whether that be through PayPal, a credit card or by charging the restaurant to their hotel bill. It's convenient and efficient.
What are the benefits of digital ordering for hotel restaurants?
We've already alluded to some of the benefits of digital ordering for hotel restaurants, but now let's look at the benefits in more detail. You may also consult our 10 tips when implementing digital ordering.
1. Enhance the guest experience
An important part of guest satisfaction at a hotel or a hotel restaurant is being able to take the experience into their own hands. By implementing the possibility to order online, not only can guests order at their convenience, but every time they come back it's easier because their payment profile is saved as well as their preferences. It's an excellent way to leverage the customization and personalization that they are looking for.
This means that a guest staying with you for multiple days – or repeat guests – can easily and conveniently order and charge their food to their room, without ever having to leave the comfort of their bed. Think about it as room service 2.0 but without your staff having to lift a finger to take the order.
Discover five guest expectations and how to exceed them.
2. It's more convenient and more efficient
One of the driving factors behind online ordering is the fact that it's more convenient and efficient. This means that guests are more likely to eat at the hotel restaurant if hotels implement online ordering because of its convenience, in addition to not having to go anywhere after a long day of business meetings or sightseeing. It goes hand-in-hand with an enhanced guest experience.
3. Allow guests to track their order
The ability to track an order keeps hungry guests at bay and allows your service staff to focus on providing excellent service instead of giving updates on order status. This visibility also allows guests to feel reassured knowing that their food order has been processed. Based on timing, guests can then decide whether to dine in or from their room, which opens up more tables to non-guests, and hence more profit potential.
4. Create guest profiles
One of the most important benefits of ordering digitally is the ability to create guest profiles. This makes it so that all services offered by your hotel, and not just rooms, are focused on the guest and their preferences. By including food and beverage data in your guest profiles, you will be able to better understand your customers and optimize your services accordingly.
The more guest data you have, the more you can make data-driven decisions in terms of optimization, improving the overall experience and pinpointing guest preferences. Learn more about creating guest profiles. This also gives more opportunity for upselling, and for guests who are regular users of the hotel's restaurant you can consider giving them discounts to entice them to come back and stay with you.
5. Make messaging clear and uniform across channels
Having online ordering for your hotel's restaurant is a great way to streamline messaging. This means that your marketing team can help your restaurant present its offering in the best light possible, using online ordering as yet another channel for sales growth. Menus can be more easily shared across social media channels and have the possibility for greater distribution, which is what you want for word-of-mouth marketing.
Instead of having a separate website dedicated to the restaurant, you can integrate it to your hotel's website and link to the ordering site, controlling the messaging every step of the way. This means that your marketing messages are clear and uniform across channels, ensuring that the user journey is seamless across all of your brand's touchpoints.
6. Boosts sales
Digital ordering is also ideal for boosting hotel restaurant sales, both with guests and with non-guests. In the case of guests, more and more people are becoming lazy about making a phone call or leaving their rooms; instead of calling down for room service, they can book directly from their phone. This convenience is ideal for driving sales.
In the case of non-guests, you can boost sales by listing your hotel's restaurant on different online delivery service websites, providing an alternative revenue stream for your hotel so that you are not only reliant on room sales for revenue.
Conclusion
In this article we've looked at digital ordering and its benefits for hotel restaurants, including: enhancing the guest experience, being more convenient, allowing guests to track their order, creating guest profiles, providing clear and uniform messaging, and boosting sales. All of these benefits point to the reason why this service is a no-brainer.
Implementing digital ordering is a great way to ensure that your operations are guest-centric, providing guests with what they want at every step of their journey with your brand through a targeted, customized experience with them in the driver's seat. The more services you can offer in addition to rooms, the more you can boost your bottom line, and ensure your hotel's profitability.
Six Benefits of Combining Your PMS and POS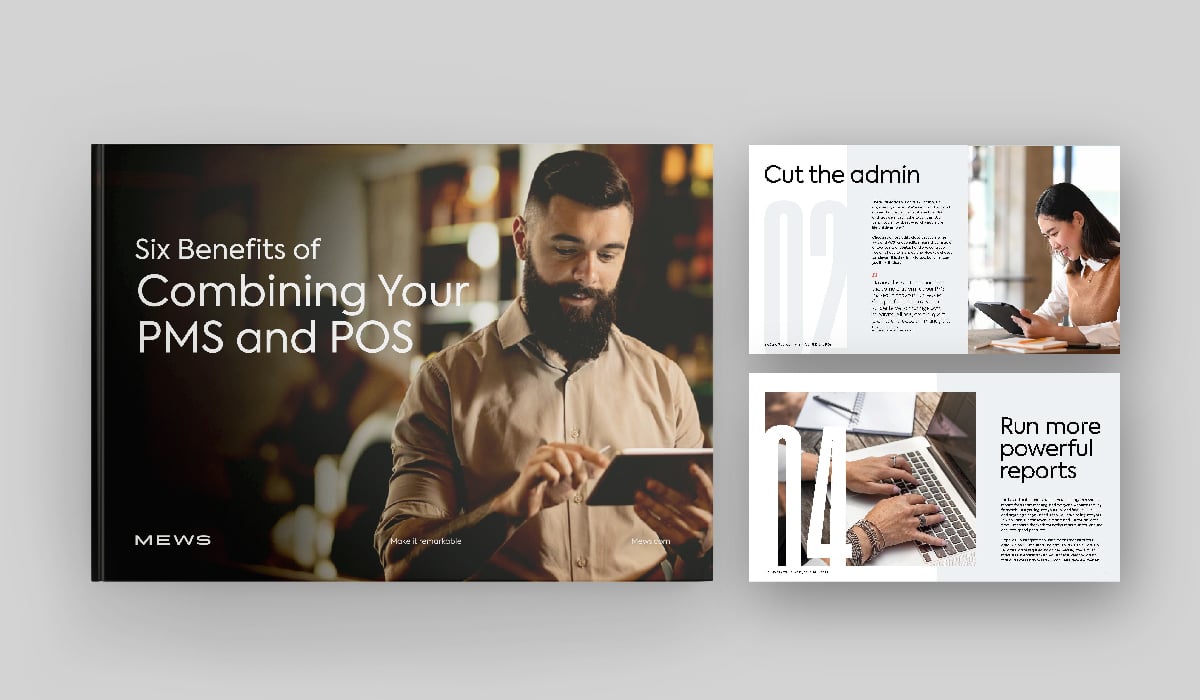 Discover why choosing a hospitality cloud with a built-in hotel restaurant POS creates a more seamless guest experience and streamlines processes for your teams.

Author
Eva has over a decade of international experience in marketing, communication, events and digital marketing. When she's not at work, she's probably surfing, dancing, or exploring the world.
Hospitality hot takes straight to your inbox
Sign up to our monthly newsletter for industry insights, product news, partner updates and more.