The Mews Blog > How Google maps can help to increase visits to your hotel
By uncovering the potential of Google Maps, hotels can help increase visits and leverage their online reputation to drive bookings. So how does this actually work? Working together with Google Maps, which is part of Google My Business, along with a collection of other dedicated services for the hospitality industry, there are many features that can increase your hotel's visibility. These services can be used to generate awareness, expedite the consideration process, drive direct bookings, and enhance customer loyalty.
By creating a profile for your hotel on these services, as well as optimizing your listing with Google Hotel Ads, guests searching for a hotel in a particular area can find you more easily, and even book directly at no additional cost. Having a strategy in place for all Google-based services is key to drive direct bookings. In this article, we'll look at why Google Maps is important for hotels, what kind of services they offer and how to add your property.
What is Google Maps and why is it important for hotels?
Google Maps doesn't need any introduction as in the United States alone in 2020, 23.42 million users downloaded the service to their smartphones. Maps allows travelers to search any destination around the world for tourist attractions, businesses, restaurants, and hotels, and calculates itineraries to those destinations. Travelers can now also book their hotel stays directly from the app without ever leaving the map app.
With such widespread usage, Google Maps is a key element to any hotel's direct booking strategy. Together with your Google My Business profile, you can leverage reviews and your profile in order to attract more visitors to your hotel.
Since rankings in search results are determined by proximity, prominence and relevance, it's important to actively use the portfolio of features in order to optimize your local search profile. This is part of a robust local SEO strategy, which starts with creating a Google My Business account, encouraging happy guests to write reviews, optimizing your website for mobile and targeting local keywords.
Read more about local SEO.
What kind of services does Google maps offer for hotels?
There's a vast range of services available for hotels, which we'll discuss in further detail below. All of these services work together to increase your online presence, and are being updated all the time to unlock further features that will enhance your brand positioning. Together with Mews' property management system that includes a direct booking engine, there's no better way to help drive direct bookings to your hotel.
Google My Business
The whole Google range of products for hotels starts with Google My Business. Here you can control and optimize your hotel's presence on Google Search and Maps. You can list your products and services, update your address and phone number, and manage your online reputation by responding to reviews. Learn more about responding to bad reviews.
Google Hotel Ads
Google Hotel Ads is, as the name suggests, a way of advertising your hotel on Google. You
can choose between two pricing models: cost-per-click or cost-per-conversion. It's ideal for increasing occupancy rate and growing your revenue by setting up a feed for your prices and availability, promoting only when you have availability, advertising based on a selected budget, and deciding what you want to pay for each click or reservation.
Read more about the best hotel advertising strategies.
Book On Google
Once you've set up Hotel Ads, you can add a booking button to your profile at no additional cost, that will also show up in your profile on search results.
Google Trips
Google Trips is a travel planner app that allows travelers to compile all their reservations in one place, get inspiration for trips and access necessary trip information offline.
Add a direct booking button
This option works together with Google Hotel Ads. Keep in mind you can either choose the CPA (cost per acquisition) model where you will be charged a commission of between 12 to 15% for bookings using this model, or the CPC (cost per click) model. This can be more affordable than working with OTAs, and provides added benefits such as having direct contact with your future guests, allowing you to get access to their emails, and ensure guest retention down the road when managed correctly.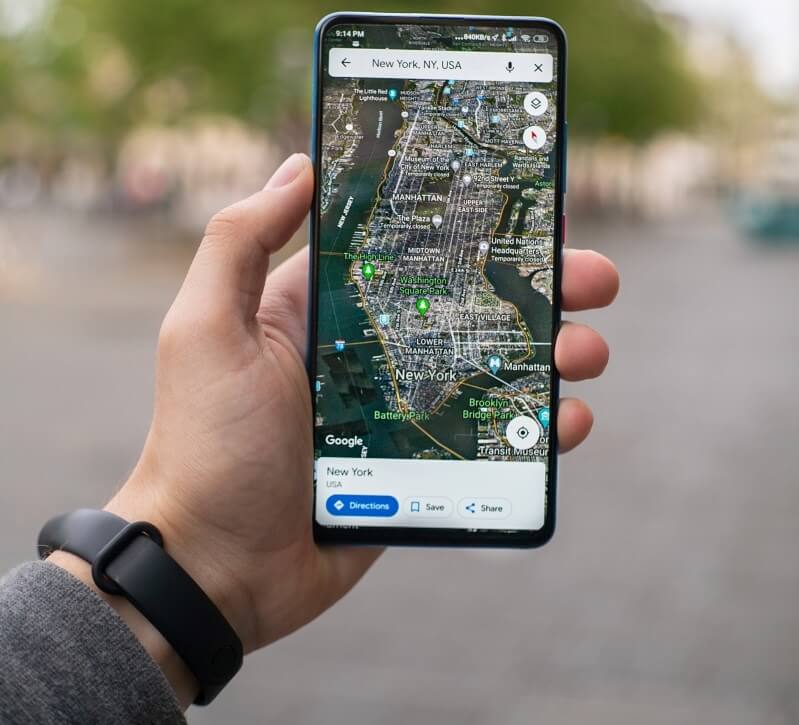 How to add your property to Google maps?
Chances are your hotel probably already appears on Maps thanks to user-generated content or bots that are constantly trawling the web to get up-to-date information in real time about new businesses. Nonetheless, if your hotel happens not to be there yet, you can add your own listing along with your geolocation or claim your business if your business is there but you are not yet the registered owner.
Start by signing up with Google My Business, which essentially controls all the information that's visible in Maps and how your business will display. You can add or update your geolocation if it's incorrect, including your phone number, website link, photos, email, business category, and any relevant information for guests.
Once you've done that you must get verified, for which you'll be contacted by Google and given a code to verify your address. From here it's important to add photos. Make sure you upload them with relevant keywords and with the name of your property so that they have the chance of appearing in a Google image search as well.
Once you have completed all the information you will unlock key insights about your property such as how many visualizations you have and how many people are searching for your property. Plus, you will be able to read and respond to reviews and manage your online reputation.
Conclusion
Google Maps represents a powerful opportunity for modern hoteliers when used to its full potential. Being one of the most popular navigation apps, it can be used for users to discover your hotel more easily when they are in the area or planning on travelling to the destination where your property is located. Furthermore, it serves as an important platform to help guide purchasing decisions based on user feedback.
With Maps, hotels can unlock important marketing tools that will help drive traffic to your website, influence direct bookings and give your business visibility on the internet. Furthermore, this marketing tool can be used together with local SEO to increase bookings and revenue. Nowadays, modern hoteliers must leverage this product to its fullest potential in order to make the most of their online presence.

Author
Eva has over a decade of international experience in marketing, communication, events and digital marketing. When she's not at work, she's probably surfing, dancing, or exploring the world.
Hospitality hot takes straight to your inbox
Sign up to our monthly newsletter for industry insights, product news, partner updates and more.