The Mews Blog > 10 best practices for employee communication in hotels
Improving employee communications in hotels is fundamental to the proper functioning of your property because it ultimately leads to more operational efficiency and better task management. Plus, the better your hotel runs, the more satisfied your guests will be, and the more likely they are to come back.
In this article, we'll look at why employee communication is so important and give you 10 tips that you can implement in order to positively contribute to guest retention and loyalty.
Why is employee communication important?
Employee communication is fundamental because it keeps employees engaged, and committed staff are more likely to be invested in your hotel to give guests the best experience possible. When your team is happy and feel like their tasks are manageable and under control, they provide better service, and better service not only sets your hotel apart from the competition, but also leads to higher guest satisfaction.
By better communicating amongst each other, you can streamline operations with an effective control of tasks, making sure that no task goes unperformed. Your staff are the heart and soul of your hotel, and when you encourage communication, they are more likely to communicate problems and work together to solve them, ensuring that your hotel runs smoothly.
Learn more about improving front desk operations.
10 tips to improve hotel employee communication
Now that we understand why employee communication is so important, let's take a look at 10 tips to improve it.
1. Set up short daily standups
While daily standups are a common practice in startups, there's no reason the same practice can't be applied to your hotel staff. Set up a short five-minute meeting at the beginning of the shift for employees to share what happened the day before, any updates or information about yesterday's arrivals and important things that need to be known for the day's operations.
Daily standups will help get the message across to your staff about the importance of communicating and ensure that everyone is on the same page to start their day. Plus, it's a great time to talk about dependencies so that each staff member knows what is expected of them and who needs to collaborate together in order to get their job done.

2. Encourage kudos
When people are working in a positive environment where their achievements are recognized, they are more likely to try harder. You can set up kudos to be sent in an internal newsletter or via email. Kudos are a great way for employees to recognize each other and let the rest of the team know that they are impressed with their co-worker's performance. Staff kudos may even be more effective than kudos from management.
3. Use technology to your advantage
Technology like hotel housekeeping software from Mews is ideal for encouraging open communication amongst your staff. Mews' software, for example, allows you to keep employee communication in one place, messaging individuals, contacting whole departments or creating group threads to more efficiently interact and ensure that tasks are carried out, making communication and task management easy.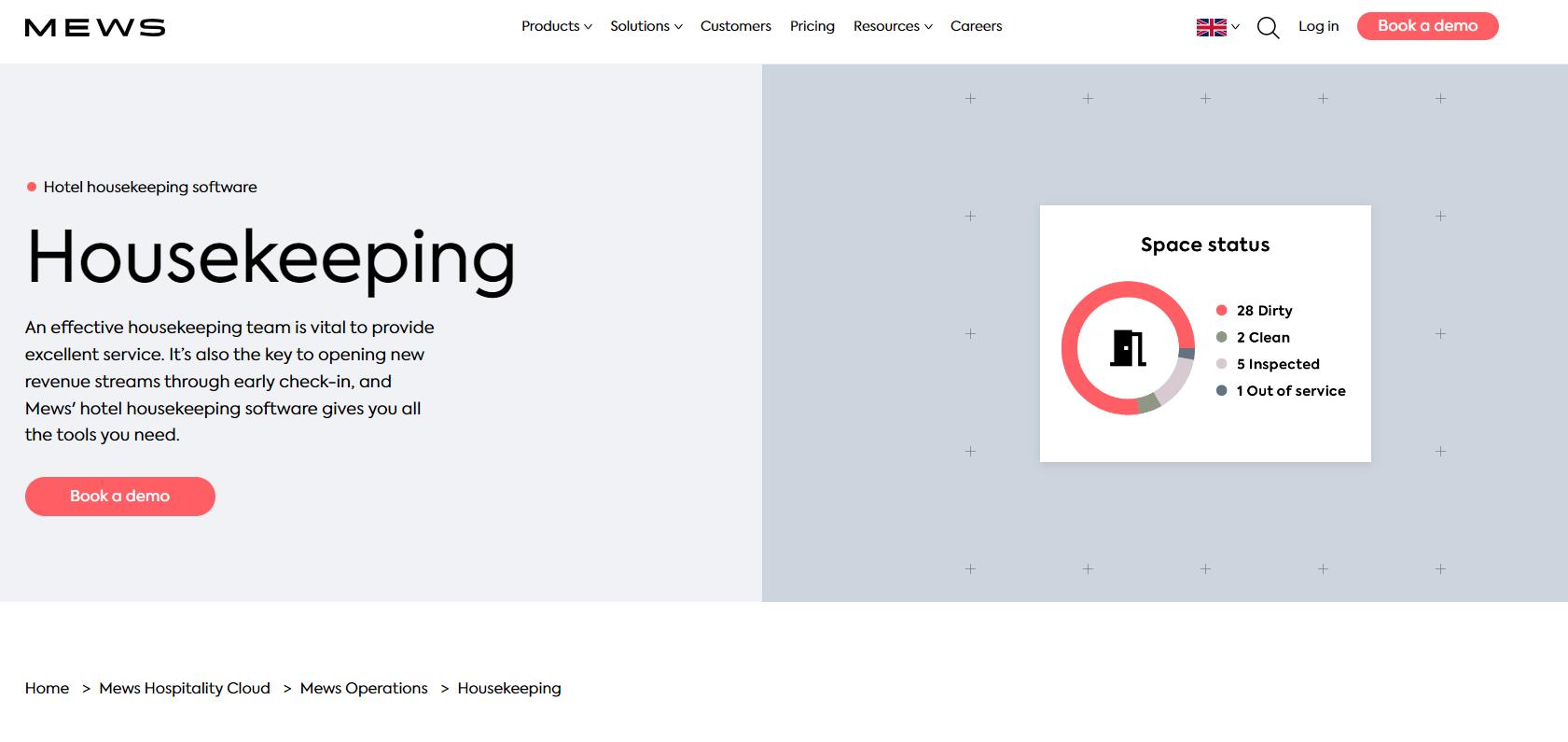 4. Share knowledge
Whether it be a monthly training led by an employee or simply an internal blog or help site, find ways for staff to share knowledge amongst each other. Giving your staff the opportunity to teach each other creates camaraderie and also opens up the chance for creating synergies and ideas about how to improve internal processes.
Sometimes when you're outside a department, it's easier to see what kind of improvements need to be made. By allowing your staff to share knowledge, you open up the means for them to share ideas about how to make your hotel work more efficiently.
5. Set up regular employee satisfaction surveys
Sending out employee satisfaction surveys is a great way of having a barometer of how well your staff is doing and get a general pulse of stress levels across departments. This way you can also get any feedback for improvements and help avoid burnouts. Allowing employees to have an opinion makes them feel like you care and creates a more positive working environment overall.
6. Create a consistent system for internal communications
Internal communications should be regular and communicated across different channels. The multichannel approach makes it easier for your staff to retain the concept of the messaging because by communicating similar messages across different channels and formats, you help ensure the message is received.
You may also like:
7. Centralize information
Whether you're using hospitality software to keep all your messaging in one place, or simply sharing excel sheets to report maintenance and supply-chain needs, keeping all the information in one place is crucial to ensuring that the information doesn't get lost. You may even set up a weekly meeting or review to discuss different departmental needs and make sure they get addressed.
8. Use multilingual internal communications
Multilingual messaging is essential for internal communications because you can ensure that the message is better received. When your team is being addressed in the language of their choice, it makes them feel like you care, and they are more receptive to any message they receive.
Plus, giving your staff the opportunity to share their messages and feedback in their language of choice makes them feel more comfortable and helps avoid potential lapses in communication due to language barriers.
9. Allow for anonymous feedback
Sometimes your team will feel more comfortable sharing problems or concerns on an anonymous basis. Make sure to give them this option so that should a problem with another staff member or a problem on the job arise, there are no barriers to sharing this information. This is a great way of ensuring that potential problems don't go unreported.
10. Adapt, improve and refine
The hospitality industry is all about adaptability, being able to develop processes and refine them on a regular basis. What worked today might not necessarily work in a few months or years, and will depend on the employees you have on staff. As staff come and go, you might want to revisit processes and optimize them.
Make sure to regularly address processes with your staff and get their feedback about what's working and what's not working. Constantly improving and refining will no doubt lead to operational excellence, and ensure nothing falls through the cracks.
Conclusion
In this article, we've looked at why employee communication is so important, as well as the 10 best practices for encouraging healthy communication among your hotel staff members. By implementing these tips you can be sure to have more satisfied employees which also leads to more satisfied guests, in turn encouraging loyalty and boosting retention rates. Operational efficiency is the key to a successful hotel.

Author
Eva has over a decade of international experience in marketing, communication, events and digital marketing. When she's not at work, she's probably surfing, dancing, or exploring the world.
Hospitality hot takes straight to your inbox
Sign up to our monthly newsletter for industry insights, product news, partner updates and more.