The Mews Blog > Best 10 hotel social media marketing strategies in 2022
Social media marketing for hotels is key to increasing visibility, boosting direct bookings, and improving brand awareness. With more and more guests interacting with social media on a regular basis and getting inspiration for their next trip, it has become an integral part of any marketing strategy.
By posting regularly on your channels, potential and regular clients have the chance to interact with your brand, and you have the chance to remind them that your brand is worth it. Furthermore, it allows the possibility to connect with these users on a deeper level. Through consistency and an optimal strategy you can help drive more bookings.
In this article, we'll discuss the best social media marketing strategies for hotels, including how to create general strategies and how to create specific strategies for each specific social network.
How to create the best social media marketing strategies for hotels
Creating social media marketing strategies can be done on a global level or it can be done specifically catering to each different channel. It's important to have a team dedicated to social media marketing who is connected to your brand, knows the ins and outs, and is able to transmit this dedication when designing the strategy.
Global social media strategies
1. Plan around seasonality
When you start planning your strategy, make sure you plan around seasonality. Seasonality can refer to what to publish based on different holidays, and can also refer to a strategy based on low, mid-season and peak seasons. Your contents will change based on the time of year and what you are trying to accomplish.
In low season, you'll want to drive bookings by sharing promotions or special thematic packages based on the time of year. On the other hand, during high season you may use your social channels as a way of promoting your hotel as the "place to be'' so that people are more likely to book early so they don't miss out on next year's high season.
You can use the tools provided by your property management system like Mews to understand when revenue is low and make sure to maximize your profits through paid social media ads. Mews Operations allows you to optimize inventories and rates with flexible rules and use package rates that can help you decide which deals to offer on your different channels.
2. Use learnings from reputation management to constantly improve
TripAdvisor and Google are not only powerful tools to drive bookings but they're also key to unlocking important learnings about where your hotel is lacking or where it's excelling. Use what you learn on your social networks to make improvements to the hotel experience. Make sure to respond to all reviews, both positive and negative, so that users get a sense that the hotel cares about what their followers have to say. Most importantly, if you get an awesome review on TripAdvisor, share it with your followers, because no content is better social media marketing for hotels than positive reviews.
3. Create a human connection
Use your channels to give a face to your hotel. That is, create a human connection so that potential guests know who is behind your team. Highlight a staff member once a week on your different channels. Interact with guests by creating raffles, contests, taking polls and asking them for feedback.
Do they want to see more pictures of hotel rooms, destinations they can visit from the hotel, or restaurant tips? Making your followers involved with your messaging makes them more invested in continuing their relationship with your hotel. Tag your guests in the pictures you post so that they are inspired to follow you and repost.
4. Don't underestimate the power of influencers
Influencers are real and here to stay. Pinpoint who are the influencers in your area, or those that can get your target audience to move, and contact them. Before you plan to invite them to stay at your property, make sure you have a plan in mind.
First, keep in mind your budget, that will help you decide what kind of influencer you can afford. Micro influencers may be willing to trade services, whereas macro influencers will want the big bucks. Once you've narrowed down your budget, decide what you hope to achieve. What are the KPIs you're going for? This way, you can make sure to track your successes.
5. Videos
The saying goes "a picture is worth a thousand words" but in today's world where we're bombarded by images, a video is worth a million words. Videos inspire engagement, improve the time on the page and are more likely to be shared and go viral, so make sure making high-quality videos is figured into your budget.
Channel-specific social media strategies
1. Facebook
Facebook, while it may have gone out of fashion for millennials, remains an important channel for social media marketing for hotels because there are no limits in terms of words or video size. Furthermore, now that Instagram and Facebook have fused, you can create paid campaigns and promote them between both channels.
Use pictures of the hotel's interior and exterior, post stories, live videos, special offers and promotions on Facebook. Encourage guests to put location tags or to tag you in their photos and videos in exchange for a reward so that you can boost engagement. You can also run contests to keep guests interacting.
2. LinkedIn
LinkedIn is a great channel for sharing professional and content relevant to the hospitality industry. Why should you use LinkedIn? Because it's where the business professionals are. You can use it as a tool to promote your space for special events and conferences. Plus, you can connect with businesses in order to form partnerships.
3. TripAdvisor
TripAdvisor is a must as part of your strategy. As the website receives 463 million unique visitors each month and has a huge community of followers, it's a tremendous tool for your marketing efforts. The more bookings you have, the more reviews you'll get, so it's a great way to spread word of mouth organically.
4. Instagram
Instagram is without a doubt one of the most important channels today. Instagrammers are constantly engaged, so it's a great tool for keeping your users constantly engaged with your brand.
You can use it to answer questions, repost, give updates about your hotel and highlight some elements you want to highlight, such as discounts, deals, polls, and other behind-the-scenes videos. You will want to create a unique hashtag for your hotel as it's an important tool during the pre-trip planning phase. Make sure to have a business account so you can reach a larger audience.
5. YouTube
YouTube has 2 billion users monthly, and is the second largest search engine after Google. No social media marketing strategy is complete without designing a plan for YouTube. You can use YouTube to drive traffic to direct channels and reach potential guests by posting video tours, testimonials, timelapse videos, or even a special hotel music mix like the Buddha Bar Lounge. It's a key tool to give a better feel for the amenities and services offered and creating a sense of excitement about the hotel experience.
Conclusion
Social media marketing for hotels is one of the most powerful tools to drive traffic to your website out there, so make sure you use it to your favor. Use it to create a human connection and to interact on a regular basis with your guests.
Whether you decide to choose a global strategy to use across all your channels or different messages designed for each specific channel, the most important thing to keep in mind is to use high-quality content in order to give your brand visibility, drive bookings and keep guests interacting with your brand across the whole customer journey.
Perfecting guest communication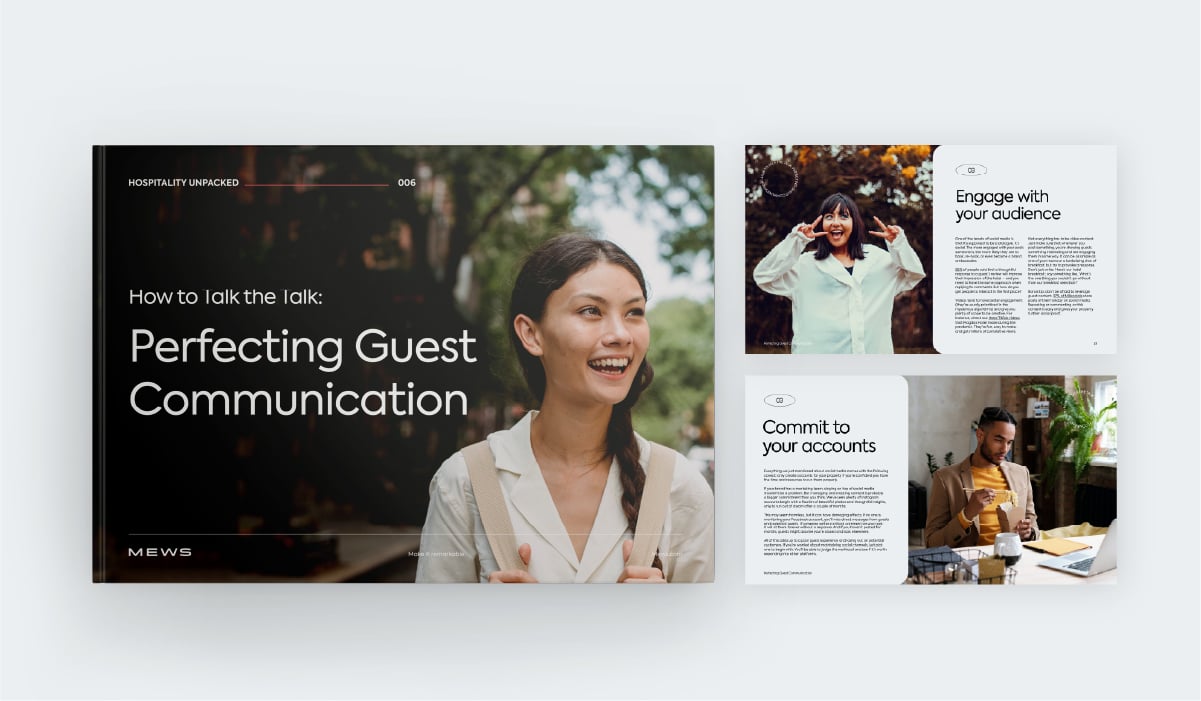 Social media is only one part of your bigger guest marketing and communication strategy. In order to be truly effective, you need to consider this bigger picture.
Our guide on Perfecting Guest Communication gives you tips about how to get social media, emails, and your website right in terms of messaging and content, and it's also packed with helpful integration ideas and inspiring success stories.

Author
Eva has over a decade of international experience in marketing, communication, events and digital marketing. When she's not at work, she's probably surfing, dancing, or exploring the world.
Hospitality hot takes straight to your inbox
Sign up to our monthly newsletter for industry insights, product news, partner updates and more.