The Mews Blog > How COVID-19 has forced us to do weightlifting as a SaaS company
"There are decades where nothing happens and there are weeks where decades happens "
The pandemic has been a digital transformation catalyst for a lot of companies that could afford to get away without it previously, making the "cloud" the clear winner in all of this –cloud stocks are up 30% YTD. As for Mews, a cloud-native company, we have also gone through a transformation, albeit one of a different type.
Before and after COVID-19
I joined Mews almost a year ago, in August 2019. My role as Head of Strategy and Expansion was very much focused around operational growth – launching new territories, supporting our inorganic growth by leading the integration of our first acquisition, as well as running different strategic cross-functional projects.
By December, we had launched 3 new territories and acquired our first company. In February we held our #Mewscon company event in Prague, where everyone was flown in for a three-day conference with close to 500 attendees. We had almost doubled the headcount since I joined.
In March, those weeks where decades happen started happening. Mews develops property management software for hotels (and will soon be expanding our scope to other types of spaces and resources). Hotels and travel have been one of the main victims of the pandemic, and consequently our business was severely impacted.
As a result of this, two things happened. We had to part ways with a lot of incredibly talented people, and we had to find a new way to operate the business within this void. A leadership decision was made to close our regional offices and centralize operations in Prague (HQ) and London, our second hub.
The theory of antifragility
Nassim Nicholas Taleb has been trending during these last months, as his books The Black Swan and Antifragile cover similar themes of making peace with uncertainty, randomness and volatility, as it is impossible to predict game-changing world-altering events, which are ultimately the driving force in history.
In Antifragile, Taleb outlines that everything in the world can be classified in three categories:
The Fragile – which breaks when exposed to stress, chaos, and variability over time
The Robust – which remains unchanged in the face of stress, chaos, and variability
The Antifragile – which

becomes stronger

when exposed to stress, chaos, and variability, up to a point
Antifragility doesn't mean that the volatility will be expressed in a positive way, but that the antifragile will gain more than it loses from random and volatile events.
An analogy that he makes to illustrate the idea is lifting weights. When you lift weights, you apply stress to the body, and the tissues in the muscles break down. To compensate for this, the muscles grow stronger than before. Taleb argues that this process is intrinsic to all evolution, both in nature and in every human system that has survived. On the flip side, remove stress from a system, and the system will grow weak – not moving for weeks atrophies the muscles.
Finding opportunity in adversity
At Mews, we saw first hand how the travel and hospitality industry shut down overnight. The impact on our business was huge, translating into drastic downsizing in a matter of weeks. This has forced us to "weight lift" by operating in a very lean fashion.
Observing these last weeks and months, I have learnt that these stressors and shocks to the system can also sow the seed for new creative ways to overcome the challenges caused by the shock itself.
We have seen how it has forced us to come up with new ideas and solutions to our current situation. Leveraging the momentum of the world moving online, one of the initiatives that surfaced is reinventing how we onboard our clients, working in a more scalable and cost-efficient way, increasing both the throughput of onboardings and their velocity.
We've been forced to reinvent whilst recovering from the shock, without the usual time for healing and taking stock. Normally, the events would happen in 4 stages and we're doing it in 3: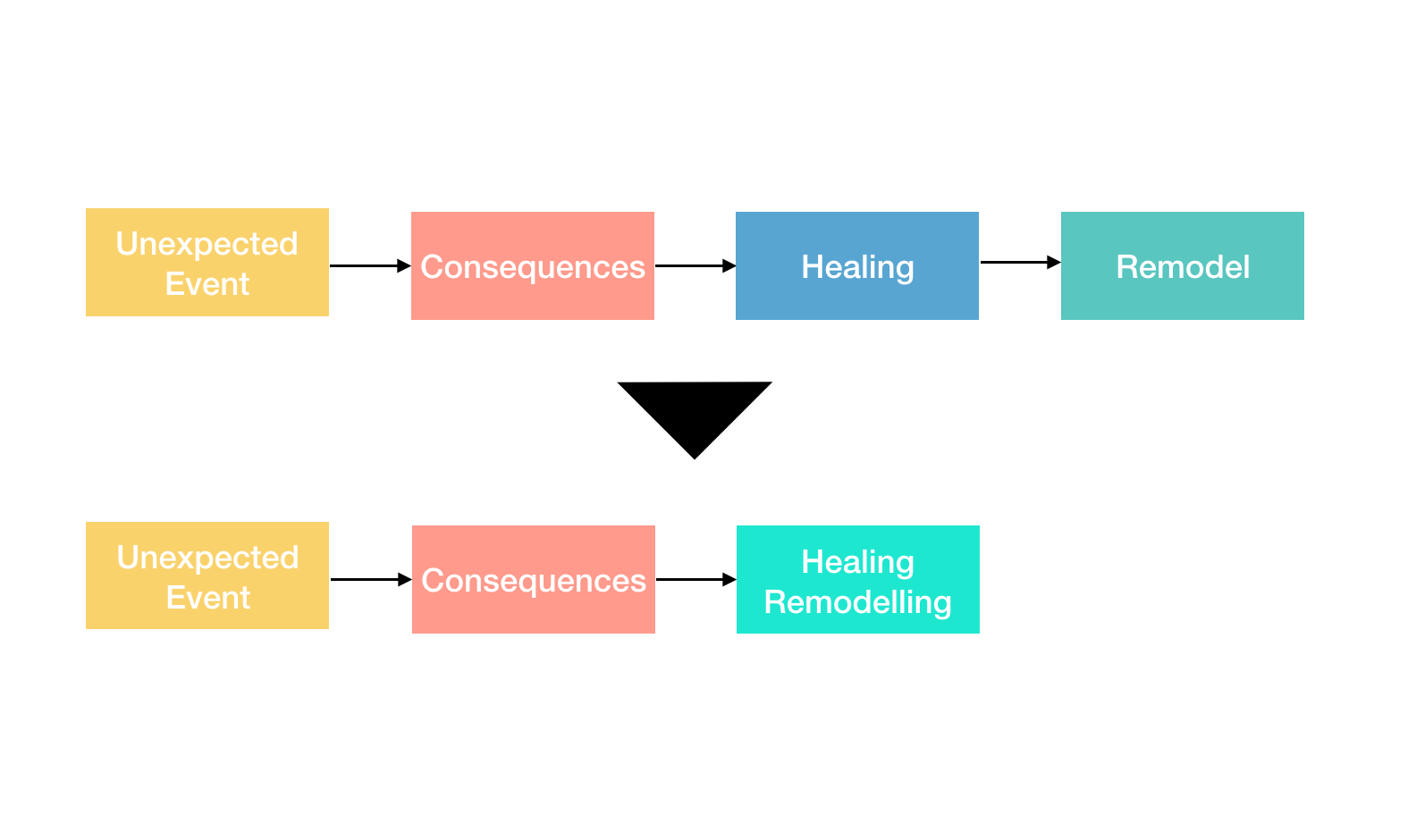 The new look at Mews operations teams
Across the Ops teams two other things have happened:
We have doubled down on Customer Success, making it the centre of the operational organisation. We're really trying to understand how we make sure our customers are successful, by helping them get the best use out of our product and increasing the value they get from it during these times. We're streamlining the communication of what the customers want from a product standpoint, channelling the feedback internally so it can influence our product roadmap. Through this, we can better understand our customer needs and helping them is minimizing churn.
We're moving upstream. As a company, we're moving towards a larger segment of our clients. We're reshaping the customer journey with different branches for the different sizes and segments in order to become more cost efficient. We're currently undertaking a new pricing strategy to move towards larger accounts, and are changing our whole offering in a way that it adapts to where we want to go.
With our new outlook came a new role for me. How do we support all these new changes from an operational standpoint in a way that will not only help us survive, but come out stronger?
As Director of Operations I run a team of teams made of small units and individual contributors that own different areas. These units are nimble and agile but are setting the foundations for the future. Today, there are four key areas:
Tools.

The challenge we're solving is how to consolidate and streamline all the tools that support our new centralized operational setup and make them work for us. Spoiler: automation is becoming more important than ever.
Insights.

We must provide the right reporting and data to all the ops teams in order to measure the things that matter today and make decisions. Two of our focal points are Net Revenue Retention and segmentation – understanding how all of our different segments interact with our teams, and the correlation of costs between them.
Projects.

This area exists to launch new initiatives or improve existing ones. Its mission is to execute, handover and move on.
M&A Integrations.

How do we successfully integrate businesses? We're still in the process of integrating Planet Winner, our first acquisition, and the incredible team that we partnered with. This experience is worthy of a whole post itself...

Self-regulation and preparing for the future

Like in nature, self-regulation expresses itself in different forms, for example the natural cycles of wildfires create short term instability but long-term gain. We also see institutions, industries and businesses sometimes go through the same – expanding, shrinking, diversifying and consolidating.

We're now going through a form of self-regulation. As we're now leaner, opportunities for operational optimization are emerging. When a company is going through hypergrowth, speed is often prioritized before perfection, and these opportunities are less obvious to spot. It's now time to optimize and build organizational capacity.

Temporary stressors and shocks may be transformative and even beneficial, but they should be temporary. Antifragility can be also applied to our personal lives, by practicing things like thermal variation – exposing our bodies to cold temperatures boosts your immune system – fasting, or lifting weights. All businesses, after all, are made up of people, and personal growth can undoubtedly aid business growth.

Ultimately, then, we've had a tale of two stories: on the one hand, our business has been immensely affected by the crisis, but on the other we're reshaping, centralizing and becoming very cost efficient. Whilst keeping in mind Taleb's "Non-predictive decision making" that makes us capable of withstanding unexpected change, we're excited for what the future holds.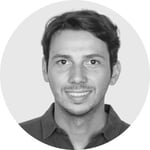 Hospitality hot takes straight to your inbox
Sign up to our monthly newsletter for industry insights, product news, partner updates and more.