The Mews Blog > IoT in Hospitality: Harder, Better, Faster, Stronger
The IoT is kicking up quite a storm, creating cross-sector business opportunities and privacy minefields on its way. We consider how the hospitality industry is embracing the benefits, who's leading the way and where hoteliers could come unstuck...
---
When British technology pioneer Kevin Ashton first coined the term IoT back in 1999, magnetic-stripe room key cards were still de rigueur in hotels, the first Blackberry device was being introduced to the world, and Alexa was a popular baby girl name.
Fast forward to 2018 and Amazon has launched Alexa for Hospitality, voice assistant technology which allows guests to access services and amenities from the comfort of their room using nothing more than vocal commands such as "Alexa, order room service!". Crucially, the system allows hoteliers to customise the features according to your brand and the specific needs of your guests, and also to measure guest engagement through analytics and reporting.
Technology powering the IoT is already revolutionising traditional industries including hospitality, where it spells reduced costs for your property and an optimised guest experience thanks to a more customised and connected stay. Tech-savvy hoteliers can harness valuable guest data (from sources such as marketing engagement, loyalty programmes, purchase histories) and glean actionable insights, using them to provide increasingly personalised reservations based on previous stay experiences and, ultimately, ramp up the guest feel good factor on each occasion.
Modern expectations
You don't need Mews to tell you that travellers' expectations are changing.
In this era of Airbnb, travellers want to interact with their hotel or hostel environment in the same way that they do at home, and they expect familiar comforts such as an automatic WIFI connection as soon as they walk through the door. Take note: it's essential that your property embraces the IoT, using cutting-edge services and connected devices to replicate the smart home experience, increase guest satisfaction by understanding their digital needs, and get ahead of the competition in what's an increasingly crowded environment!
"Technological innovations are re-shaping the hotel industry. Those that embrace these changes will benefit from streamlined operations and better guest engagement. Those that don't will find themselves left behind."

Bert Greenstein, VP of IBM Watson, Internet of Things
Tech savvy millennials are the driving force behind the new digital customer values of today: authenticity, personalisation, socio-emotional connection, convenience, control and speed.
So, what should you be doing to automate your property? Alexa aside, new product innovations on the market include:
- smart mirrors that offer customised content and media on a touch-screen display
- daylight harvesting (adjusting indoor lighting based on the natural light coming in)
- robotic lobby concierges that provide location-relevant information to guests
Closer to home, expect to see exciting new integrations from ZoraBots (humanoid robotic concierge services including guest check-ins and check-outs via a tablet mounted onto Pepper the robot's chest) and Cisco Meraki (a cloud controlled WIFI solution which allows hotels to use space fencing to monitor when guests move from one location of the hotel to another) appearing in the Mews Marketplace in the very near future..!
Leading by example
It comes as no surprise that the future has already arrived in Asia, where a number of smaller brands are proudly and innovatively leading the way in IoT implementation.
Flying the flag for high-tech lodging is Japan's first smart hostel group, & AND HOSTEL, whose IoT guest rooms incorporate 10 kinds of IoT devices: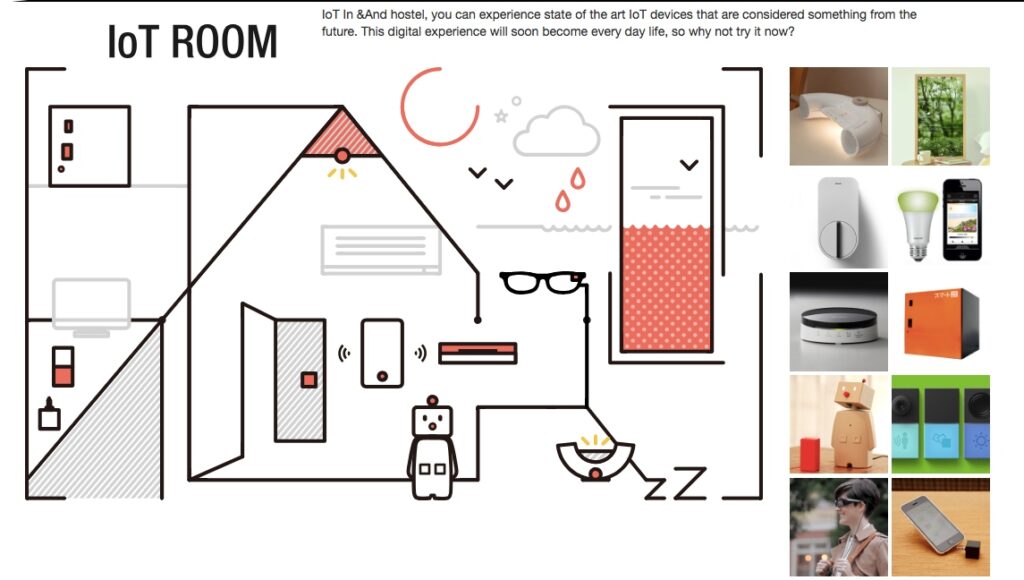 Their six properties are interactive hostels where you can "experience an IoT space in the near future" and they've even developed an "&IoT" app which allows them to accumulate and analyse quantitative and qualitative user data.
Another futuristic Asian example is the Henn-na Hotel: the world's first hotel to be staffed by robots, and multilingual ones no less! Next-generation features include android concierges, robotic porters (rechargeable luggage trolleys), a robotic cloak room attendant (a giant mechanical arm in a glass case), wardrobes that can remove odours and wrinkles from clothes and facial recognition door openers. Impressive stuff!
Despite the hotel's name translating to "Weird Hotel" in English, its Founder Hideo Sawada insists that "it's not about being strange, it's about transforming and evolving". Henn-na already has four sibling hotels in Japan, and owners H.I.S. Hotels plan to build 100 within the next five years.
"The worldwide Internet of Things market is set to grow to $1.7 trillion in 2020 (from $655.8 billion in 2014)."

Research conducted by International Data Corporation (IDC)
As you'd expect, the IoT goes beyond land-based hospitality. Princess Cruises are using complementary Ocean Medallion apps to get ahead of the game and transform cruise ships into smart cities.
The interactive wearable medallions are not only a waterproof payment method, navigational tool and cabin key, but also capable of tracking passenger's movements on the ship, and learning their favourite wines and meals.
So what next?
Forecasts show 50 billion IoT connected devices in the world by 2020: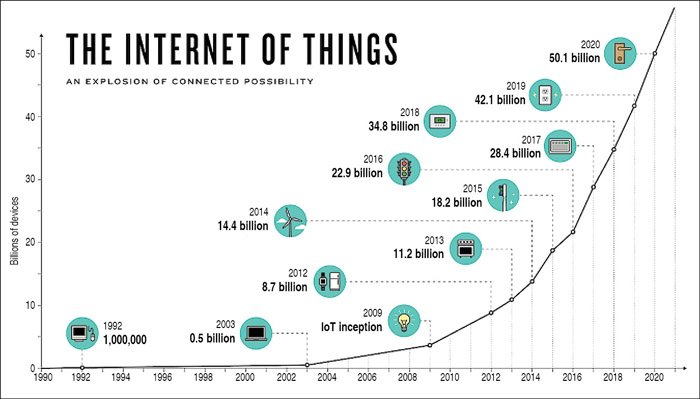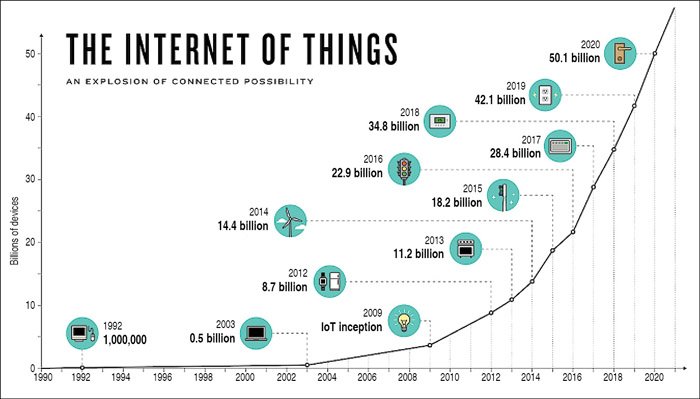 As the advancements in connected devices in hospitality snowball, expect to see more product innovation (think user-friendly in-room tablets, beds that adjust firmness to guest preferences, personalisable digital wall art and virtual assistants), co-branding and bold partnerships with tech giants, as hoteliers and hosteliers strive to create the ultimate room experience of the future !
Scandinavian group First Hotels is the first chain in the world to offer rooms with customisable beds, in a dedicated "SmartBed" room category. Located in the quietest part of their hotels they feature spring beds with adjustable mattress firmness, and a sleep kit containing a mask and earplugs. Guest satisfaction is said to have shot up, proving that customisable beds create happier and more loyal guests.
Marriott International's 2017 collaboration with telecommunications and tech giants Samsung and Legrand is another shining example of taking the personalised guest experience to a whole new level of intuition. The technology in their IoT Guestroom Lab allows guests to make all kinds of requests, from starting a yoga routine on a full-length mirror to asking for additional housekeeping. Their plan is to capitalise on their triangle of expertise...and they may just be onto a winner!
We can also expect to see the gap between hotels and hostels closing. A great example of this shift is CityHub in Amsterdam. Inspired by Japanese capsule hotels, it's been designed to "combine the interactive community of a hostel and the privacy and comfort of a hotel". Branded as "an urban hotel for digital natives", it targets connected generations with features such as RFID wristbands, mood lighting, personalisable music streaming systems, and a digital lobby. Their CityHub app also offers guests access to their own MiFi hotspot mobile route when out and about in the city.
However
Although the IoT offers immense benefits to the hospitality industry, there are lingering concerns over privacy, fraud, cyber attacks and how personal data is being managed.
To minimise the risks it's important to develop robust cyber security protocols which strike the right balance between privacy and the convenience that these technologies provide. Also, remember to let your guests know if they're in smart rooms or public areas where their data is being collected!
Hospitality is intrinsically all about human connections, and the art of receiving and treating guests and strangers in a warm and generous manner. The challenge facing us today is how best to use the IoT to build smarter relationships with guests and create the ultimate stay experience?
---

Hospitality hot takes straight to your inbox
Sign up to our monthly newsletter for industry insights, product news, partner updates and more.