The Mews Blog > How a Donut changed my role at Mews: Mewser stories
My career at Mews changed all thanks to a Donut.
But I'm getting ahead of myself. I wanted to share my journey in hospitality because it shows that it can take a combination of time, chance and the right people around you to find the role you're properly meant for. And yes, sometimes it takes a Donut.
My F&B beginnings
For my entire working life I've been part of the hospitality industry. You might even say that I grew up surrounded by it. Newquay, Cornwall, is my home town, a beautiful seaside surfing town with an economy that revolves around hospitality thanks to its beaches, waves and all-round beautiful location.
My first proper job was collecting glasses in a cocktail bar at the tender age of 16. Even though I wasn't old enough to buy a drink, I enjoyed seeing the finesse of the mixology combined with the importance of good service. In other words, excellent customer experience.
Eventually, I was old enough to be the one behind the bar, and when I hit 18 I became one of the cocktail bartenders (this was before 'mixologist' was so widespread) and then a supervisor.
It was great fun, and the experience naturally led me to hotel F&B and restaurant management. I had a summer season working as assistant manager in Padstow (another beautiful seaside town in Cornwall) at Paul Ainsworth's No6 Michelin star restaurant.
This was the first significant step to my current role as Solutions Architect at Mews, though at the time I had no idea.
My grand tour of hospitality continued as I became assistant manager for a pub company called Marston's. It took me to bustling Bristol where I joined a deputy manager program for a year's training course to become a general manager covering operations, HR, finance and head chef training.
Of course, there's no one right way to approach a career, but I'm really pleased I took this route. It gave me a well-rounded view of hospitality and I learned how different departments interconnect to (hopefully) create a remarkable guest experience.
Heading into hotels
After a little while, I moved back to Cornwall to be close to family. I began work at the iconic Headland Hotel, famous in part for its appearance in the 1990 film adaptation of Roald Dahl's The Witches. Thankfully I never discovered anything as disturbing as Angelic Houston's Grand High Witch...
There I started as a hotel duty manager and progressed into running the F&B operations of its two Rosette restaurants. I'm proud to say that I helped the hotel to achieve its 5-star status.
But here I had a dilemma. On the one hand, I really enjoyed hospitality, but I craved a more balanced lifestyle. The agency I was working with put me forward for a position as software trainer for Hotel Perfect, a UK property management system headquartered in Cornwall.
They were looking for someone with a hospitality background and experience in delivering training, so it was a perfect match. I was able to bring my experience from the hotelier side of hospitality to the role. During my time with Hotel Perfect, I trained teams on using our software and resellers' partner software. This included effectively tailoring a bespoke PMS to each client, building and installing their point of sale (POS) and setting up integrations.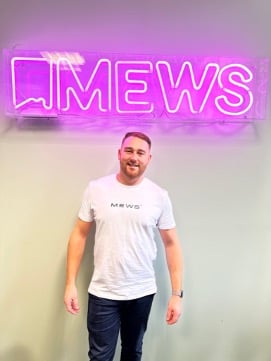 Moving to Mews
By this point I was as confident building and training hospitality management systems as I had been using them. But there was another twist in the story.
Hotel Perfect was acquired by Mews. At first, I felt uncertain. It's natural when your company is acquired by another. But credit to the Mews Ventures team, early on they spoke to us and gave us confidence about our job security.
You're probably wondering how a Donut comes into this.
I was working remotely (Cornwall is pretty far from the Mews London office) but I still wanted to get to know my new colleagues like I would at lunch or the coffee machine. So I joined the Donut program.
Donut is an integration for Slack, Mews' online communication tool. It pairs you with random colleagues for conversations over a virtual donut (or real, if you've been shopping), encouraging more meaningful relationships and camaraderie with people in the business you might otherwise never meet.
In one of these chats, I was paired with Richard, the Mews founder. We got talking and after he found out more about my background, he asked if I knew we'd recently acquired Bizzon, a POS company. He put me in contact with Timur, a solutions architect manager, and now I'm working as a solutions architect with a focus on Mews POS.
It's a role that combines virtually everything I've done up to now (apart from maybe the glass collecting) and I really love that it combines everything I've learned.
I suppose the moral of the story is, you never know where you'll end up, but it never hurts to share a donut (real or virtual) with your colleagues, as it could always open new doors.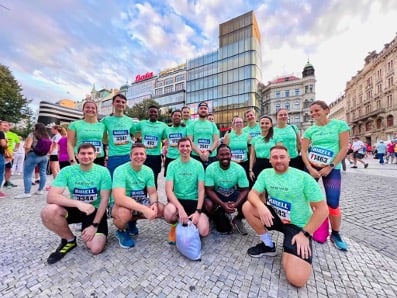 Enjoying our custom Mews running merch during the Prague 10k run
Hospitality hot takes straight to your inbox
Sign up to our monthly newsletter for industry insights, product news, partner updates and more.