The Mews Blog > Top 5 reservation software for small hotels in 2022
Reservation software for small hotels can be a game changer in the hospitality industry, especially if you're looking for easy integrated solutions. When choosing the best hotel tools, there are several factors to keep in mind such as what features and functionalities are musts, the different vendors available in your market, what you are hoping to achieve with the software, and the quality to cost ratio.
Making an informed decision will benefit your business immensely by reducing costs and boosting revenue. As we all know, price can be a huge factor, especially for small properties. Keep in mind that generally the price you pay will depend on the size of your property; typically, the more rooms you have, the more you will pay. Most importantly, choose a software that has a set monthly fee, and not one that charges you based on transactions, and try not to get locked into a long contract.
Keep reading to find out the best available software out there for small-sized hotels, which include (but are not limited to) Mews, Easy Innkeeping, eZee Absolute, Hotelogix and Sirvoy. We'll also help you better understand the functionalities your reservation software must have in order to make your life easier and make your decision easier.
What functionalities must your reservation software have?
Hoteliers who own small hotels and seek to grow their revenue through direct bookings have a lot to keep in mind when making their software choices. Indeed, there are some functionalities that you definitely don't want to miss out on.
For starters, you'll want to have the capacity to push direct bookings through your website and other metasearch sites. Another fundamental functionality is the ability to integrate the reservation software with your other hotel software. It will make your life much more difficult if you have to manage several different software at the same time.
Other helpful functionalities are being able to message through the reservation platform, both prior to guests making a booking and after they stay at your hotel so that it can help you to build relationships. You'll also want to keep an eye out for other helpful functionalities like the ability to display promotions, sell multiple room types, integrated payments, upsell and multi-language and multi-currency capabilities.
Of course, this is not the one and only list of functionalities but you can be sure that if your software has most (if not all) these functionalities, you're on the right track.
5 Best reservation software for small hotels
There are several great options for small hotels, so let's take a look at them one by one. We've broken them down into the top five, so sort through them and make sure to consider the factors we just touched upon as well as anything specific to your operations.
1. Mews
Mews offers an unparalleled hotel booking engine that can be used as part of the Mews Hospitality Cloud, and offers quality for the price. Mews will help catapult your small hotel above the competition by helping to drive direct bookings and reduce website abandonment by providing an effortless booking experience.
You can easily connect the booking engine and reservation platform to your website, making it all the more simple to capture clients and turn them into paying guests. Reservations can be made in any language, currency, or on any device. The booking engine is fully customizable and brandable. Plus, you can very easily hook up to other software you have such as channel managers, revenue managers, housekeeping and accounting software, and more.
Mews can also be used for revenue tracking, conversion performance and to understand guest behavior. This tool allows you to sell more rooms, and maximize your revenue through upselling, offers, and add-ons.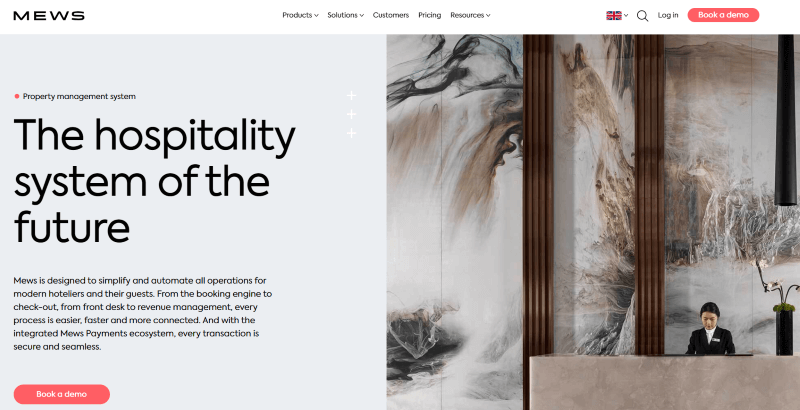 2. Easy Innkeeping
Easy Innkeeping is a great reservations software that also covers a range of PMS tasks. Easy Innkeeping's online booking engine integrates with your website, allowing you to manage your reservation needs, digital marketing efforts and channel management in one place.
To get the Basic edition, you will start by paying $59 a month. This includes hotel management, the booking engine and the ability to process credit cards. If you want more functionalities such as a CRM module, email marketing tools and more, you will need to upgrade to the Advanced and Premium editions which offer additional features.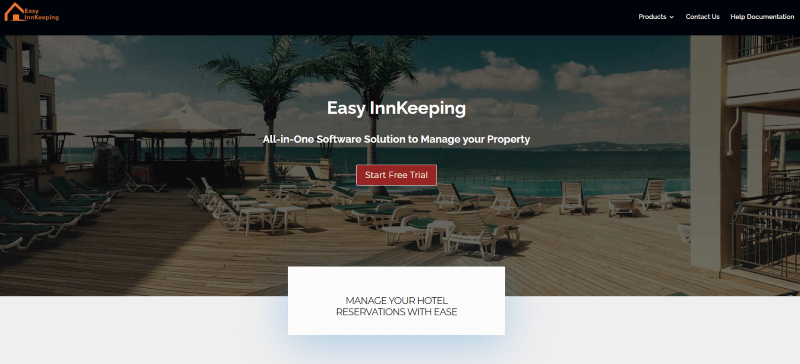 3. eZee Absolute
eZee Absolute is a hotel management system whose goal is to help your small hotel automate different areas of your operations. In addition, their software features a chatbot to help guests as they book online, as well as giving you the ability to oversee multiple properties, booking engines and guests all at once under the same system. There is also a built-in point-of-sale system that can be used at your hotel's restaurant or bar.
The price is an affordable $45 per month when paid annually. However, if you want a package that includes both the booking engine and channel management at once, you will have to contract a separate package.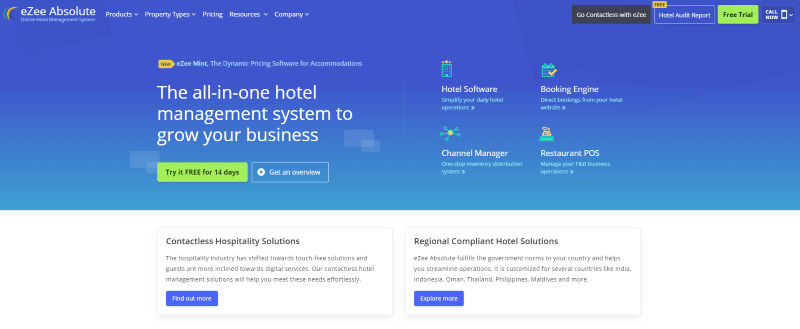 4. Hotelogix
Hotelogix is designed to support small hotels thanks to its integrated all-in-one platform. On the platform, you'll find a reservation software whose booking engine can be branded to match your hotel's unique style. The front desk module helps to serve as a useful dashboard where you can track reservations, check-ins, and staff duties, which also syncs up with accounting and booking information for real-time management.
Furthermore, you can keep online inventory and pricing consistent with Hotelogix's channel management software. The price starts at $65 per month and you can add on an advanced package to add more modules.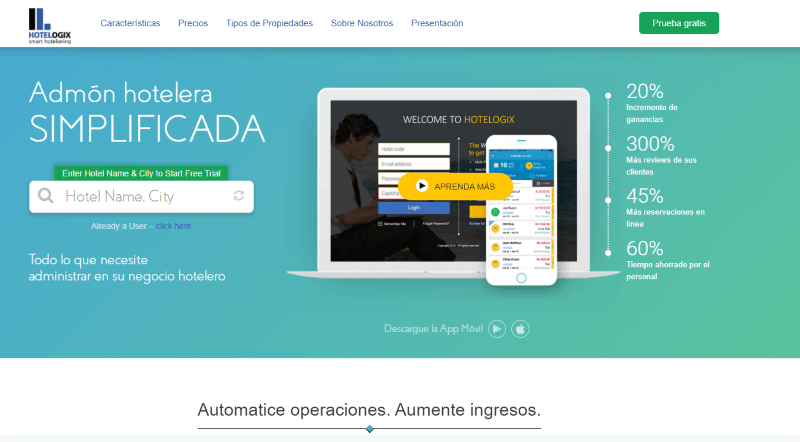 5. Sirvoy
Sirvoy is a PMS, Booking Engine and a Channel Manager, all in one, and can be used by hotels of all sizes. Bookings are accessible anytime from anywhere thanks to the fact that it's a cloud-based system. It is extremely cost-effective for small hotels with the hotel booking system starting at $9/month.
You can use the booking engine to get non-commissionable, direct bookings from your website. Guests can easily book online and from their mobiles thanks to the responsive hotel book engine. To use, all you need to do is add the code snippet to your website and you can start getting bookings right away.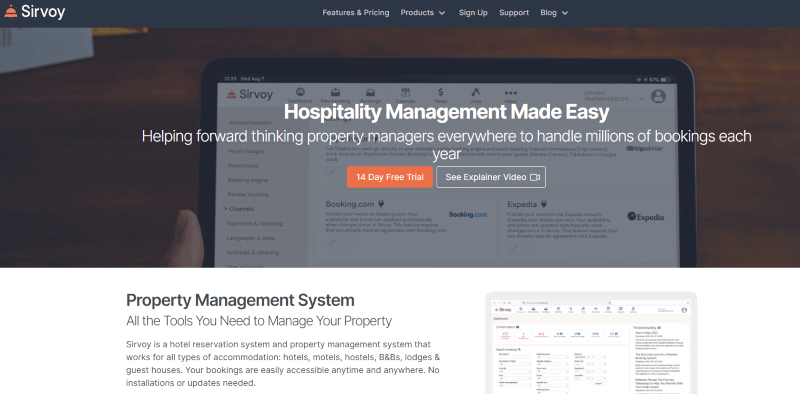 Conclusion
While choosing the best reservation software for small hotels is no easy task, hopefully having read this top list will make your life easier. The right software will be easily integrated with your other hotel operations, channel manager and tools, making daily tasks easier and quicker, which will free up time and resources to devote back to providing the best guest experience possible.
Beyond making your life easier, a reservation software should make it possible to drive as many direct bookings as possible by not only connecting easily to your web but also to different metasearch sites, so as a small structure, you can capitalize on these sites' large advertising budgets.
A hotel reservation system will help you balance direct and third-party reservations towards direct, which will help you make more revenue per booking and help increase overall profits of your structure. The software should be available on the cloud to access reservations and information from no matter where you are, be cost effective, and provide solutions that will make running your hotel easy so that you can focus on bringing in the most direct bookings possible.
Switching Your PMS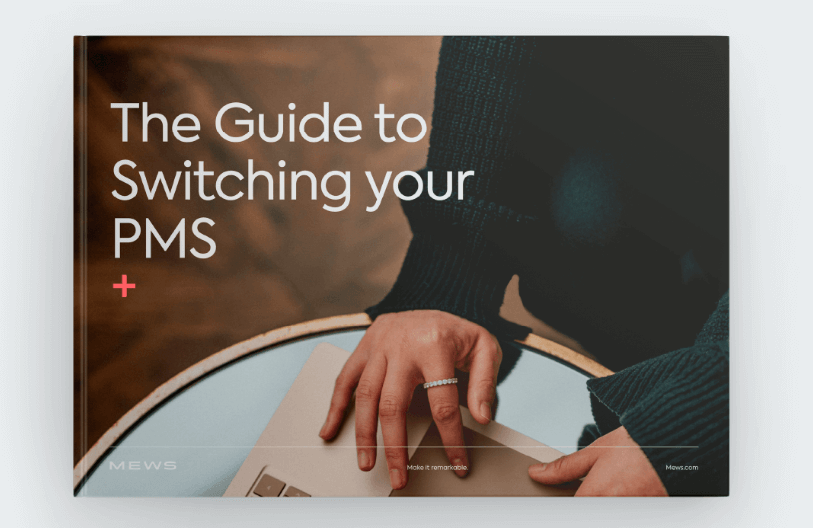 Author
Eva has over a decade of international experience in marketing, communication, events and digital marketing. When she's not at work, she's probably surfing, dancing, or exploring the world.
Hospitality hot takes straight to your inbox
Sign up to our monthly newsletter for industry insights, product news, partner updates and more.