The Mews Blog > Living with staff shortages: how to run a property with a reduced team
Unless you've been living under a rock blessed with an abundance of eager workers, you'll have noticed that there's a hospitality shortage right now. The combination of Covid and other factors (Brexit if you're in the UK) means that it's now impossible to walk down a street without seeing 'Staff wanted' signs in the windows.
It's something that Matt and Richard covered in their five trends in hospitality webinar at Unfold, but I want to dig a little deeper and offer a few potential solutions.
But before we begin, let me point you in the direction of our webinar on Managing Staffing Shortages. You can watch the whole thing as live for tips on how to use hospitality tech to reduce your workload, how to be more agile when hiring, and how to better retain your team.
Living with staff shortages
You may be tempted to try and ride out the wave of shortages and operate as close to normal as possible – but that would be a mistake. The prevalence of the Omicron strain means that we'll be living with it for a good while yet, and there's more to be gained from adapting sooner rather than later.
In a perfect example of how desperately workers are required, the Australian Prime Minster tried to reduce the age at which workers can drive forklifts from 18 to 16 – although his plan was ultimately rejected by just about everyone. Meanwhile, the hotel industry is one of the worst hit, and is 'on its knees' due to the staff shortage.
I was recently speaking to a hotel chain in Melbourne. They have three properties in the city and the vast majority of their staff are stuck at home isolating, so their GM had to rent a van to drive people between hotels. Every morning, the van takes all of the laundry to one of the hotels where someone can handle the cleaning. Sometimes the laundry person is driven to a different hotel because there's no one on reception that day and they have to help check guests in and out.
It's an admirable system that just about works, but it's one that's pretty inefficient and can't be sustained in the long run.
To close or not to close?
If you literally have no staff available and you can't hire any more, closing is a necessity – unless you're running a staff-free property like some Koncept Hotels. But closing should always be the last resort. Before you make that decision, spend some time working out what skeleton staff you can manage with. Reassess your technology stack and see what you can automate to cut out manual tasks.
You can even change your offering to keep guests and revenue coming in. If you run a luxury five-star hotel, maybe you normally need 50 staff onsite. If that's not possible, think about temporarily closing some of your facilities or services – you may drop to a three-star hotel, but you'll still be able to welcome guests and provide a great experience.
We spoke with one of our properties who recently did exactly that with great success. They closed off options such as their spa and buffet and dropped their prices, and rather than closing down or providing a less than perfect five-star experience, they had loads of guests who were still happy to be there. After all, the amazing views from the rooms didn't change.
If you decide to go down this route, just make sure you market it correctly and you're honest about what's available and what isn't. And although you'll have to drop your room rate, your operating costs will also have come down.
Tips to run your property with a skeleton staff
Assuming you're able to stay open, what can you do to ensure you're providing great service while also ensuring the staff you have aren't being worked to the bone? Even if you've been lucky and escaped any staff problems so far, it's a good idea to put some of these plans into place.
Let guests skip housekeeping
If you're low on housekeeping staff, there's an easy way to lighten their workload: give them fewer rooms to clean. Many guests don't expect or demand fresh sheets and towels every day – give them the option to skip housekeeping and you'll be able to ensure that those rooms that need turning over will definitely get it.
Use a special program or offer and you'll give guests a good reason to skip unnecessary cleaning. Hotels for Trees lets guests skip cleaning in favor of planting a tree – good for the environment, good for your workload. Alternatively, you could offer a free drink at the bar or something similar, which can often lead to more than one which will then help boost your revenue.
Use kiosks
Self-service is now a part of our daily lives, and there's every reason to invest in self-service check-in kiosks. Having one person always stood behind your reception desk is a luxury now. Kiosks are a great way of cutting down front desk queue times and freeing up your skeleton staff to focus on other jobs.
Rather than have someone stuck behind the reception desk, that team member is now free to move around. They can also be serving guests at the bar, restocking the water supply or any number of things – all while keeping an eye on the kiosks to make sure things are running smoothly. If it looks like the guest has a problem, they can easily go over to help them.
Streamline your restaurant
If you have a restaurant, café or bar onsite, you'll want to try and keep it open as it's good for revenue and keeps guests onsite. Implement self-order QR codes so that guests can order on their phones at their tables without the need of a waiter coming directly to them.
This is already popular in some big chain restaurants around the world, and there are plenty of apps that can help you get set up such as Bizzon. Some restaurants have gone even further and introduced the help of our robot friends. There are dozens of stories about restaurants turning to robot cat waiters to bring food out to customers, and while this won't be right for every brand, I respect the out-the-box thinking.
Automated payments
At any point throughout the guest journey when they need to pay for a service or product, they shouldn't have to go through a manual transaction with a member of staff present. It's a waste of time for your team and for your guest.
Automated, integrated payments mean that once a guest's payment details are in the system, they don't need to find their card or cash every time they need to pay for something. With something like Mews Payments, all it needs is a couple of clicks, and they can book online or via an app.
E-learning
E-learning can make a big difference when it comes to getting your team up to speed quickly. If your new hires can't begin right away, or if they're stuck isolating at home, online training can ensure they're ready to begin on their first day.
You won't have time to put everyone in a classroom or a room onsite and teach them how things work – so something like Mews University with role-based learning paths, videos, tutorials and more is invaluable. The same applies for retraining – if one of your current team has to isolate, it's a good opportunity for them to learn another role. Role sharing is something to embrace and gives you a lot more flexibility when managing with reduced staff.
Flexible hiring
Staff shortage combined with a traditionally high job turnover rate means that you need to have better process in place for hiring new team members. Speed is of the essence. That's why Accor is experimenting with same day hiring, so that if you hire someone today, they can start their shift immediately without going through the red tape and rigmarole of HR contracting etc.
If you have multiple properties within the same area, sharing staff between them can be a big help. Just be sure that your team are happy to do so and can get to each location easily, otherwise they may quit and you'll have to go through more hiring.
Summing up
One thing to remember in all of this is that your staff are probably feeling extra stress and pressure. Be mindful of this and do what you can to keep them happy. A large part of this comes through open and honest communication, and when you can afford the time, enrichment programs like extra training or CSR programs. You don't want your employees to be poached by other hospitality companies.
As Richard said in the Our World Tomorrow webinar at Unfold, "Your staff's expectations of you as employers has really shifted. We have to make sure that we're really thinking about the employee experience, the desirability of being at a company."
Follow the tips above to reduce the pressure on your team, and in time your skeleton crew will grow into a big, motivated workforce.
Download the staff shortages guide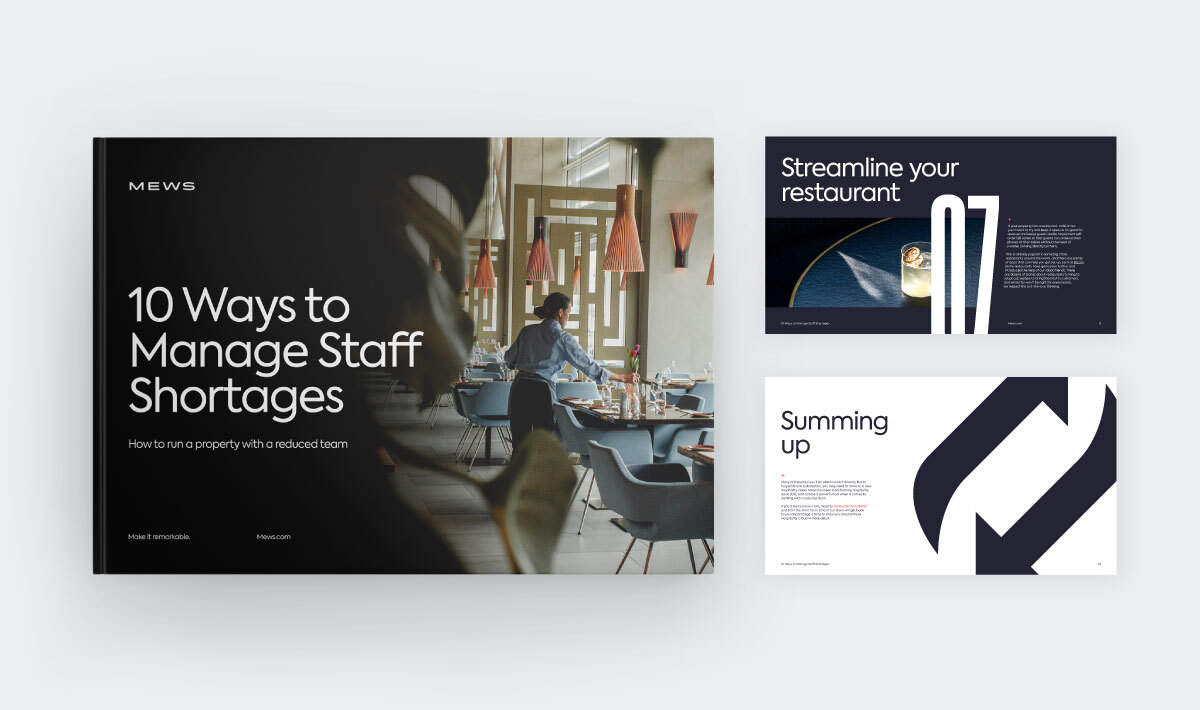 Want to know what else you can do to keep operations running with a reduced staff? Download out guide, 10 Ways to Manage Staff Shortages, for even more ideas.
Hospitality hot takes straight to your inbox
Sign up to our monthly newsletter for industry insights, product news, partner updates and more.