8 August 2023
Mews exceeds 600+ customers in France, powering the country's hospitality transformation

This further strengthens Mews' position in the French hospitality industry, where it acts as a trusted business partner for numerous hotel chains and independent properties.


[PARIS – 8th of August 2023] Mews, the industry-leading hospitality cloud, is thrilled to announce that its French customer base has now exceeded 600 customers. Building on the momentum of its strategic growth, Mews saw a 116% revenue increase, headcount growth of 55%, and a Series C investment of $185 million in 2022.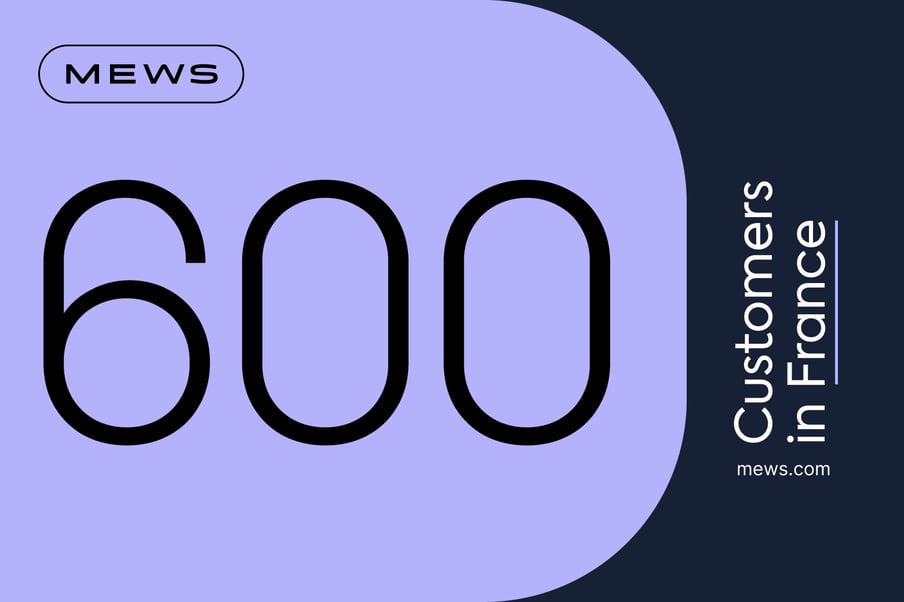 "We're delighted to see our portfolio grow to over 600 properties in France," said Richard Valtr, Mews Founder. "Such a rapid expansion indicates a strong demand for an agile hospitality cloud that empowers operational excellence and allows brands to scale. Central to this remarkable success is our team's focus on customers, fueled by a deep understanding of the French market."
The extensive list of Mews customers boasts household names such as Machefert Group, Dalmata Hospitality, Groupe Pichet, Les Airelles and Edgar Suites. These unique heritage properties, serviced apartments, family-owned hotel groups and international chains rely on Mews for an ecosystem of tools to manage reservations, payments, guest services, hotel staff and more.
Mews is at the heart of Villas Foch, the French boutique hotel and spa that saw 84% higher RevPAR in their second summer with Mews. "We've seen great results with Mews. But what we really appreciate is that they don't rest on their laurels: there are always new features and integrations, and it feels like it keeps getting better," said Marie Coatanea, Front Office Manager at the hotel.
Many hoteliers aiming to deliver the highest degree of payment security and business integrity to their guests struggled when the French hospitality industry saw a rise in VAT fraud because of security issues with POS systems. Mews has an NF525 certificate, meaning that POS systems comply with specific EU standards that ensure stringent data conservation. The five-star luxury property PALM Hotel & Spa is among Mews customers who enjoy full protection against VAT fraud.
"As we gain the trust of new customers, we also reflect with pride on those we've helped perform consistently well so far. From improved occupancy rates to revenue to guest satisfaction: it's all in the data," said Matt Welle, Mews CEO. "Through a combination of intuitive dashboards, streamlined processes, and the ability to connect with hospitality's best integrations, Mews has helped French hoteliers build a platform for lasting success."
Mews is also expanding its presence at regional hospitality events, with their next appearance scheduled for Congrès annuel de l'UMIH from 28th to 30th November. Keep an eye on the Mews events page for info on the upcoming appearances, and meet the team in Lyon, Bordeaux and Nice to discuss how Mews can help properties in France excel and create remarkable guest experiences.
About Mews
Mews is the leading platform for the new era of hospitality. Over 3,500 properties across more than 80 countries are powered by Mews. Mews Hospitality Cloud is designed to streamline operations for modern hoteliers, transform the guest experience and create more profitable businesses. Customers include Accor, Generator-Freehand, Nordic Choice Hotels, The Social Hub, Life House and Airelles, as well as hostel groups such as YHA Australia, Clink Hostels and Wombat's Hostels. Mews has been named the World's Best Independent Hotel PMS Provider by World Travel Tech Awards (2022) and Best Place to Work in Hotel Tech (2021, 2022) by Hotel Tech Report. The company has offices in Europe, the United States and Australia.