The Mews Blog > All You Need to Know About Upselling and Cross-Selling
Connected smart rooms, AI-powered chatbots and AR-enhanced apps are phenomenal platforms via which to showcase your finest immersive and interactive technology solutions.
They also open up a whole new world of potential sales opportunities for your property! But if you don't know your upselling from your cross-selling, and go crashing in at the wrong moment with the wrong sales tools, you risk playing a very dangerous game.
Save yourself from potentially costly blunders by reading our capsule guide to getting it right...
---
First things first: know what's what
For hoteliers, upselling represents an opportunity to get guests to spend more on their current product consideration. It is often swept under the same umbrella as cross-selling, which is the art of proposing additional services that will enhance a guest's stay experience.

Why should you upsell and cross-sell?
If done well, the outcome is a win-win situation for you, your guests, and any third parties involved. In a snapshot, here are the main reasons for riding this wave...
FINANCIAL
> It's nine times more expensive to acquire new customers than to keep current ones. Not convinced by this? Amazon, the world's largest internet retailer, "attributes 35% of its revenue to cross-selling." Enough said.
> Upselling and cross-selling make it easier for you to do business with third parties (e.g. city bus tour companies, boat trips organisers, local florists etc.), and may generate client referrals.
> From a profitability point of view, both can be simple-but-powerful revenue management tools to help you boost incremental revenue and increase your property's ADR.
> Both techniques allow you to explore previously untapped revenue streams, and really get the most out of your property.
> The bottom line is that upselling is easier than selling to new customers, and helps your business grow. This graph sums it up perfectly: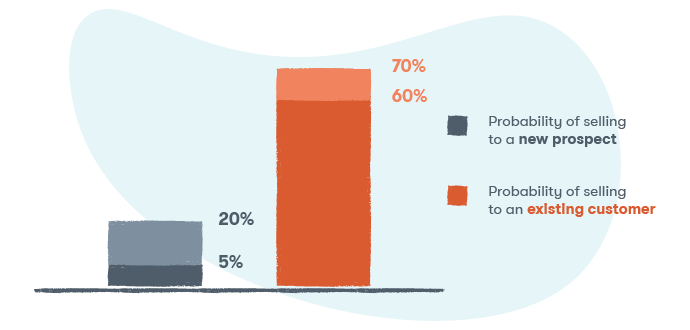 RELATIONAL
> The reality is that relationships generate big returns: "increasing customer retention rates by 5% increases profits by 25% to 95%."
> Offering additional services paves the way to more personalised interaction. If a guest has requested flowers in the room as a surprise for his wife's birthday, wish her a happy birthday or add a candle to her dessert in the restaurant. Such a simple gesture shows that you care, and helps build deeper relationships with valued guests.
> Upselling and cross-selling give access to valuable guest data, such as birthdays and important anniversaries, which can be used to personalise future communications and marketing material.
> According to Skift, "people-based marketing to cross-sell and upsell allows travel brands to be proactive...and also builds loyalty over time." If your property sells the right service at the right time, the relationship that develops with your guests will be a positive one, which will encourage them to return.
> "Upselling isn't just a sales tactic; it's a customer happiness tactic that can help you build deeper relationships with customers by delivering more value."
It's nine times more expensive to acquire new customers than to keep current ones.
EXPERIENTIAL
> Well timed upselling and cross-selling curate a positive stay experience, which in turn creates good memories, encourages guest loyalty and leads to repeat stays.
> It sounds obvious to suggest that satisfied guests are more likely to return, but the impact should not be underestimated! According to Bain and Co., "a 5% increase in customer retention can increase a company's profitability by 75%."
> Exceptional service and memorable experiences underpin the essence of the hospitality industry. Engaged hotel staff who go the extra mile to convince guests to see the value in relevant additional products or services are a great example of true hospitality professionals.
> When used well, upselling and cross-selling are efficient marketing tools for helping guests plan their trip, so as to ensure that they experience everything they want to.
What can you upsell and cross-sell?
No, it's not a trick question. And the answer? Anything that can be done to make the stay experience more memorable for your guests!
This means being creative and thinking beyond the bedroom...to consider which other areas of your property can help generate additional revenue in long-lasting and interesting ways?
Be careful not to offer your guests too many different options though! A 2006 Bain study suggested that "reducing complexity and narrowing choice can boost revenues by 5-40% and cut costs by 10-35%."
Here's a useful checklist to ensure that you're making the most of all possible opportunities:

Room upgrades (room > studio for a family with young children)


In-room features (deluxe room with shower > jacuzzi suite)


In-room treats (helium balloons, Champagne, rose petals...)


Room packages (romance / birthday / pamper themed...)


Early check-in


Late check-out


Extended stay


F&B (breakfast in bed, a picnic hamper, afternoon tea...)


In-house leisure amenities (spa treatments, bike hire...)


Upgraded WiFi


Parking


Airport transfers


Souvenirs (branded soft toys, bathrobes, hotel playlist CDs...)


Cultural activities (museum vouchers, tickets for guided tours...)

How and when should you upsell and cross-sell?
As often in life, timing is everything! The tone is also very important. Getting either of these two factors wrong will have negative consequences, and could leave your guests feeling that they've been shortchanged, or ambushed by a pushy salesperson.
Even worse, you may discourage them from returning, and guest retention is key!
80% of your company's future revenue will come from just 20% of your existing customers.
Firstly identify your guests' needs, and then choose services which will simultaneously enhance your property's core offering and compliment the stay they've already booked.
The timing of your action will then depend on what you decide to offer, but upselling and cross-selling can be done at every stage of the guest cycle:

Before booking


During booking


Pre-arrival


During check-in


During the stay


During check-out


Post-stay
It's important to remember that guests' needs are context-sensitive, and change and evolve throughout the guest cycle. As such, both upselling and cross-selling should be organic, not forced: the skill lies in spotting the right opportunity at the right moment of the cycle.
True to the core values of hospitality, your primary reasons for upselling and cross-selling should be service-centred, and designed to:
> increase guest satisfaction
> encourage positive reviews
> build closer relationships
> enhance the stay experience
….and not purely to generate more revenue! If used properly, these two tools will make your guests feel that they are being offered something of value, which will in turn naturally drive revenue.
The tools you need to make upselling a piece of cake
Open, cloud-based PMS systems (such as Mews) become even more powerful when combined with savvy tools designed to make upselling an ongoing opportunity.
There are hundreds of thousands to choose from, but here are six of our favourites:
| | |
| --- | --- |
| An ergonomic platform which not only acts as a compact concierge service, but also allows hotels to engage with guests via fully automated and personalised pre-stay emails, and offer them additional services based on their preferences. | |
---
| | |
| --- | --- |
| A data-driven app which drives incremental revenue and enhances the guest experience through targeted, pre-arrival, individualised upselling. | |
---
| | |
| --- | --- |
| Performance-based, data-driven, automated upselling tools which improve RevPAR and boost guest satisfaction. | |
---
| | |
| --- | --- |
| A search engine designed specifically for tours and activities, which uses machine learning algorithms to recommend tours to users based on their travel interests. | |
---
| | |
| --- | --- |
| An online system that allows hotels to offer guests room upgrades through a bidding system, and enhance their stay with additional services. | |
---
| | |
| --- | --- |
| A comprehensive, fully-loaded, in-room tablet and dedicated application which functions as an upselling tool. It is designed to enhance the customer experience and increase revenue for hoteliers. | |
---

Hospitality hot takes straight to your inbox
Sign up to our monthly newsletter for industry insights, product news, partner updates and more.