The Mews Blog > How to use augmented reality (AR) in the tourism and hotel sector
Are you looking to take your hotel to the cutting edge of the modern guest experience? Maybe you should consider AR. Tourism marketing can be brought to new levels just by unlocking the power of augmented reality. This technology is one of the ways innovation is not only changing the customer experience but also transforming the tourism and hospitality sectors, and the limits are still yet to be explored.
This article will talk about AR, and explore the ideas and benefits for how to use AR in the tourism and hotel sector to boost your business above and beyond the competition.
What is AR or augmented reality?
AR or augmented reality is a kind of technology that uses digital components to change a person's perception of their surroundings using a compatible device such as a smartphone. Unlike virtual reality, which changes your surroundings, AR allows real-world elements to come to life to create more interaction, whether that be points of interest or restaurants.
This technology is yet to be exploited to its full potential, but the benefits and the ideas for how to use it in the tourism and hotel sector are definitely worth exploring. It's all part of having a more connected guest, allowing you to provide an experience that both increases engagement and that is also personalized and modern with services like online guest services and a self-service kiosk.
What are the benefits of using augmented reality?
There are many benefits to using augmented reality in the tourism sector, and with smartphones rarely out of our hands, there's a lot of potential waiting to be unlocked.
Because AR can be accessed and amplified by mobile devices, it's a great marketing tool for hotels to promote their business and provide interactive content in order to help influence traveler's decisions – and boost trust among potential clients.
Another benefit of AR technology is that it allows hotels and other services in the hospitality industry to enhance both the surrounding area and the actual product they are selling, i.e the hotel and its rooms. Once tourists arrive at your hotel, they can easily visualize the rooms and hotel without even entering, which is a great way to convert new guests and turn them into lifelong customers.
Furthermore, AR allows potential guests to look at the products and services in a more interactive way, and can even instigate last minute booking decisions by providing readily accessible information like pointing the direction to your hotel with arrows. AR is essentially like having a 24/7 guide in your pocket which can also serve as a translator while at the same time making any tourist spot more attractive.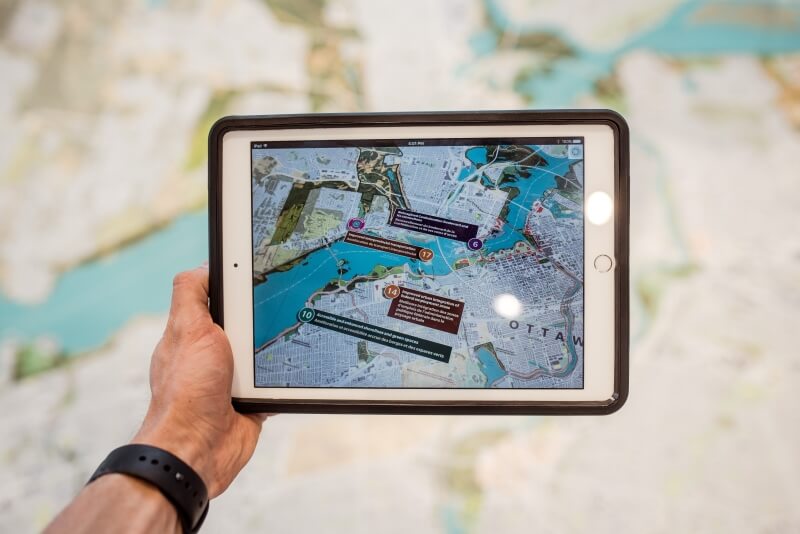 Five ideas for how to use AR in the tourism and hotel sector
AR has many potential uses in the tourism and hotel sector, as we've already discussed. From guiding visitors through a city to providing reviews and important information for potential guests about your hotel; from helping customers find restaurants to enhancing tourist spots with a 3D experience – the possibilities are endless.
Let's take a closer look at some ideas of how to use this technology to aid the tourism and hospitality sectors.
Excursions and attractions
Transform a traditional tour into something of the future by using AR to amplify top visitor sites, whether that be allowing people to see what the area looked like in the past or how the landmark transformed over time. This can be done with 3D models and other live representations of important historical figures.
Augmented reality can provide gamification, navigation, and quiz possibilities while on an excursion that can make the tour and the touristic attractions all the more interesting.
Make your hotel more interactive
We've talked about how AR technology can be a great marketing tool to guide first-time visitors to your hotel, but it should be noted that it's also a great way to retain guests and make their experience more interactive.
A regular tourist map can come alive with AR technology allowing guests to see places of interest, restaurants, bars and more. Your hotel restaurant can even use AR to allow guests to view the menu and ingredients in a different way seeing the dishes from their smartphones in 3D.
Transportation
Augmented reality can be used to make navigating to your hotel more fun. The app can point out landmarks on the way, and make directions available in many languages. If your guests aren't sure where to go there can be interactive arrows that point them in the right direction. They can even preview your hotel before they step inside.
Guest services 2.0
Hotels are always looking for ways to provide a better experience to guests, and augmented reality can be a great tool to do so.
The technology can break language barriers between guests and staff so that explaining the features of the hotel is all the easier and more accessible. Together with a virtual concierge that provides online check-in and check-out as well as messaging, you can be sure to offer a digital guest journey that provides a stellar digital 2.0 experience.
Integrates with other technology
Use AR to integrate with other technologies like beacon technology. This allows your hotel to more easily market to your guests and upsell through push notifications. Through push notifications, hotels can provide special offers or discounts with partner businesses, or vice versa, the partner businesses can promote your hotel. This technology can even be used to unlock hotel rooms once the guests get close to their room.
Conclusion
We've looked at augmented reality in the tourism and hotel sector, the benefits and ways to use this technology. It is without a doubt a powerful tool to bring about new business opportunities and to provide enhanced travel experiences.
Furthermore, it can allow you to attract potential customers, as well as expand your services by using new technologies to reach new audiences. Read more about reimagining the future of guest experiences.
Using modern devices and tools allows you to break down language barriers, enhance navigation and boost your bookings by offering a one-of-a-kind experience. Using new technologies increases your visibility and brand perception while catapulting your hotel into the digital age, and setting your hotel apart from the competition.

Author
Eva has over a decade of international experience in marketing, communication, events and digital marketing. When she's not at work, she's probably surfing, dancing, or exploring the world.
Hospitality hot takes straight to your inbox
Sign up to our monthly newsletter for industry insights, product news, partner updates and more.