The Mews Blog > What are the five best hotel housekeeping software in 2022?
There's a lot to keep in mind if you're looking for the best hotel housekeeping software. Since cleanliness is such an essential part of guest satisfaction, it's fundamental to ensure that this department is functioning to the best of its abilities so that guests will have a great first impression and remain loyal to your brand.
Choosing the right software will help make this job easier and more efficient. In this article we'll cover not only how to choose the best software, but we'll also take a look at the five best software choices and what they offer. Keep reading to find out the right solution for you as we help guide you in your purchasing decision.
How to choose the best housekeeping software for hotels
Choosing the best housekeeping software is no easy task, and of course not all software is created equal, so it's important to keep in mind some fundamental qualities you should look for. Since we're not talking about a department that's stuck behind a desk all day, it's important that you have software that simplifies the job on the go. This could mean the software provides an app or a tablet solution that's easily portable no matter where your staff is.
Another important element to keep in mind is that you should have access to real-time updates because in such a dynamic industry, your staff needs to be aware when priorities change or when there are important updates to the reservation. It's also important that the software provides you with the ability to communicate across departments and integrate with your other systems. Finally, you want to look out for task management and smart scheduling functionalities.
You may also like:
5 best housekeeping software for hotels
Like all technology, hotel housekeeping software is constantly changing and the list that follows is based on the possibilities and features available today. The best software available should be easy to use, fast and reasonably priced while making the job of your staff easier and more efficient.
1. Mews
Mews' hotel housekeeping software is coupled with an excellent integrated PMS to make a great solution for modern hoteliers looking for one provider. Within this tool you will find a mobile app that allows your housekeepers to keep track of their to-dos, prioritize their tasks and get real-time updates based on arrivals and departures that helps your staff better manage their priorities based on their workload.
Other key functionalities are the ability to communicate across departments thanks to the employee messaging service that allows for better communication amongst your staff. With smart scheduling, you can assign rooms to your staff to better plan their shifts and they can mark off rooms as they go directly from the app. Ease and efficiency are at the center of this solution.
Read more about how to optimize your hotel housekeeping.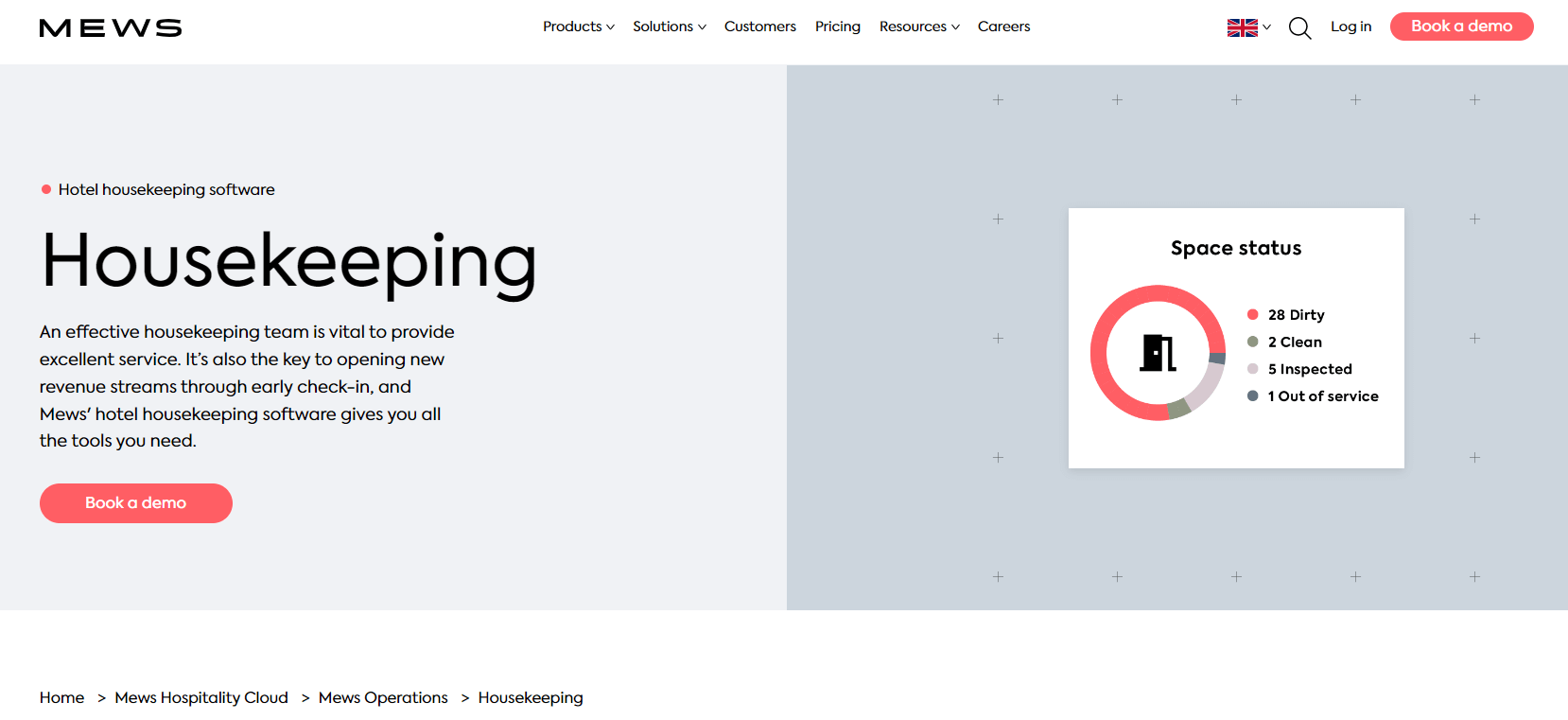 2. HKeeper
HKeeper is a complete housekeeping tool with a lot of different capabilities. It can be used by the front desk and housekeeping managers to help manage and prioritize tasks. Managers and supervisors can use this tool to make checklists and keep notes. Once the cleaning has been finished, the tool has a management functionality that allows quality controllers to take pictures and upload them with notes to the room's checklist.
HKeeper provides hoteliers with a great overview of their property so they know what is going on in this department at any time, including real-time individual performance metrics so that you can better assess how well the department is working. Furthermore, this software has the ability to see room statuses, and plan for daily, weekly, monthly and bi-monthly tasks for better organization of your department.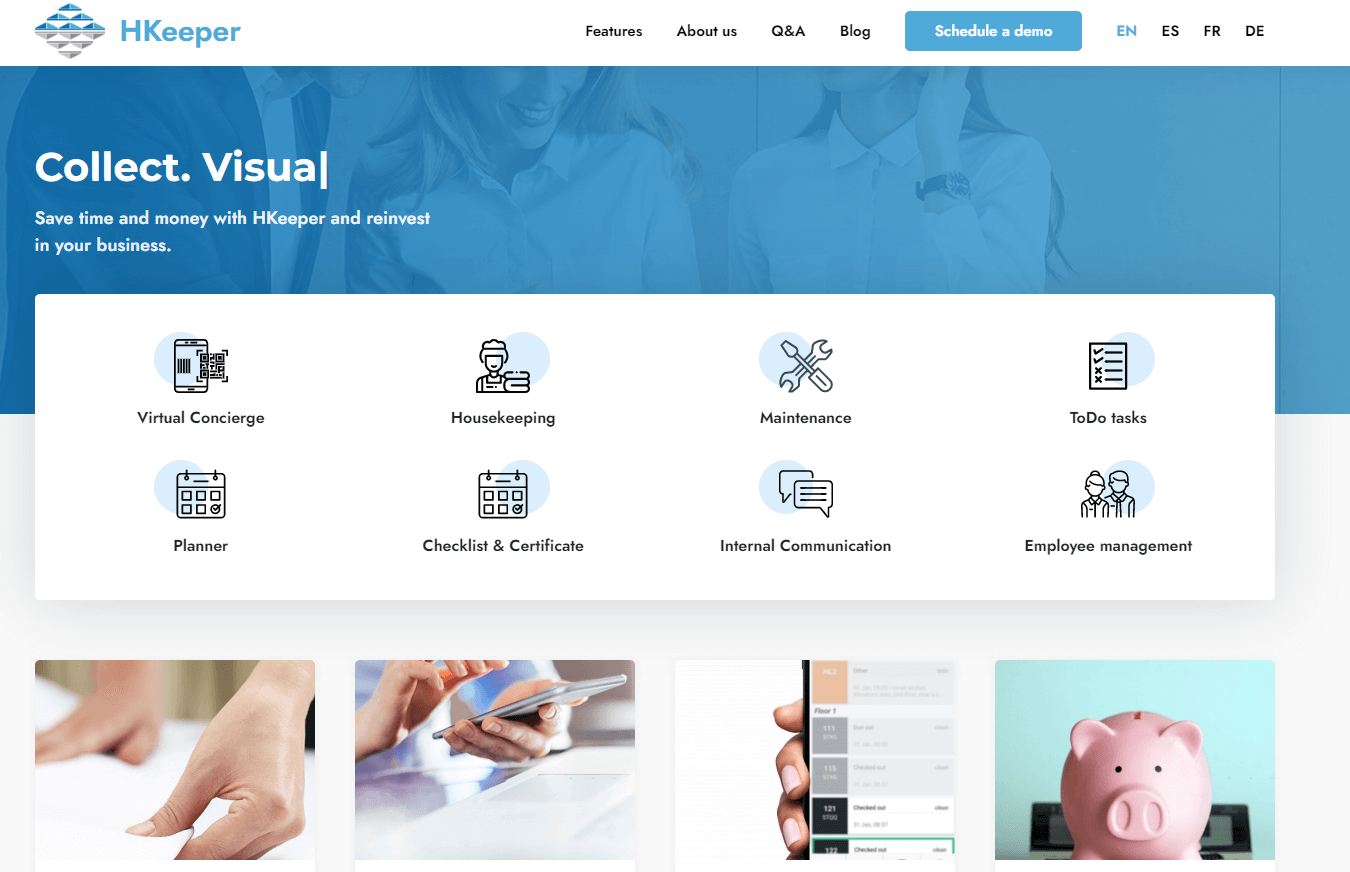 3. Flexkeeping
Flexkeeping is a very popular hotel housekeeping and staff communication software that was created by a former housekeeper who really understands the ins and outs of the job, and what is needed to streamline processes. With this tool, your housekeepers can easily manage their daily tasks, confirm room statuses, and make a report when maintenance is needed on a room.
Once a room is complete, supervisors can provide comments and feedback so that the department can continue to improve and grow. By digitizing the daily operations of the department, this tool allows your staff to work more efficiently. While there are integrations with other PMS, it is important to keep in mind that this tool serves as a standalone tool rather than a fully integrated solution.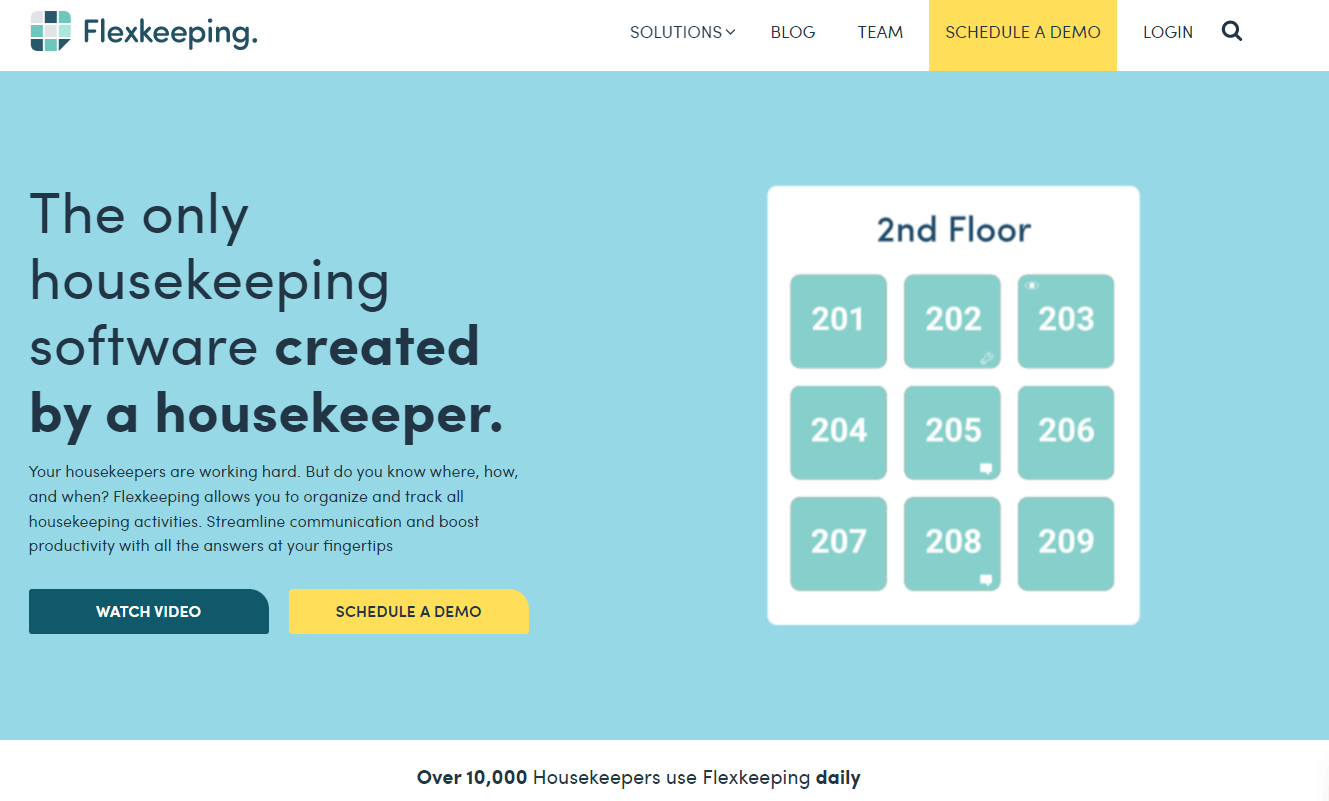 4. Hoxell
Hoxell is a housekeeping software that helps to improve daily operations including housekeeping, maintenance, reception, booking, and concierge services. Like Flexkeeping, it does not have its own PMS but can be integrated with other PMSs. On the other hand, it provides a strong solution to optimize, automate, plan and keep track of housekeeping duties.
The tool allows you to streamline daily activities, instantly assign tasks to your staff, receive real-time reporting, and allows your staff to instantly message amongst themselves. This means that when there is a maintenance need, your cleaning staff can immediately inform the maintenance staff without having to go through the front desk first.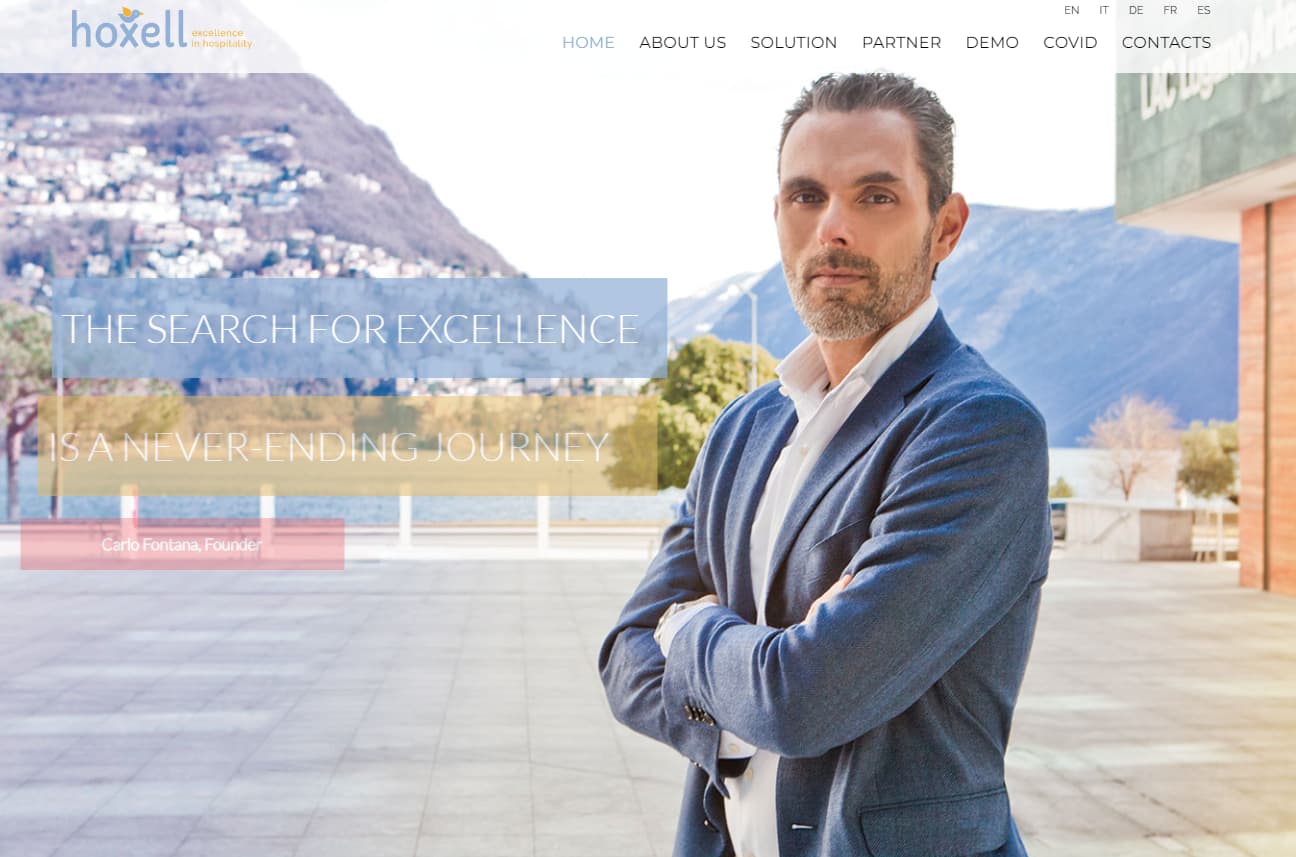 5. Alice
Alice is a very popular option for hoteliers because it allows your hotel staff to work together as a team by using the same platform for communication and task management. It does not have its own PMS but has many integrations to seamlessly work with different PMS on the market, such as Mews. With Alice you can send and receive requests and have this centralized in one place with mobile functionality so that no request goes unhandled.
The tool allows you to assign and update rooms automatically, and receive productivity reports to better understand and optimize how your staff works. You can keep track of rooms as they are completed and ready to be checked into so that the whole operation is as smooth as possible across departments.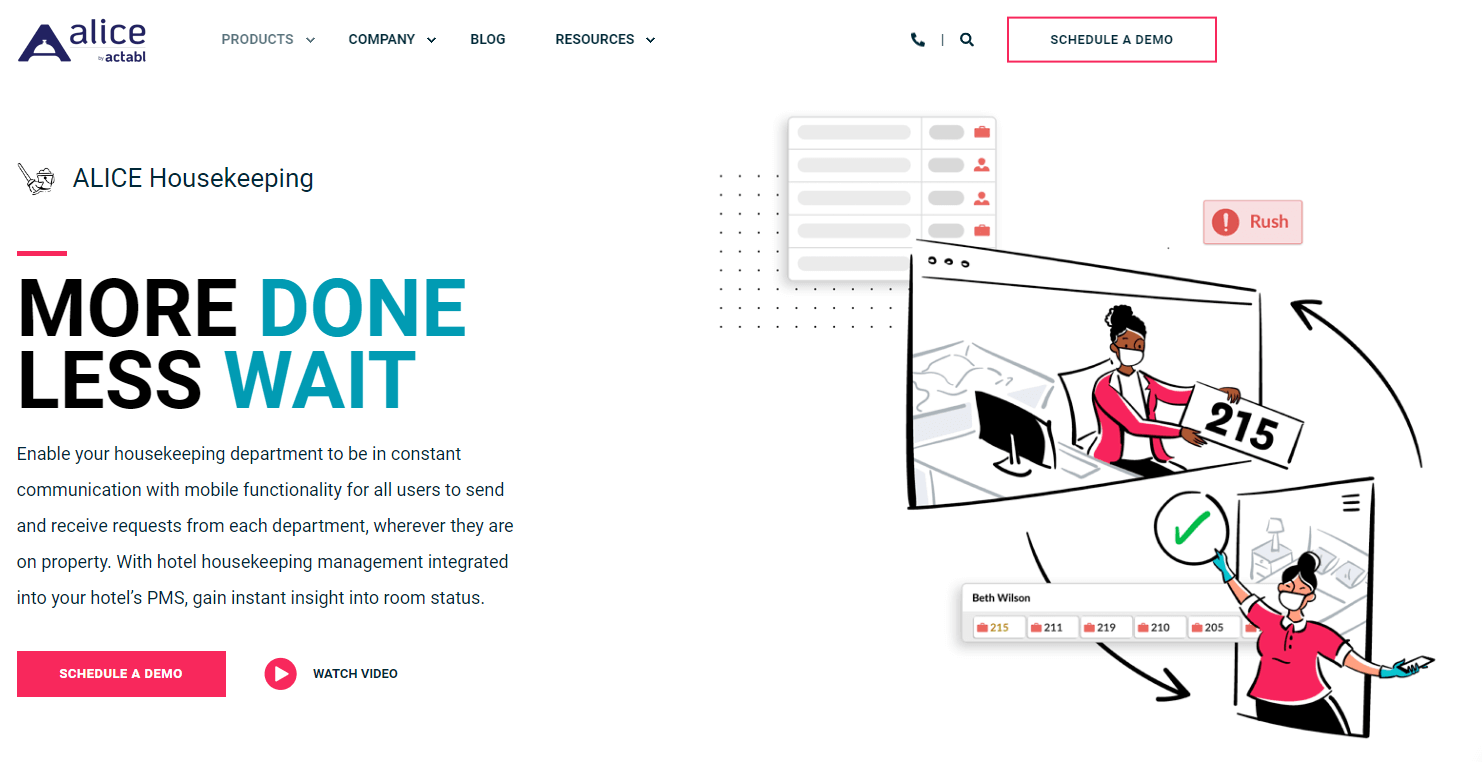 Conclusion
In this article we've looked at how to choose the right tool for your structure as well as the top five hotel housekeeping software. With well-defined priorities, systems and processes in place, you can improve departmental efficiency and ensure that your guests have an excellent experience at your hotel so that they turn into repeat guests.
Cleanliness and an efficient operation are at the heart of guest satisfaction, so don't underestimate the importance of your software choice. With the right tool in place you can ensure that this department is working in the best way possible. A more productive team means more efficient operations.

Author
Eva has over a decade of international experience in marketing, communication, events and digital marketing. When she's not at work, she's probably surfing, dancing, or exploring the world.
Hospitality hot takes straight to your inbox
Sign up to our monthly newsletter for industry insights, product news, partner updates and more.