The Mews Blog > Rethinking spaces with Mews: co-working, meetings and events
Wouldn't it be nice to provide a major boost to your revenue, whilst also diversifying your business offering? And how about achieving this with only a very minimal amount of time and effort required from you and your team. Sounds too good to be true. But it isn't.
Mews is designed to help you maximize the utilization of space in your property. As working habits continue to change, making the most of co-working, meeting and event space is a no brainer. You don't have to build an extension or tear down any walls. In fact, you don't even need to buy a different software to manage them.
In this piece I'll take a look at how you can take advantage of the bleisure trend. It's something we explore in even more detail in our guide to Maximizing Your Property's Full Potential. And at the risk of overloading you with links, once you've finished reading this, you should also check out a couple more articles we wrote about rethinking spaces in your property:
Why focus on meeting rooms, workspaces and events?
As I already alluded to, the last few years have seen a revolution in how many people work. It's a trend undoubtedly accelerated by Covid but it's one that was happening anyway. Digital nomads are becoming more common – you may have seen our blog about how to attract remote workers. For many, a laptop and an internet connection are all that's needed to do their job, and your property is the perfect space to capture this growing demographic.
The likelihood is you already have spaces that are well suited for co-working. For instance, if you have large suites or function rooms that aren't used during certain times or dates, they can double up as bookable meeting rooms.
If you have a bar or restaurant, these spaces can also be used to lure in non-guests. They can be offered as day spaces for locals to work, eat and relax. For instance, you could sell a 'café day pass' where people can sit in there for the entire day (as well as any other common spaces in your property) and get lunch and coffee included. Brands like Yust and Zoku are already doing similar things.
When it comes to events, a little more organization may be required. But the return on investment usually makes it more than worth it. Choose events that fit the space and make sense for your brand. There are plenty of success stories of properties thinking outside the box and providing memorable experiences for guests and customers.
Hotel2Stay created a small cinema room complete with popcorn machine and a projector that could be booked by guests or non-guests. The Social Hub had pop-up barbers come to visit, as well as permanent media studios that can be rented out. Weddings, of course, are a big money spinner. Just think about what suits your brand and what would attract a wide enough audience to make it worthwhile.
If you have rooftop space, making it bookable for private events and parties is a no brainer. They're more profitable than a normal night of service and easier to prepare for as you know exactly how many people are coming and what you need to provide.
How to manage co-working and events with Mews
Guests and non-guests alike should be able to easily book a meeting room or workspace in your property. Diversifying your revenue and becoming less reliant on room rates is important for your business. If you can encourage local workers as well as travelers to use these work-based facilities, you can still rely on some income if travel becomes difficult again.
With Mews, you can create custom rates so that guests and non-guests can book services with different prices through the same booking engine. (Or if you prefer, you can create booking separate booking engines for guests and non-guests.) It's easy to create offices or even desks as a space type within our platform. This means that you'll also get accurate reporting about different space types so you can analyze success and profitability. There's more about using different space types on our help site.
What about events? There are plenty of great event management integrations out there, but (you guessed it) this is also a feature we've been developing at Mews. Creating and managing bookable event spaces directly in your hospitality cloud means a unified platform and source for all guest (and non-guest) data, so you can track metrics like RevPAG much more easily.
Want to find out more? Our help site has more information about creating new bookable services in Mews.
Co-working and event success stories
Pierres d'Histoire provide a series of stunning houses across France. Domaine de Ravenoville is nestled in the countryside near the Normandy coast, making it a perfect location for weddings. Since managing the event space through Mews, the group has taken 28 reservations for a total of €152,000 in revenue.
"It's much easier to manage reservations and finances when it's all done through the same system," said Domitille Quennec, Marketing and Sales Manager. "Mews has simplified our processes and made life easier for our Reservations Team."
On the co-working side of things, The Social Hub are at the forefront of rethinking their space – as usual. Their new property in Madrid will offer 350 co-working spaces, becoming a hub for students, visitors and remote workers in the city. They'll also benefit from the subscription model, with a variety of different memberships on sale for flexible, long-term workspace use.
The Social Hub is working with Mews to design its tech stack so that the system can run any given space across different products for different time spans, creating a single operational management system. "Part of the reason we chose to work with Mews is their willingness to think about hotel space differently," said Nigel Maule, Director of Hotel Technology. "They're the perfect partner for our innovative new generation of hospitality."
The guide to Maximizing Your Property's Full Potential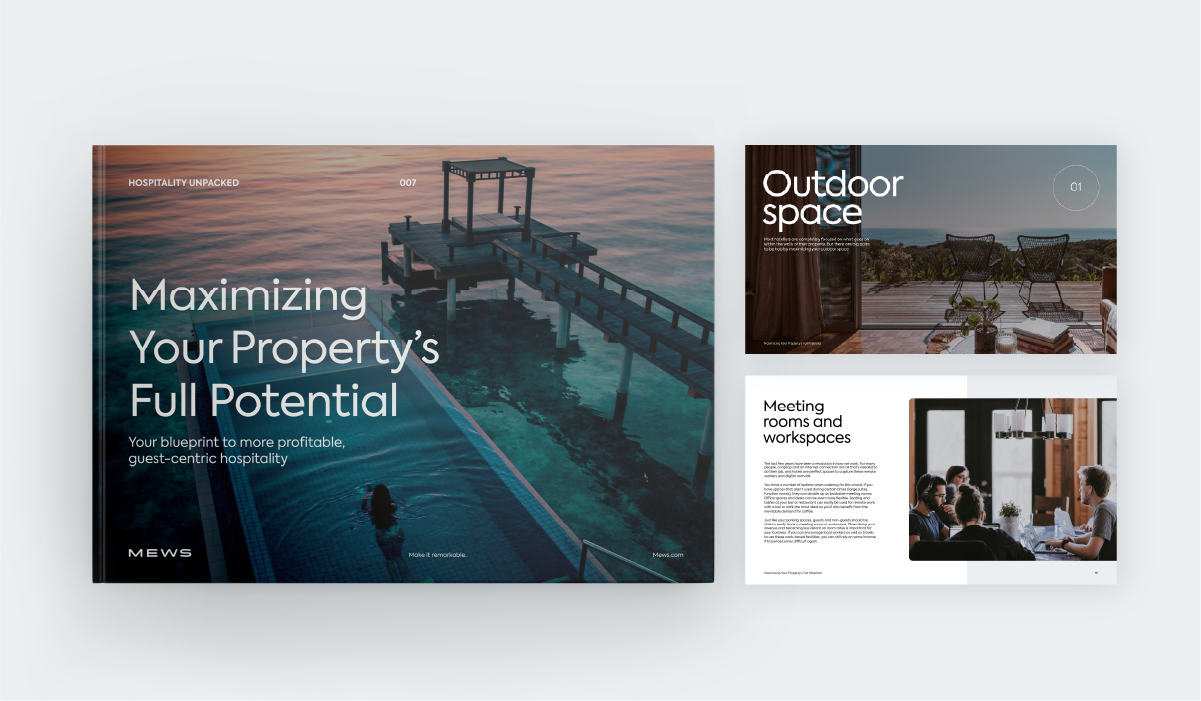 As I mentioned at the beginning of this blog, we created a whole guide full of advice, success stories and potential tech partners that will help you make the most of your space. It's really a thing of beauty and I urge you to read it.
Hospitality hot takes straight to your inbox
Sign up to our monthly newsletter for industry insights, product news, partner updates and more.