The Mews Blog > Rethinking spaces with Mews: eight tips for selling day use hotel rooms
If you haven't implemented day use into your revenue management strategy, you're leaving money on the table. We've already covered the essentials about day use hotel rooms and the most common use cases, but here's the briefest of reminders:
On the surface, day use is as simple as it sounds: letting out otherwise empty hotel rooms to guests during the day.
Since we wrote our first day use hotel room article back in March 2021, we've had a chance to talk with dozens of Mews guests that leverage day use to increase their revenue. Below is a distillation of their ideas and best practices that should help you sell more day rooms and create an additional steady revenue stream.
How to sell your day hotel rooms
Before we get into the more advanced tips, let's assume that you're still considering whether to start with day use. If that's the case, here's our number one piece of advice: keep it simple. Don't overcomplicate the beginning with a big bang approach – start with two or three rooms and get a taste of potential uptake, revenue, and operational requirements, then scale what works.
Once you're ready for more, here's what you can do.
1. Create a new bookable service in Mews
Mews supports Day as a time unit which means you can create a new bookable day service that doesn't overlap with your usual Night stays in your hotel.
Here's a simple guide about how to set this up in a matter of minutes.
2. Create a landing page for day use on your website
Sometimes people don't know they want or need a service until you explain it to them. Create a landing page that briefly mentions the common use cases for day use and explain how your rooms could be used for these. Here's a useful article from the Harvard Business Review that explains what 'Jobs To Be Done' are – we actually use them at Mews when designing new functionality for our users.
Do you expect your guests to be working from your rooms? Show them the internet speed, desk space and available chairs, and be sure to illustrate how light the room is. Combine this with photos of people working in your rooms, something a little like this:
Are most people going to use your rooms as an airport layover or a romantic getaway? They each require different pictures and website information.
Once the day use ball starts rolling, you can have one separate page for each use case but it's perfectly fine to start with just one page. Remember, keep it simple.
3. Link to a booking engine
One work around to 'selling' day use on your website is with a simple booking form, asking guests to call you or send you an email. After all, most PMSs don't support time units other than Night and it's not possible to set up a Day service.
But this isn't an optimal way of working. The huge benefit of Mews is that you can allow guests to book and pay for day use directly on your website. By making the booking process frictionless, you maximize the conversion rate.
If you followed step one above, you already created a new bookable service, meaning you have a unique URL for the Mews booking engine. Link to that booking engine from your landing page so you can accept direct bookings and payments.
4. Define what to upsell
You might be thinking: "We can't charge the same rates with day use as we do for night stays, so why bother?"
Firstly, if you set it up well, you can sell the same room twice: once as a night stay and then once more as day use after that first guest checks out. Secondly, we actually have some hotels that make more from these upsells than from the day use rate itself.
There are lots of good F&B upsell opportunities; specifically breakfast, coffee breaks and lunch. You might be surprised but dinner (served in your restaurant) can sell very well too.
What else you can upsell? Maybe a small meeting space for a guest who works from the hotel room but has an important meeting with a business partner that day. Or perhaps spa access to guests coming for a romantic getaway. The more you're able to engage your day guests with other services you offer, the more revenue they'll bring in – and the more likely they are to return.
5. Upsell automatically
Don't expect your guests to come to the reception desk telling you that they want to book lunch. Create a frictionless way for them to book that lunch any time it crosses their mind. Build automated reminders into the guest journey:
Upsell during the booking process:

create Products

that guests can add during the booking process and pay for in advance.

Create email reminders

: you can send an automated email at 11am reminding about the lunch menu.
QR codes: install QR codes in your rooms to allow guests book the most common upsells (lunch is probably a good one to test).
Defining upsells and automating them is absolutely the holy grail of day use. Once you've set up what you know will be effective, you can sit back and watch the bookings come in without any more manual work required.
6. Bundle the days
Observe how your day use guests book this service and talk to them about what they want. You'll soon have a very good idea of how to create bundled offers.
With a little discount, you can sell day uses packages. A couple of ideas for how to bundle day use are:
Selling a monthly subscription with x days allowance
Selling a prepaid package of x days
You don't have to use discounts. Instead, you could offer a free service (like breakfast) in the package. And you can sell these packages using those automated emails or QR codes we spoke about earlier. Analyze the cost of having an empty room so you can create packages that still give you a good return on the house-keeping costs etc. that day use requires.
7. Distribute your inventory
So, you already mastered day use direct bookings on your website. Now it's time step into the territory of day use marketplaces. These are the most popular ones:
Do your research and learn which are the most popular sites in your local market. Then, list your first rooms and see how they perform. Once you master it, you'll be ready to scale.
Oh, and there's more good news. Some of these marketplaces are already working on an integration with Mews, meaning that you'll be able to start distributing your day use rooms with literally one click.
8. Scale to all rooms
Once you've set up your trial rooms as per the above, it's time to scale day use to all your rooms. If you're feeling a little scared at the potential of high occupancy rates, we've got you covered.
Mews allows you to create offsets for the day use service. This way you'll make sure that your night and day services don't overlap, and you have enough of a gap to organize cleaning, which, using the Mews app and Housekeeping module, lets you know the state of each room from the palm of your hand.
Once you set up the housekeeping processes, you can scale day use and distribute all your inventory to your booking engine and connected marketplaces.
What's next?
There's always a room to optimize. You can set up dynamic pricing for day use and create unique landing pages for every type of guests. Perhaps you can even adjust your rooms to cater to the needs of your new guest base. For example, do you need to provide bigger desks or workspaces within rooms, with suitable backdrops for video calls?
We hope these tips helped you to better understand day use and its opportunities. It's part of our bigger project to help hoteliers utilize every square meter and every minute of their real estate, which you can read more about here.
The guide to Maximizing Your Property's Full Potential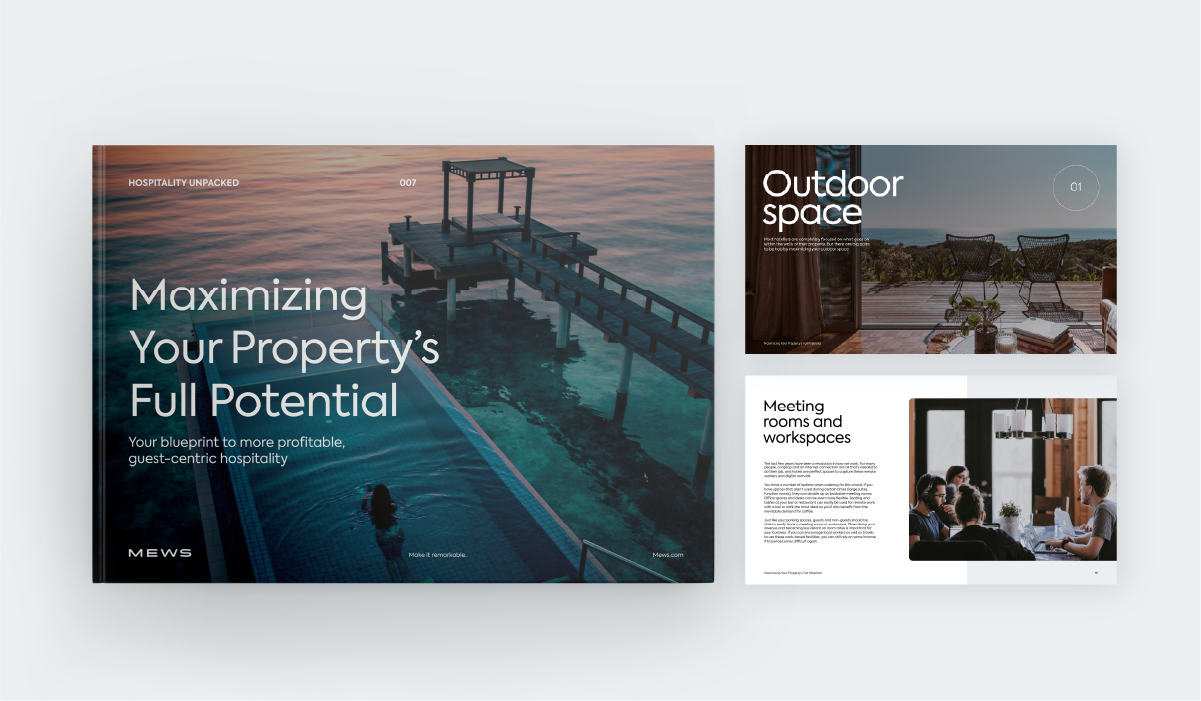 Long stay accommodation is one of the many topics we cover in our beautifully crafted guide, Maximizing Your Property's Full Potential. It's packed with tips and advice, success stories and potential tech partners that will help you make the most of your space.
Hospitality hot takes straight to your inbox
Sign up to our monthly newsletter for industry insights, product news, partner updates and more.