The Mews Blog > What are the differences between cloud and legacy POS systems?
Legacy POS systems are traditional POS (point of sale) systems that must be physically located on the premises of your hotel because information is stored on an intranet on local servers. Sales are managed through a computer that has the point of sale software installed on it, which is designed to save purchase data and other important information. The capacities of a legacy system are quite limited in comparison with a cloud system.
A cloud POS system, on the other hand, is a combination of hardware and software, in which data is stored on the cloud via a remote server instead of on your local intranet. Because there is a lot to keep in mind when choosing the point of sale system that's right for your hotel, let's take a closer look at each of these systems and their differences.
What are legacy and cloud POS systems?
Legacy and cloud POS systems are both point of sale systems designed to manage payments in the hospitality industry, whether that be at your hotel's bar, restaurant, front desk or any other areas of your hotel where you sell goods or services. While they both serve the function of carrying out transactions, they are both quite different, each having their own limitations, which we'll look at imminently.
Meanwhile, you can also read more about POS transactions in the hospitality industry.
Legacy POS systems, as we've mentioned, are capable of carrying out simple transactions with cash or credit cards and storing basic information. Cloud POSs have many more capabilities seeing as they can be linked to devices connected to the internet, and purchases can be carried out both physically via a payment terminal such as a tablet, smartphone or other touch screen device as well as on the internet.
Comparison between legacy and cloud POS systems
Now that you've got a better idea about legacy and cloud POS systems, let's compare the two in more detail.
Flexibility
Flexibility is closely related with data storage, which we'll talk about next. But this is also one of the key points of comparison between a legacy and cloud POS. Whereas a cloud system has different functionalities and added software enhancements that you can adapt to your hotel's needs, with a traditional POS you see what you get.
This means that you can't do much more than what the eye can see; you would need to physically set up a point of sales on the premises of the hotel, which would not necessarily be synced with other elements of your operations.
Storage of data
In a traditional POS or legacy system, you must be physically in front of the machine or computer in order to access reports, product or sales information. Seeing as a cloud system stores data on the cloud, however, this means that data can be accessed from any device no matter where you are or what time it is. You can access reports directly from your smartphone or laptop without the need to be physically in front of the device.
Learn more about ePOS systems and why to use one in your hotel.
Integration
Legacy machines work on their own efficiently, but cannot be easily integrated with the rest of your business systems, such as your PMS. This makes it difficult to customize the payment journey. Cloud-based systems, on the other hand, easily integrate with the rest of your hotel's programs and processes.
Cost
Cost is one of the most important differences. In the case of legacy machines, the upfront fee is usually higher and comes with installation and additional software maintenance fees. This means when the system goes down, you have to pay someone to come help you fix it. Cloud-based systems, on the other hand, require no added fee to install them. Price usually varies based on the level of services you need (such as digital ordering, loyalty programs, etc.) and the size of your property.
Type of data available
Another crucial difference between traditional POSs and cloud-based ones is the kind of data that is available. A legacy machine provides simple sales reports and customer data, which can help you understand trends and sales volume, but little more. Cloud-based machines give you access to a wide array of data to help with inventory control, sales reporting to understand which area of your hotel is performing best, customer reporting and profiling, and key financial data.
Updates
Legacy machines, unlike cloud-based systems, must be updated manually, which means you need to call a technician to do so. When working on the cloud, the system automatically launches the updates with your approval so that you have the latest technology and features working for you available in real-time, instead of waiting around for a technician to come update your device.
Installation
With a traditional POS you need to have someone install updates, programs and the hardware itself, but in the case of a cloud-based machine, everything is all ready to go with no additional installation necessary.
Ease of use
It should be said that due to their time on the market, most people are familiar with legacy machines, so they can be quite simple to use. Since its capabilities are limited beyond processing payments and charging via credit card or cash, this means that no extensive training on functionalities is necessary, you can simply have it set up and start using it. A cloud machine is intuitive, but having more functionalities can make it more intimidating at first.
Security
A traditional POS is unlikely to experience data breaches because a thief would have to be physically present at your hotel to steal information – although this can and does happen. When data is stored on the cloud, this makes it vulnerable to cyberattacks or other security threats, though this is rare, particularly if you choose a provider with excellent security credentials.
Learn about the seven biggest threats to hotel payments.
Conclusion
In this article, we've looked at what legacy and cloud-based systems are and how they compare. As legacy systems get phased out in favor of more agile tools that can be easily synced on the cloud with the rest of your business ecosystem, it's important to understand the functionalities of hotel restaurant POS and how they can work for your hotel to improve your processes in order to offer the best guest experience possible.
Six Benefits of Combining Your PMS and POS
Discover why choosing a hospitality cloud with a built-in POS creates a more seamless guest experience and streamlines processes for your teams.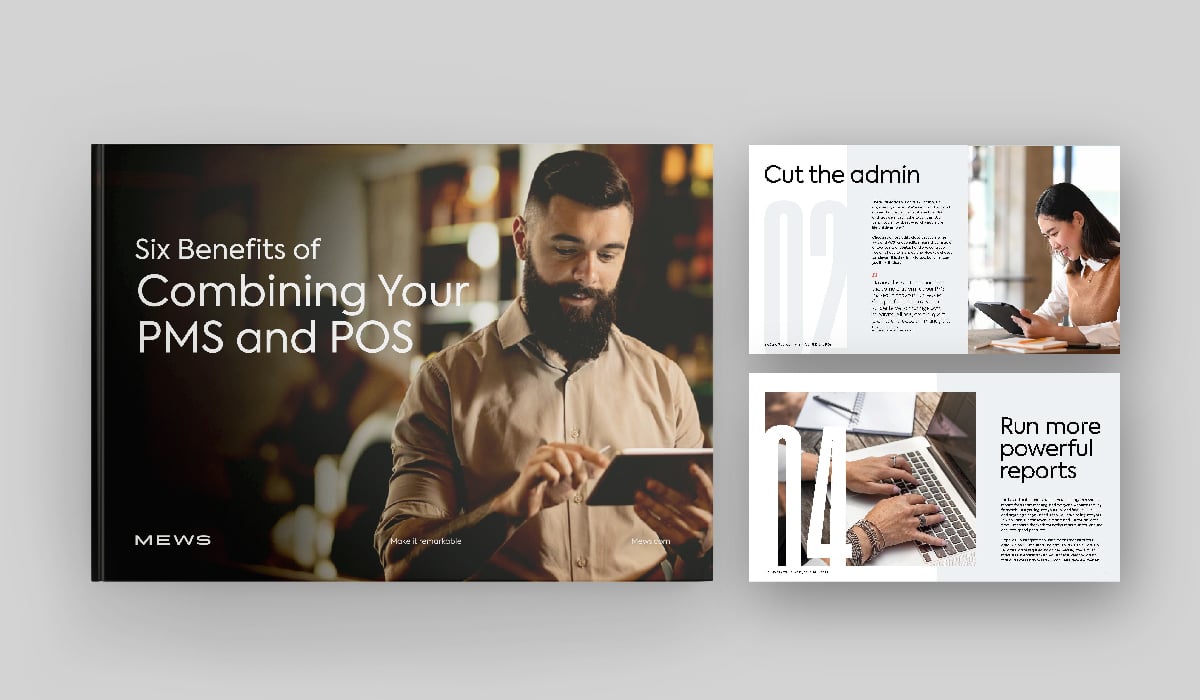 Author
Eva has over a decade of international experience in marketing, communication, events and digital marketing. When she's not at work, she's probably surfing, dancing, or exploring the world.
Hospitality hot takes straight to your inbox
Sign up to our monthly newsletter for industry insights, product news, partner updates and more.