The Mews Blog > What is an EPOS system and why should you use one in your hotel?
You may be wondering: what is an EPOS system and how it can benefit my hotel? You've come to the right place. Essentially, an EPOS combines hardware and software to help optimize your business, especially when it comes to processing payments. Technology synchronization allows you to improve your hotel's operating processes by streamlining what would be otherwise manual processes.
In this article, we'll take a look at exactly what is an EPOS, how it works, and why hotels should use such a system. The secret behind going digital is the fact that you can easily integrate with other software, including your Property Management System (PMS). Keep reading to find out more.
What is an EPOS system?
An EPOS is an Electronic Point of Sale system. In simple terms, it is the actual point at your hotel where sales take place. It uses software and hardware to help your hotel to process sales and payments not only for your hotel rooms but also allows you to process payments from the food and beverage side of your hotel, including digital ordering, while at the same time keeping track of inventory.
Instead of having to juggle various revenue centers – because as you know, transactions can occur in several different points at a hotel – the software can help you control and track payments, purchase and process orders, create and monitor loyalty programs, promotions and discounts, and can even integrate with your PMS. The hardware comes in many forms that are generally customizable to your hotel's needs.
How do EPOS systems work?
So how exactly does it work? It essentially combines the hardware and software elements to allow your hotel to process payments and, depending on your hotel's needs, may take care of other important functions. It's like a modern day cash register that connects with a computer and syncs up automatically with your PMS.
When a guest wants to charge added services, whether that be room service, spa, or order digitally at your hotel's restaurant, your staff can look up the guest by their room number or name. It's extra convenient seeing as transactions often happen throughout the hotel premises; with an electronic point of sale you can charge all these transactions to the guest's room while at the same time updating customer data in your hotel system's backend.
Why should hotels use an EPOS system?
There are many reasons why hotels should use such a system, which we'll take a look at one by one below. You may also check out the benefits of an integrated payment terminal.
Manage sales from one place
Instead of battling with different revenue centers, whether that be the pool bar, the spa, the restaurant or your concierge services, an electronic point of sale allows you to take payments on the go. You can manage sales digitally, all from one point of sale. Guests can decide if they want to charge their room or pay at the moment. It's a great way of centralizing your hotel's operations and ensuring a smooth payment process.
Managing sales from one place is also more convenient and avoids accidental double charges. The electronic point of sale can keep track of all sales and ensure they're settled at the end of the guest's stay. This is critical to a seamless guest journey. Learn more about the benefits of payment automation.
Better reporting
Thanks to synchronization with your hotel's PMS, together with your electronic terminal, you can get better insight into your guests' preferences and behaviors at your hotel. You can also keep track of business performance, thanks to reports about where guests are spending the most when they stay with you (i.e. hotel restaurant, bar, pool, extra services). Based on these guest profiles, you can then optimize your strategies for upselling and marketing.
Moreover, you can more accurately keep track of overall revenue from food and beverage, whether it be when guests or non-guests dine at your hotel's restaurant. This way you can get a better idea of where your revenue is coming from, so you can decide whether to invest in external promotion or keep the restaurant primarily for guest use.
Cut manual processes to reduce errors and save time
The more you can automate processes at your hotel, the happier your staff will be and the better the service that they'll provide. With an electronic point of sale, you can ensure that all charges are kept track of so that there are no errors when it comes time for guests to check out due to manually keeping track of charges. Plus, this expedites the check-out process because all the charges are accounted for in one place.
While paperwork creates clutter and confusion for your staff, going digital is more agile for a dynamic business like those in the hospitality sector.
Keep track of your loyalty program and discounts
An electronic point of sale is also ideal for keeping track of your loyalty program promotions and applying discounts. Instead of having to manually input them, it can automatically sync up with your PMS to know what discounts and loyalty benefits your guests have so that you can be sure there's no margin for error.
Be more flexible
The hospitality business is all about flexibility. Whether it's charging guests on-the-go, being able to easily accept payments, or keeping track of your guests' spending profiles so you can better upsell while they stay with you, all of this is easily managed with an EPOS system because it's digital and for that reason more flexible to the changing needs of modern hoteliers.
Conclusion
In this article we've looked at what an EPOS is, how it works and why your hotel should use one. With so many different aspects of a hotel to manage, you want a system that will automatically sync with your other key software like your PMS. In order to streamline all aspects of your hotel, you must have a reliable way of accepting and processing payments that will make it easy for your staff and your guests.
Going digital allows your hotel to take charge of this process and focus on creating the most guest-centric experience. How can you do this? When you team up with a powerful PMS like Mews, you have an electronic point of sale built in thanks to Mews' new partnership with Bizzon. Find out more. This way you can ensure flexibility, better reporting and be able to manage sales from one place.
Six Benefits of Combining Your PMS and POS
Discover why choosing a hospitality cloud with a built-in hotel restaurant POS creates a more seamless guest experience and streamlines processes for your teams.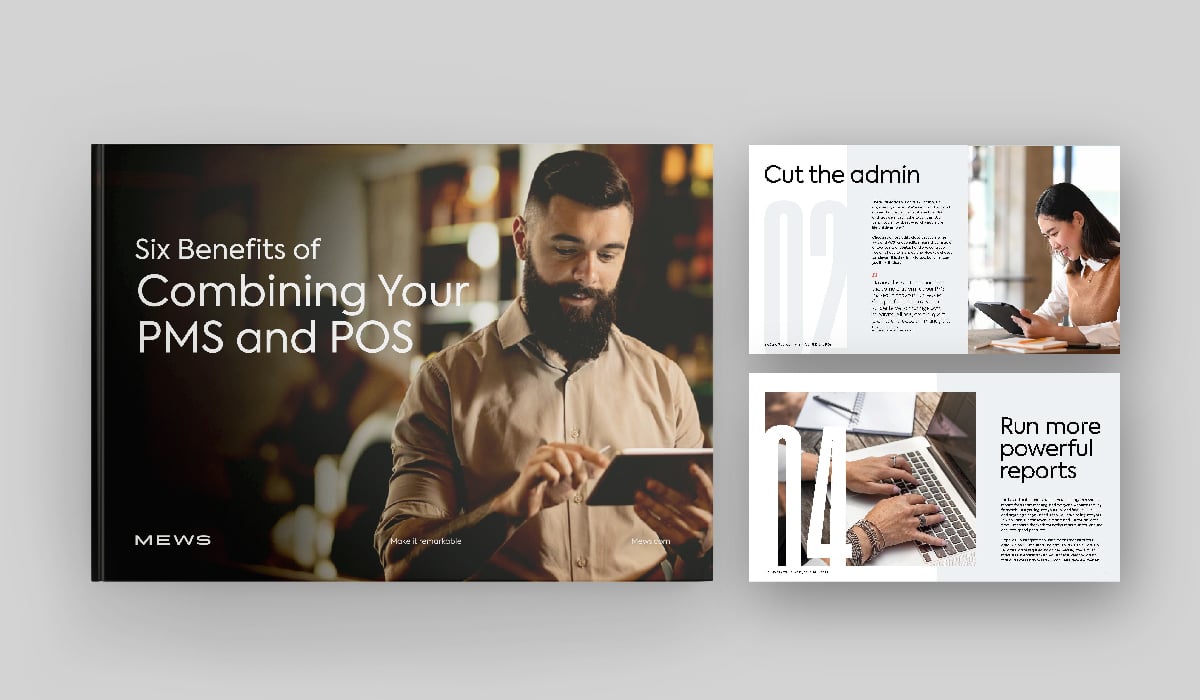 Author
Eva has over a decade of international experience in marketing, communication, events and digital marketing. When she's not at work, she's probably surfing, dancing, or exploring the world.
Hospitality hot takes straight to your inbox
Sign up to our monthly newsletter for industry insights, product news, partner updates and more.