The Mews Blog > Five Tools to Help Raise your Upselling Game
That awkward and salesy pitch, a guest's reluctant response…Upselling at check-in can be tricky - staff don't want to be seen as pushy and annoy guests and they often don't want to go to the trouble either.
Why? Because upselling last minute can cause hiccups in operations like when a guest is moved to another room which requires housekeeping or room service to move welcome gifts and prep a room that previously wasn't on their radar.
But it doesn't have to be like that.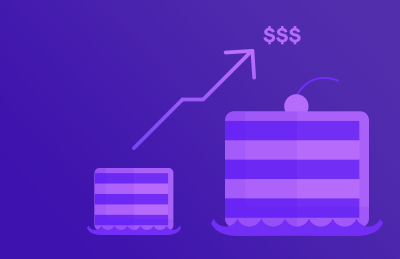 Instead of being cumbersome and barely profitable, upselling can be a quick, easy source of ancillary revenue which takes the guest experience to new heights.
How? By using a tech tool that helps you automate and optimise upselling at your property.
To give you an overview of what hotel tech makes possible in terms of upselling today, we've put together a list of our five favourite upselling solutions for hotels and spoke to their teams about why upselling should be a no-brainer, today and in the future.
Upselling - a no-brainer for forward-thinking hoteliers
Personalising the guest experience is getting more important every day. Only if you can offer an unforgettable stay with all the conveniences do you have a shot at return business and raving guests.
The easiest way to let guests create a tailored experience? Offering them add-on services and products to make their stay unique – in short: upselling.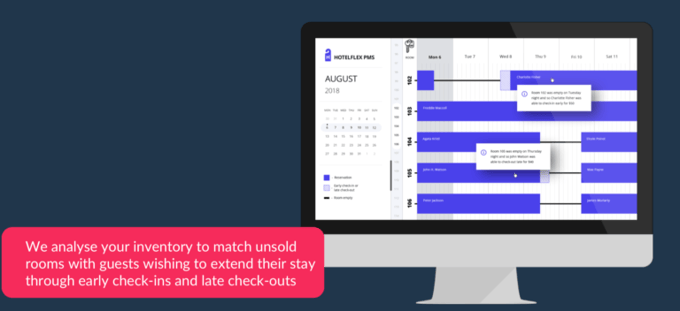 Daan de Bruijn from Bookboost is a proponent of personalised automated upselling: "In the past, conversions from upsell offers were low because they were too generic, and guests felt bothered. Through a data-driven approach, we can make the upsell to the right person at the right time, increasing the conversion rate and creating a positive and satisfying experience for the guest."
While this works via SMS and e-mail today, the future holds many more possibilities.
"Imagine guests booking and playing VR games pre-stay to experience the hotel or resort and adding activities to their stay after testing them out from their couch at home," Clement Dénarié from Oaky suggests.
Karl Schmidtner at UpsellGuru echoes this idea: "Think about watching yourself in a suite drinking some wine (or your favourite drink – your VR device would know) on the balcony. Then you get the following offer: 'Can we upgrade you to that suite and have a bottle ready for your arrival?' Of course, you'll say yes."
If you think that takes it a bit far, consider how hotels and guests will communicate about upsells (and everything else for that matter.) Rene Rumberg at <GuestJoy> had this to say about it: "The future of upselling is online. In a few years, nobody will call or go to the reception to ask about extra services anymore. Everything will be done online."
Now that we're all excited about the cool future of upselling and the many opportunities it already offers hoteliers today, let's look at five upsellers who are worth their salt.
5 Upselling platforms to consider
HotelFlex
HotelFlex specialises in upselling early check-ins and late check-outs and has developed a successful strategy to help hotels promote these profitable options.
Instead of pitching the guest a week before the trip, like most other upselling tools, HotelFlex offers early check-in deals 24 hours before arrival when travellers are most likely to book them.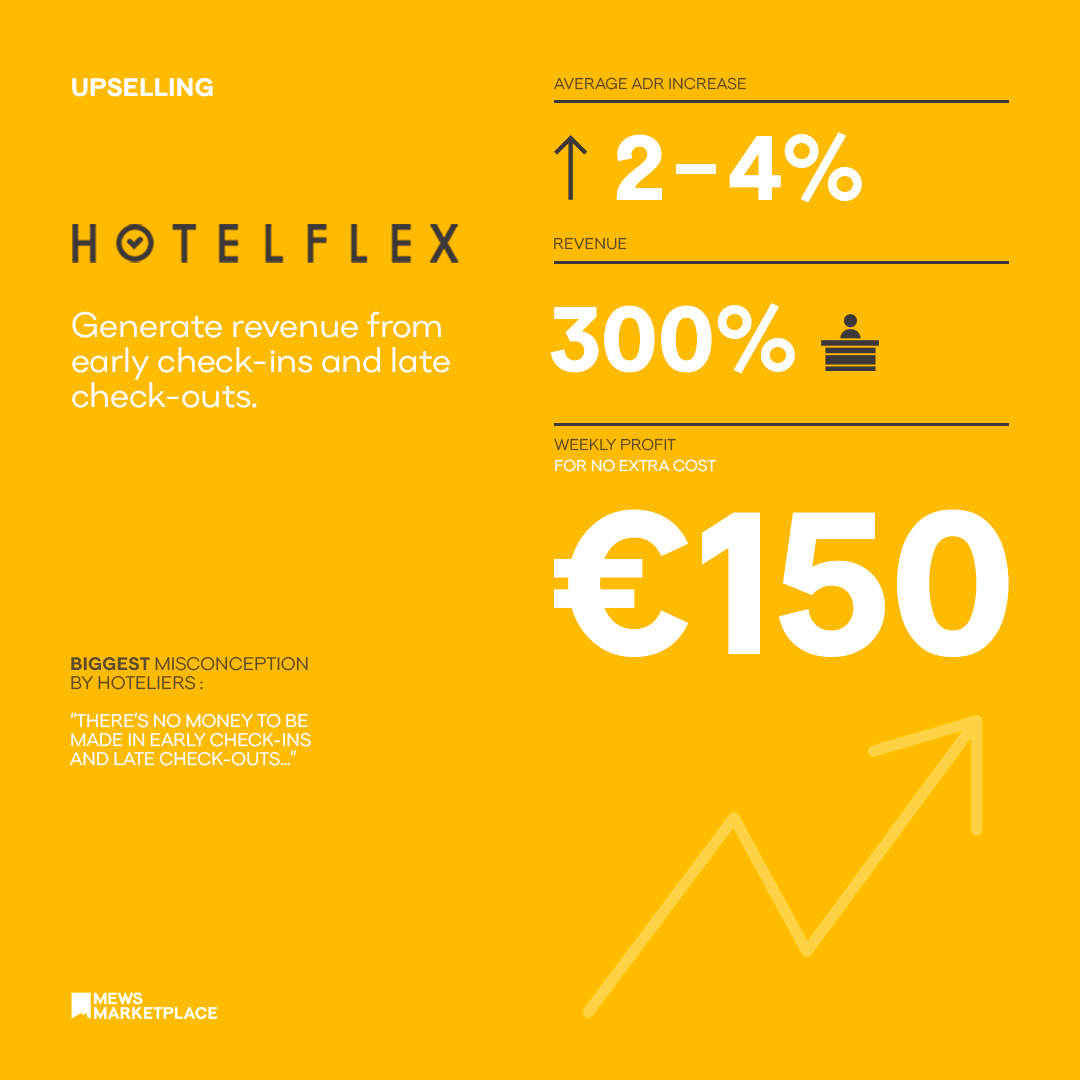 To maximise conversion rates and revenues, the system creates different rates for different check-in times based on historic data reflecting the guest's willingness to pay.
According to HotelFlex, their customers see their ADR increase by 2-4% on average. They also generate 300% more revenue on early check-ins and late check-outs than when they offered this service through another upselling program.
Now that you know about this amazing tool, you'll never give early check-ins and late check-outs away for free again, right? Read our deeper dive on HotelFlex.
Oaky
Oaky brings a fun approach to upselling and lets hoteliers sell an entire travel experience to guests. From upgrades and family welcome packages to city tours and an airport pick-up in a Tesla, hotels can sell everything with this platform.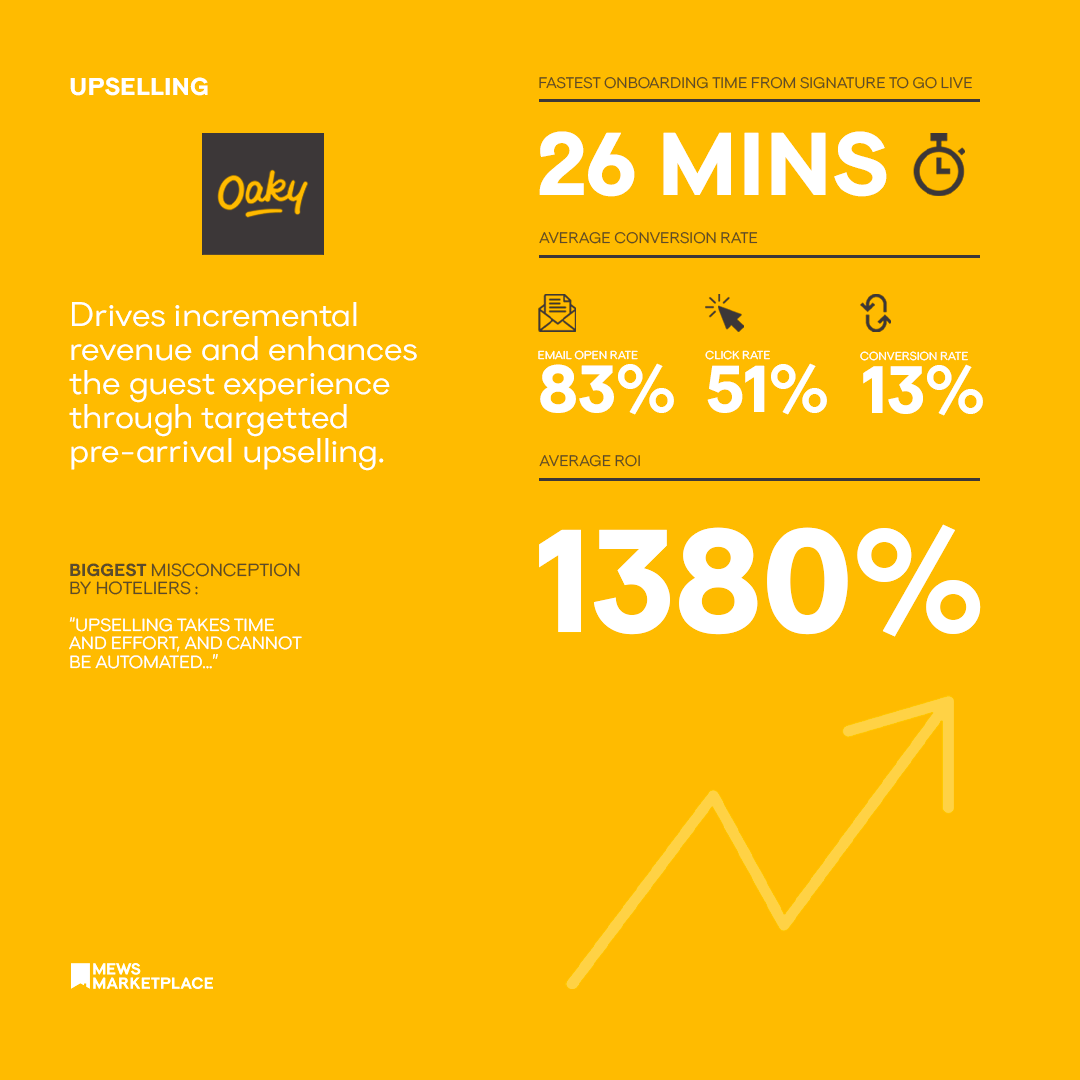 Oaky uses a data-driven approach to optimise both the timing of its upsell e-mails and the type of offer guests receive. This is how they achieved an average conversion rate of 13%. Their average ROI of 13.8 hardly comes as a surprise.
On top of yielding great results, Oaky is also easy to set up and use. To date, the shortest time between a client signing with Oaky and starting to upsell to their guests was only 26 minutes.
UpsellGuru
To make upselling more exciting and engaging, UpsellGuru allows guests to bid on upgrades pre-arrival. Once it's set up, the system can run fully automated, so hotels spend minimal time on the tool while still generating revenue.
On average, their guest e-mails achieve an impressive 74% open rate, a 62% click-through rate and a 13% conversion rate. Their top performing clients have even recorded conversions of up to 18%.
Karl mentioned that early check-ins, late check-outs and room upgrades were the most popular among his clients since nearly all properties can offer them. But of course, every hotel can get creative and come up with unique upsells guests will be excited to bid for.
Bookboost
Bookboost focuses on guest messaging solutions that draw data from the PMS, create guest segments and send personalised pre-arrival offers via SMS. This high level of automation saves hotel staff a lot of time and frees them up to tend to guests and provide a more personalised service.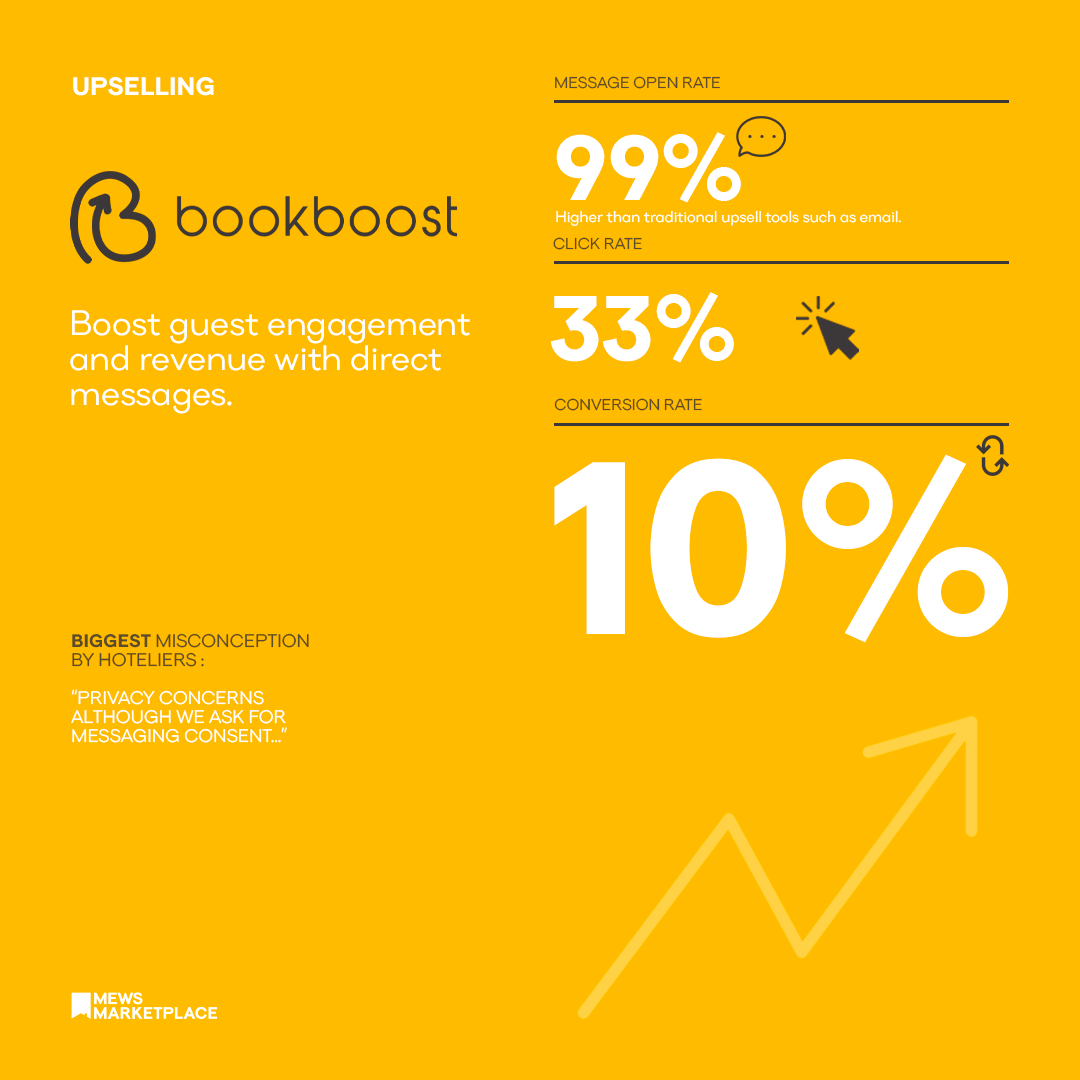 Bookboost's open rate is a soaring 99%, something e-mail marketers could only dream of. Their average click-through rate is 33% with a 10% conversion. Daan attributes this success to his company's dedication to perfecting their guest messaging system and their highly targeted campaigns.
GuestJoy
GuestJoy covers the entire digital guest experience. Once a booking comes in, the hotel can share important information and personalised offers with guests, ask for feedback during their stay, and even encourage guests to book direct next time.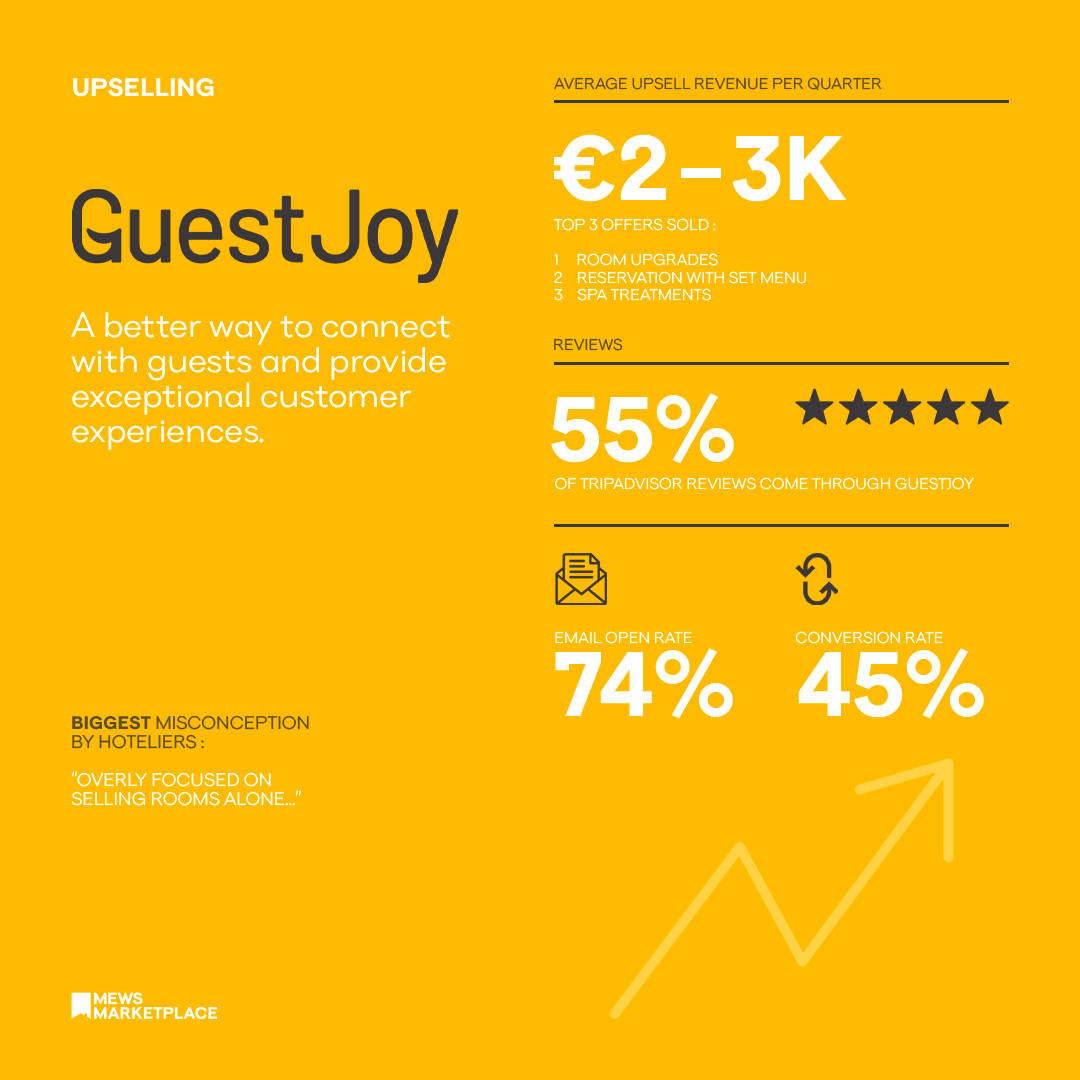 GuestJoy revealed that their customers have e-mail open rates of up to 81% and conversion rates as high as 45%. This results in an extra €2,000 - 3,000 of revenue per month on average, mainly from the sale of room upgrades, set menu bookings and spa services.
As an official TripAdvisor partner, post-stay communication is directly integrated with TripAdvisor which results in more online reviews. Hotels working with GuestJoy report that 55% of their TripAdvisor comments come through the platform.
Ditch your excuses and start upselling already
Before you roll your eyes and once again think 'upselling just won't work at my property', give it another thought.
The most common pushback our above-mentioned upsellers get is hoteliers saying their PMS can't properly integrate with the platform or 'it's not the right time'.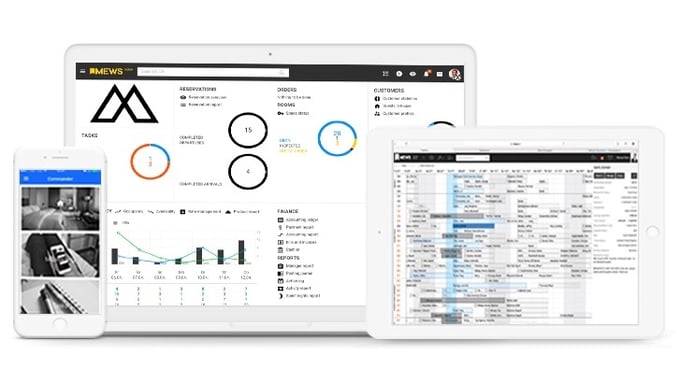 While PMS integration can be a problem, especially if you're still using a legacy, on-site system (hint: that's why you should consider switching to Mews…), timing is a poor excuse.
Do you mean to say, you don't have time to generate an extra €2-3K (or considerably more) a month?
Is it really a bad time to improve your guests' experience so they leave good reviews and make it easier for you to win over new guests?
Of course, you're busy. We get that.
That's why we're suggesting you check out tools which offer great results for both you and your guests without sapping precious time and causing you extra work.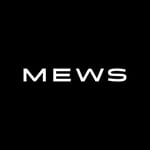 Hospitality hot takes straight to your inbox
Sign up to our monthly newsletter for industry insights, product news, partner updates and more.