The Mews Blog > 4 hotel software to Help Raise your Upselling Game
Hotel upsell software can help you manage the process of upselling. With upselling, hotels can generate additional revenue, while adding value to a traveler's stay by encouraging guests to reserve a higher room category, purchase extra services, or add-ons. Personalizing the guest experience is getting more important every day. Only if you can offer an unforgettable stay with all the conveniences do you have a shot at return business and raving guests.
The easiest way to let guests create a tailored experience? Offering them add-on services and products to make their stay unique – in short: upselling. Let's take a look at what to look out for when choosing hotel upselling software, and 5 software worth considering.
What is a hotel upselling software?
Hotel upselling software is technology that is designed to help drive revenue through room upgrades, and other service add-ons. With the help of specialized software designed to help you to automate upselling of different hotel products and services, you can boost your hotel's bottom line.
How? By using a tech tool that helps you automate and optimize upselling at your property. Upselling can be a quick, easy source of ancillary revenue which takes the guest experience to new heights, and at the same time creates additional sources of revenue for your hotel.
The key characteristics of a hotel upselling software
So once you make the choice to boost your upselling game, it's important to know what characteristics to look for in the software you choose to assist you. The software should offer you the ability to communicate via email, text messages, chatbots and live chats so that you can reach guests across all touchpoints. Another important characteristic is the ability to personalize through dynamic pricing, customized offers and other means of personalization.
The tool you choose should also offer the ability to automate, with the possibility to send communication about offers automatically. Another important characteristic is segmentation, being able to segment both interested and non-interested guests. Learn about five types of hotel guests and how to connect with them. Finally, you want to choose a tool that is multi device-friendly, and can be used on all laptops, smartphones and tablets.
4 Upselling software to consider
To give you an overview of what hotel tech makes possible in terms of upselling today, we've put together a list of our five favorite upselling solutions for hotels and spoke to their teams about why upselling should be a no-brainer. These powerful tools, apps and integrations can be found on the Mews marketplace. And the best part? These tools can integrate with your Mews PMS.
Oaky
Oaky brings a fun approach to upselling and lets hoteliers sell an entire travel experience to guests. From upgrades and family welcome packages to city tours and an airport pick-up in a Tesla, hotels can sell everything with this platform.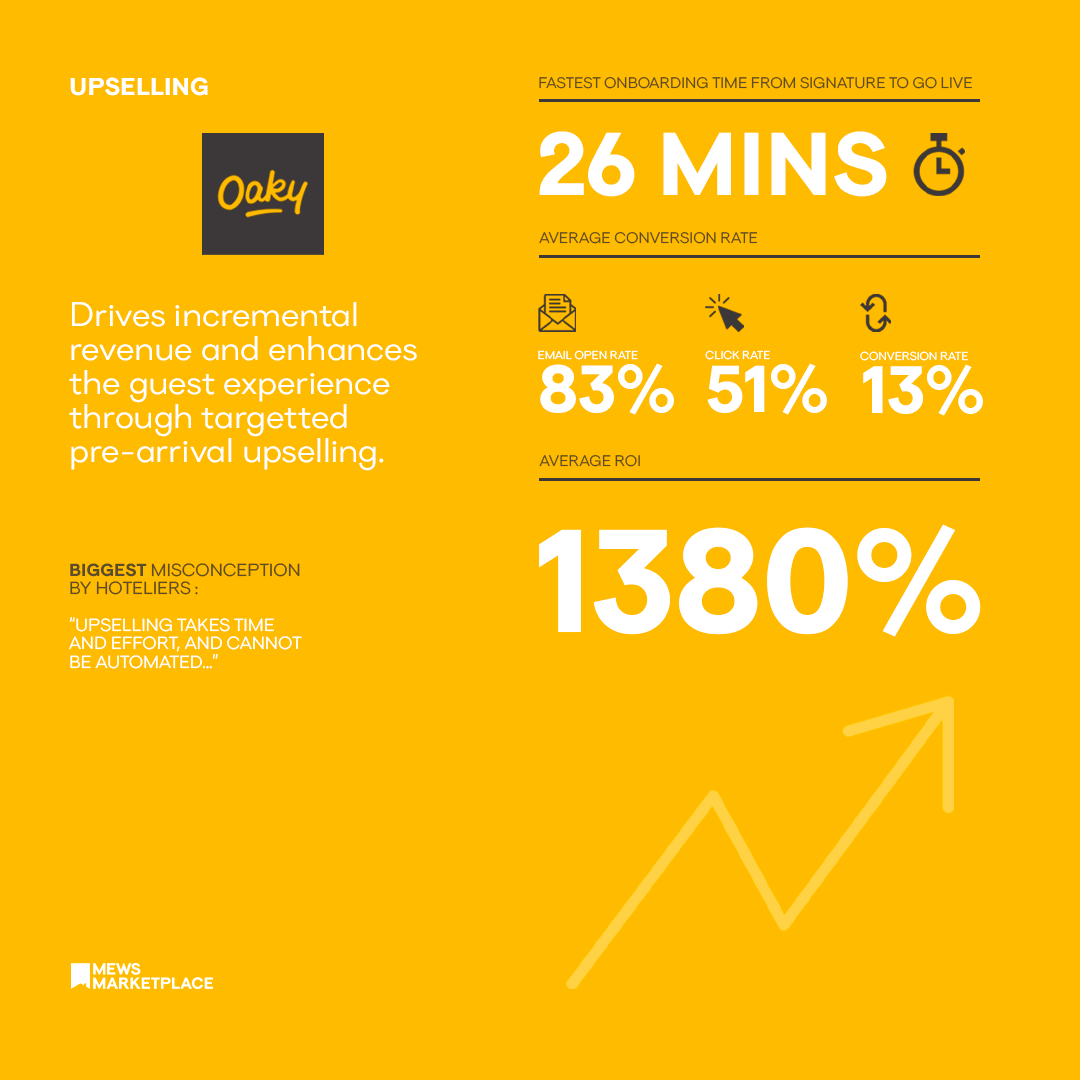 Oaky uses a data-driven approach to optimize both the timing of its upsell e-mails and the type of offer guests receive. This is how they are able to achieve an average conversion rate of 13%, and an average ROI of 13.8.
On top of yielding great results, Oaky is also easy to set up and use. To date, the shortest time between a client signing with Oaky and starting to upsell to their guests was only 26 minutes.
UpsellGuru
To make upselling more exciting and engaging, UpsellGuru allows guests to bid on upgrades pre-arrival. Once it's set up, the system can run fully automated, so hotels spend minimal time on the tool while still generating revenue.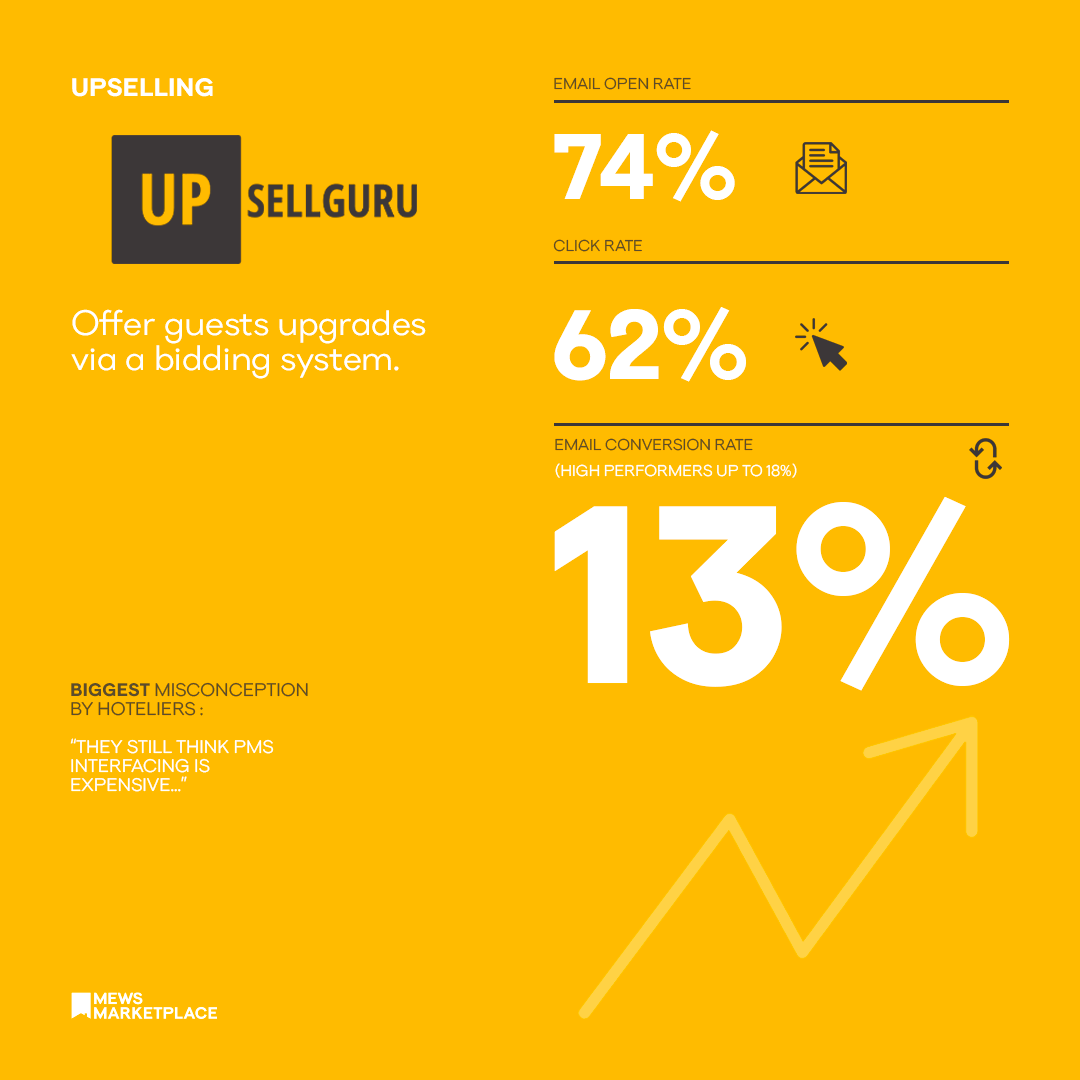 On average, their guest e-mails achieve an impressive 74% open rate, a 62% click-through rate and a 13% conversion rate. Their top performing clients have even recorded conversions of up to 18%. The most popular upsells are early check-ins, late check-outs and room upgrades. But of course, every hotel can get creative and come up with unique upsells guests will be excited to bid for.
Bookboost
Bookboost focuses on guest messaging solutions that draw data from the PMS, create guest segments and send personalized pre-arrival offers via SMS. This high level of automation saves hotel staff a lot of time and frees them up to tend to guests and provide a more personalized service.
Bookboost's open rate is a soaring 99%, something email marketers could only dream of. Their average click-through rate is 33% with a 10% conversion. Their success can be attributed to perfecting their guest messaging system and creating highly targeted campaigns.
GuestJoy
GuestJoy covers the entire digital guest experience. Once a booking comes in, the hotel can share important information and personalized offers with guests, ask for feedback during their stay, and even encourage guests to book directly next time.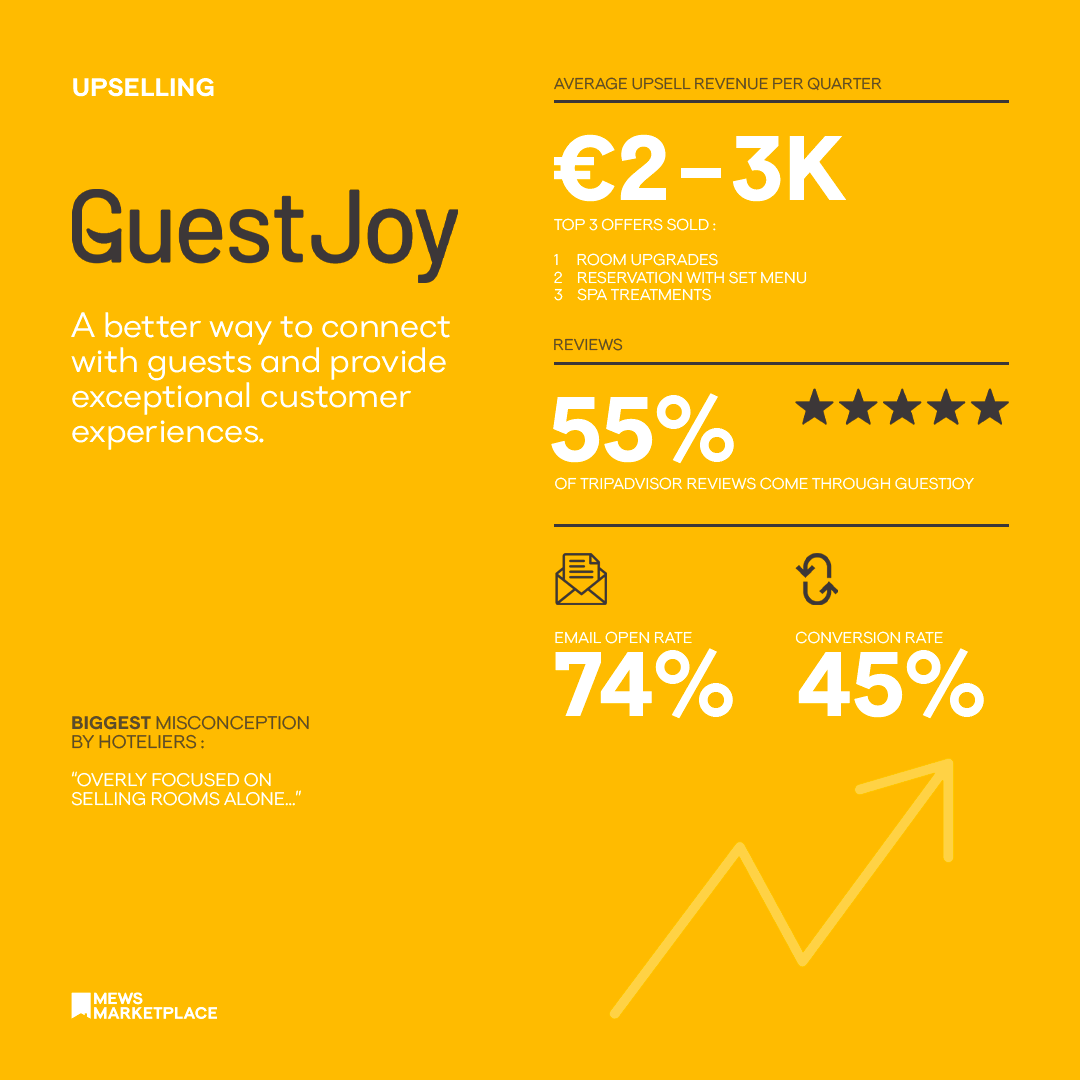 GuestJoy revealed that their customers have email open rates of up to 81% and conversion rates as high as 45%. This results in an extra €2,000 - 3,000 of revenue per month on average, mainly from the sale of room upgrades, set menu bookings and spa services.
As an official TripAdvisor partner, post-stay communication is directly integrated with TripAdvisor, which results in more online reviews. Hotels working with GuestJoy report that 55% of their TripAdvisor comments come through the platform. Find out more ways to get good hotel reviews.
Conclusion
Upselling should be a no-brainer for forward-thinking hoteliers. By using upsell software, you can avoid cumbersome sales pitches at the time of check-in. Instead, your upselling pitch can be integrated into the guest journey, making conversions more likely and using technology to unify the scattered guest journey. It's a win-win, with guests getting higher value to their experience through personalized offers, and hoteliers being able to generate more ancillary revenue, helping to boost profitability.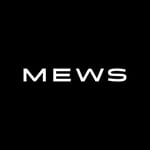 Hospitality hot takes straight to your inbox
Sign up to our monthly newsletter for industry insights, product news, partner updates and more.