The Mews Blog > Five types of hotel guest and how to satisfy their expectations
There's no doubt that the effectiveness of your marketing strategy largely depends on how well you profile your hotel guests – otherwise known as segmentation. Failure to define your guest personas will hinder your efforts to generate more bookings.
Guest personas, essentially, are descriptions of the guests that your property usually attracts. The more automated and sophisticated your hospitality cloud is, the easier you'll find it to segment your hotel guests. Modern property management systems will collect lots of demographic information during the booking process, from age to purpose of trip. With direct phone bookings or walk-ins, front desk staff play an important role, because they are responsible for selecting the correct guest segmentation in the booking so that the marketing team can thereby implement successful marketing strategies and sales action plans.
Of course, the hotel location also plays an important role in the type of guest persona you attract. For example, the type of guest you will attract with a hotel in the city center is not the same as if the hotel is located on the beach or near a convention center.
In this article, we highlight five different types of guests and explain how to focus your hotel branding to target them properly.
Why do you need to know the different types of hotel guests?
Defining your ideal hotel guest will allow you to develop strategies, offers and communications that appeal specifically to this demographic. Suffice to say, your establishment probably serves a wide variety of guests each year. Notwithstanding, there will be certain guest personas that gravitate towards your brand more than others, whether it be because of the location or because of the look and feel of the hotel. The aim is to attract the highest possible number of ideal guests. To achieve this, you should study your PMS reservations history to identify trends in region, guest numbers per room and age, and other informative data points.
After you've pinpointed the relevant guest personas, everything else becomes easier: your promotional efforts, distribution strategy and approach to revenue management will be clearly focused. Segmentation is key to understanding who you should target, and you can create marketing messages, pricing strategies and personalized guest experiences that impress the right people. To further assist you with this process, we've compiled the following list of guest travelers who could book a stay at your property.
5 types of hotel guest and how to connect with them
1. Digital Nomads
A Digital Nomad is a remote worker who can work from anywhere, as long as there is a broadband connection. Some nomads are employed by corporations, while others work for themselves. What they have in common is their mobile nature. In this respect, they are not to be confused with people who work from home.
It is rare for this type of guest to arrive in a big group. Also, because of how they work, they tend to avoid hotels with slow or unreliable Wi-Fi. Instead of staying in their hotel rooms, they like to mingle with other people in communal areas, for professional purposes or to socialize.
To assist these guests, do your utmost to help them sample the local culture. Keep an up-to-date calendar of meetups for travelers and local businesses, even if they aren't happening on your premises. Most Digital Nomads enjoy immersing themselves in the surrounding community.
Location is also key to these types of guests. Because digital nomads are location-independent, they essentially choose to go to a hotel based on its location. Of course it's not the same working from a hotel in downtown London as working from a cabana with Wi-Fi by the beach in Bali. You can use this understanding of the Digital Nomad in your favor to target them not only based on the amazing services you offer (such as a reliable Wi-Fi connection) but also by highlighting where you are located, ie. nearby sites, distance from the beach or from important monuments or bars and restaurants. Depending on where the hotel is located, you can adapt the marketing messaging to highlight what you think will appeal to someone for whom location is everything.
2. Business Travelers
Business guests mostly have one thing on their minds: work. Generally speaking, they are not in town to visit tourist attractions, and they will have hours of meetings every day. In most cases, they return to their rooms at the end of the day to unwind, then have something to eat before retiring for the evening. When they wake up the following morning, they do exactly the same thing.
Some of these guests allocate time for recreational activities a few days before they leave. As well as the services required by other business travelers, these guests need amenities they can use during their leisure time.
To serve business travelers, post details and photographs about your in-room office facilities, to help those who like working from the comfort of their room. Mention local restaurants or co-working spaces, where business guests can meet or work. Collaborate with local businesses and attractions to provide discounted rates, or tickets for shows and museums.
Also, you could offer special packages for these guests, featuring things such as customized room service, hotel restaurant tasting menus and discounted spa treatments.
3. Conventional Tourists
Conventional tourists are casual travelers who book holidays once or twice each year, when they can get the time off work. These guests do not tend to travel alone, and are usually accompanied by their partners, relatives or friends. They have a reasonable amount of spending money, although they will not usually make impulse purchases.
Guests in this category enjoy visiting the most famous tourist attractions. Often, they participate in group activities and go on guided tours of different areas. Also, they set aside time for relaxation to recharge their batteries, before returning to the stress of their normal lives.
To appeal to conventional tourists, offer them some advice and recommendations about the local area. These guests might not request advice, but they will appreciate it if you provide it. Typically, they will have researched the destination, so giving them advice will help to clarify their plans or partially change them. One recommended approach is to offer them a local area guide when they check-in, along with a map highlighting major attractions.
For the conventional tourist it's important to highlight the features of your hotel's location that would be most attractive to a person visiting a location for a few days, i.e "close to main attractions, just ten minutes from the airport, located in the downtown area." All of these factors will play a role in whether this guest chooses to stay with you. They want a convenient location that's easy to get to and close to everything.
4. Family Groups
There are plenty of Millennials who love traveling, and who now have children of their own. These people want to experience the thrill of a family holiday, having previously traveled the world as singletons. Research from AARP indicates that multi-generational travel has become more popular too. In 2019, multi-generational trips were among the top categories of trips planned by Boomers and Millennials. The same study shows that Millennials planned more family holidays than Boomers by a small margin.
You can help guests with children to enjoy family-focused activities, by offering discounted vouchers for museums, the aquarium or the zoo. Provide a list of local family services, or offer your own in-house babysitting service. Highlight amenities at your hotel that will appeal to children, like the swimming pool and nearby parks or beaches. Put yourself in the parents' shoes and offer amenities in rooms for youngsters, such as books, toys and games.
5. Luxury Travelers
Luxury travelers expect more for their money, and are prepared to pay for an exclusive experience. These guests tend to research their holiday, frequently with the help of a tour operator, and know roughly what they want to do.
Most luxury travelers are seniors, although there are exceptions to this rule. More than three-quarters of them have wives or husbands, so it is rare for them to travel alone. They demand first-class amenities, exquisite service and meticulous presentation.
In order to attract this type of guest in the research phase of their trip planning, it is recommended to highlight the exclusivity of your hotel, whether that be its unparalleled location, for example if you're located at the peak of the mountain or on a private beach. You'll want to highlight what makes your hotel different and the unique experiences you can offer these guests.
To satisfy this type of guest once they've arrived, recommend some local shops and restaurants – and offer to arrange some private tours. These guests want privileged access to little-known regions of cultural significance, unfrequented by tourists. Always be on-hand to help, and try to anticipate their needs before they have to request anything.
Conclusion
Guest personas allow you to determine the best revenue management, distribution and promotional strategies for your hotel. Guest segmentation can be done in a number of ways, depending on their behavior and demographics. Although, in order to do so it's important to have a clear understanding of what your hotel offers, how best to talk about your location, and what your unique selling proposition is in order to better adapt your marketing message to each segment. Once you have this clear, you can use the above-listed guest personas to help you while you research and formulate guest profiles of your own.
You could try developing aspirational guest personas, and those that reflect your PMS data. This way, you can identify the right policies for each hotel guest type. Ultimately though, your personas ought to be realistic and accurate, so you have a strong foundation upon which to grow your business.
Understanding the Modern Guest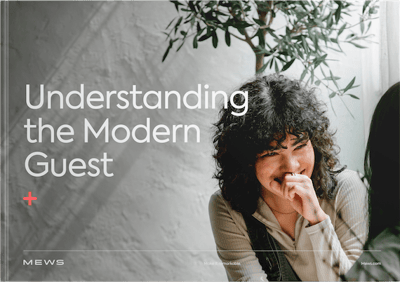 Get to know today's traveler in order to maximize your revenue and ensure your property is set up for a remarkable guest experience.
Hospitality hot takes straight to your inbox
Sign up to our monthly newsletter for industry insights, product news, partner updates and more.