The Mews Blog > Hotel Reopening Diaries: The Dylan Amsterdam
As hotels continue to open up around most of the world, we're speaking to a variety of hoteliers to understand their decision-making process for reopening. This is the third instalment of Hotel Reopening Diaries, in which we speak to Robbert Van Rijsbergen, Director of Sales and Marketing at The Dylan Amsterdam.
You can also read our previous interviews with Postillion Hotels in the Netherlands, and Superbude and The Flushing Meadows in Germany.
You've now reopened after closing your hotel – talk us through the decision making.
"We closed in the second week of March. It was our choice; there was no outside food and beverage allowed, and we decided back then to just close, because it didn't really make sense to keep all the lights on for maybe zero or one occupied room.
We reopened the 1st of June, mainly because we were allowed to welcome external F&B guests again. For us, let's say about 40-45% of our revenue is F&B – we have a Michelin star restaurant and an informal restaurant, and then also a lot of weddings, events and that kind of stuff. So F&B is very important for us.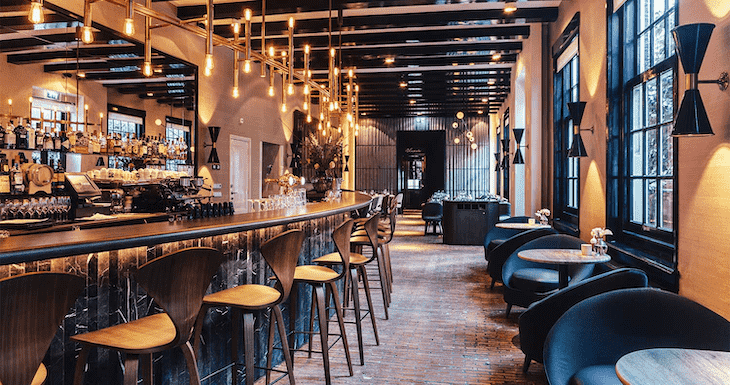 Once we were allowed to reopen for external guests, we decided that we should open, largely to thank the government in terms of all the support that we got, since we got lots of help here in the Netherlands. They compensated about 80% of our payroll during the months that we were closed, and we're still receiving that, at least until September. So we felt almost a moral obligation to reopen and start bringing in some VAT.
Also, of course, we reopened for the team. In terms of the team's motivation, three months is already a long time to keep our hotel closed – it's pretty depressing to walk around the closed hotel. So we thought that was the best thing to do, to start slowly, and then build it up from there."
Did you reopen with full capacity available?
"In terms of rooms, we opened with 100% capacity, but obviously that wasn't booked. For the restaurant, we were only allowed to have 30 guests in the restaurants at once, so we only opened one of the restaurants. Capacity is usually 40 in each restaurant, so 80 in total, which means we can have less than half of what's normal. Routing and bathrooms and everything make things more tricky so we wanted to get a feel of how it would go."
How are your restaurants performing?
"What's interesting to see is that in our Michelin Star restaurant, we see a higher spend right now post-corona compared to pre-corona. So we're pretty impressed. This is a gut feeling, but I think that guests may think, "Okay, we're not traveling, we're not going on holiday overseas, so let's spend."
We also implemented prepayments for reservations, and we had zero complaints. We were always a little bit hesitant about it, but guests are a lot more understanding. When guests arrive we have to ask them some health check questions for the government – some people are not into that, but most are pretty understanding."
What new measures have you introduced because of COVID-19?
"We created a host desk at the entrance to do the triage that we have to do when guests arrive, to make sure everybody's healthy, and that everybody disinfects their hands. For the restaurant, we check they have a reservation, because you're not allowed to come in without one. Basically we record all their details, as if we hear of a guest who had coronavirus, we're obligated to share that information with the government.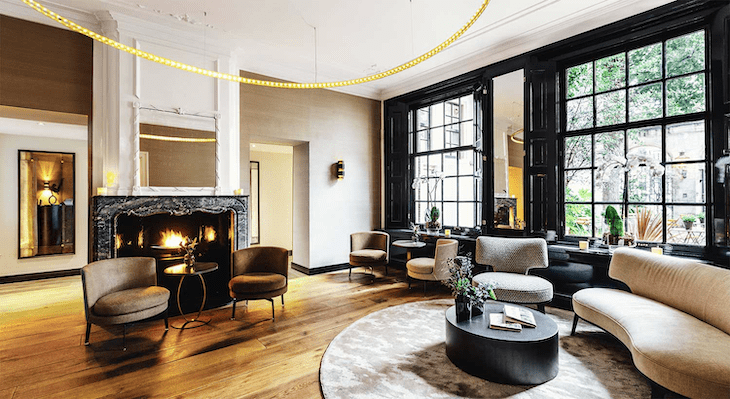 We're using the online check-in more and more, and now the online check-out features of Mews. Being a small, 40 room luxury boutique hotel, with an average rate above €400, guests expect a level of service, so we don't force the online check-in and check-out on them, but we do see more guests are making use of it.
We're also going paperless. Registration cards are being signed in advance, we send invoices during the night to everybody via email so they can see it in a PDF on their phones. That seems to work well.
We have new measures to keep staff safe too. There's a QR code that we scan with our phones, and we fill out a little health check form, just to keep it front of mind. 'Do I have a fever?' Yes or no. 'Was I in contact with somebody?' Yes or no. Also, when office staff arrive, they no longer pass through the hotel, but they go immediately to the office. They don't change, so they now work in a semi-formal attire. And of course we ask everybody to disinfect their hands."
Are you doing anything differently with housekeeping?
"In terms of service, we ask guests if they'd like turndown service or not. If they want to, we do provide it to them, as long as they are not in the room while we do it, obviously. We've separated our housekeeping, into a dirty team and a clean team. One housekeeper used to take away all the dirty linen etc., and then replace it – now, those are two separate teams. So one team member will go in first and take away all the dirty stuff, and then another member will go in and bring only the clean stuff.
We were already thorough with the cleaning, but I think they are a lot more thorough now. And also making sure windows are opened when guests are checked out, that kind of thing. In between departure and the next arrival, there's a 48-hour window where we don't use the same room. Maybe it's a false sense of security, but at least it gives a lot of peace of mind. And it's a very easy rule to live by.
We're also much more agile as a whole now. For example, from my team in the sales and marketing department, one is also doing duty manager shifts, and then two others are also assisting in F&B service, to create that flexibility throughout. The same is true with reception and housekeeping. So it's a lot more like a one team effort, versus everybody being on little islands."
Have you set up any social distancing measures?
"The government rule is a 1.5 meter distance, and we also have a little sign at the entrance. We don't want to make it too obvious throughout the hotel, it's just at the entrance, because at the end of the day, guests are coming for a relaxing experience, so we don't want to ring bells and whistles in front of them for the duration of their stay, because it might be a little bit unpleasant.
And we do feel that if guests are going to a restaurant, they expect service. So we're not asking them to pick up drinks at the bar or whatever. If their average spend is €500 a person, we're not asking them to pick up their own dishes from the kitchen. So, yeah, there's a balance there, but you kind of have to feel and rate individual guests."
How do you tell guests about your new measures?
"Hotel guests get some information before arrival of what we expect. This means encouraging online check-in where they can tell us their arrival time and fill out most of their details before. We still do a small check-in procedure when they arrive, but it gets the formalities out of the way. We've actually translated part of our website into German this week as well, to bring more of that market.
For restaurant guests, we don't tell them a whole lot in advance, because most of them live locally, so they understand the 1.5 meters rule. It's pretty obvious when they arrive and of course everybody's aware of the situation, so we don't want to be over-communicating stuff that they already should learn from the government."
How has COVID-19 affected your business?
"Our business mix has changed a lot. Before, we were very dependent on the Americans. Now, we see a lot more regional tourism, so Germany, France, Belgium, and a little bit of Scandinavia. And, of course, Dutch national markets, with an increase in stay-cations.
We were pretty happy with the first month. We ended with about 15% occupancy, which was more than we expected. We'll see how it picks up. Now, it's summer holiday here, so since this week it's a little more quiet, but we don't know. Bookings are now made very last minute – reservations come in for stays during the same week, or even for the next day."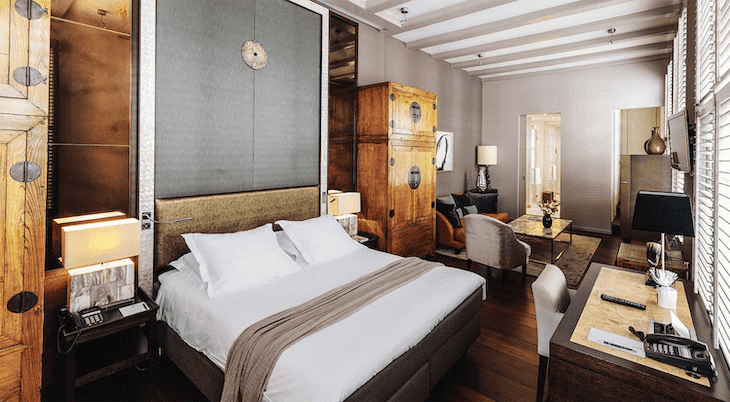 Are you changing your room rates?
"We've chosen to keep rates where they are. I think as a whole, in the five-star market, we've not dropped our rates in order to prevent our guest profile from changing completely – then our more typical guests wouldn't feel at home anymore. So we've kept the rates where they were. Pretty much all of the similar five star hotels are also holding prices."
How do you see the next few months in hospitality?
"I think August will be challenging. It's high summer, so a lot of Europeans will go towards the South of Europe, I would assume by car, on holidays. From September onwards, I'm a bit more positive. I don't think that we'll get back to a more normal situation until after the election in the US. We don't know what's going to happen over there, so I think we have to give it at least another four or five months before they've organized themselves."
Are there any positives that have come out of your experience?
"I think how the team works together is a big thing. When we closed, everybody realized: "Wow, the shit's hitting the fan." So when we reopened, everybody was ready, very energetic and eager to do anything it takes to make sure guests are okay and happy, and that we're more cost-aware and are making money. So I think the whole consistency within the team, and the atmosphere and the culture, that has a positive impact, I'd say."
Hospitality hot takes straight to your inbox
Sign up to our monthly newsletter for industry insights, product news, partner updates and more.